MULTNOMAH COUNTY, Ore. — In both Washington County and Multnomah County, contracted EMS crews are falling short of county standards for quick response times to emergency calls, often forcing fire crews to provide the initial medical response.
Depending on where a 911 call is placed, counties have benchmarks for how quickly EMS crews should arrive on scene.
Those standards range from within 8 minutes — in most populated areas like Portland — to 30 minutes in more rural areas.
KGW's review of ambulance response time data shows both Metro West Ambulance and American Medical Response (AMR) are increasingly missing the mark. The companies and counties say paramedic staffing is largely to blame.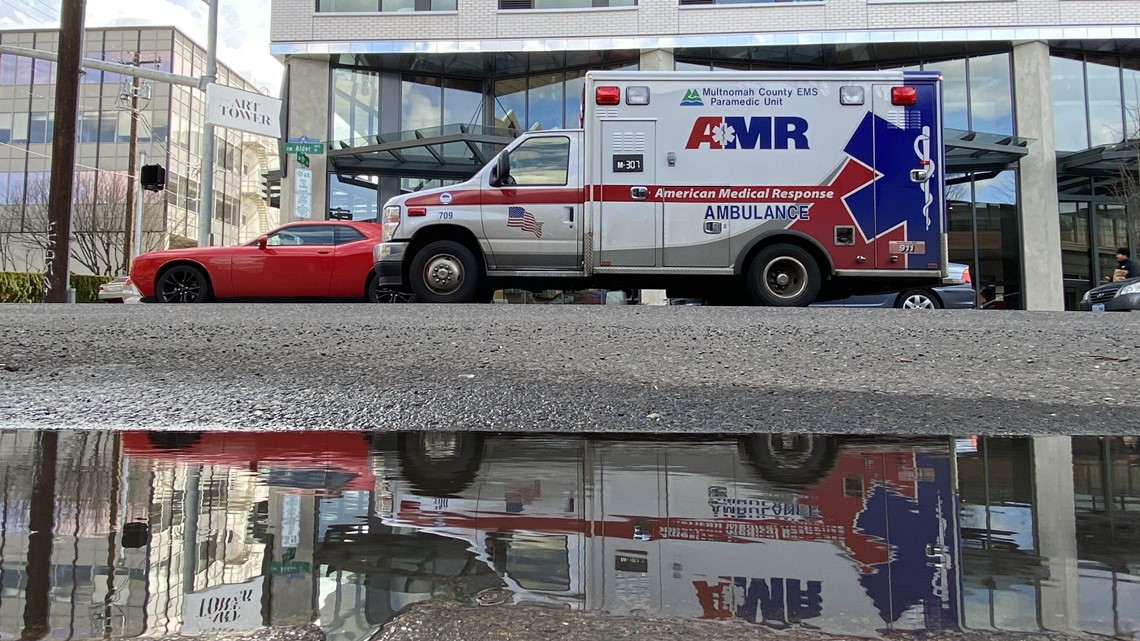 "Each of the vendors was measured on 14 data points and AMR ranked highest among all 14 from the review panel," said Adrienne Donner, Washington County EMS program supervisor.
Metro West, which is based in Hillsboro, is protesting the decision. Neither the county nor Metro West have explained what's being protested.
The county's proposed switch to AMR comes as Metro West's response times to 911 calls have plummeted.
In February of 2022, Metro West was meeting county standards — getting to about 90% of 911 calls on time.
By December, that number had dropped to 61%, meaning there was roughly a 40% chance an ambulance crew would be late to an emergency call in Washington County.
The December data is the latest publicly available monthly report shared by Washington County.
Donner said the county can't say if these slower EMS response times are affecting medical treatment in emergency situations, as the county only tracks response times under its current franchise agreement.
"Currently we don't do compliance on any outcome-based or quality-based things, ask me again next year after we have a new franchise agreement," she said.
So, with Washington County now planning to contract with AMR for ambulance services — would response times improve?
To answer that, KGW requested data from Multnomah County. AMR covers most of the Portland area, as well as Clark County and Clackamas County.
Dr. Jon Jui, EMS medical director for Multnomah County, said AMR's response time performance in 2022 was concerning and unacceptable.
"The response times — they're basically falling off significantly from their normal response," Jui said. "The fire department is basically doing their job and stabilizing the patients before AMR gets there."
Starting in March of 2022, AMR fell short of the county's benchmark of responding to 90% of calls on time.
By August, AMR crews were late to about 1 out of every 4 calls that dispatch classified as "life-threatening."
Jui said Multnomah County has been lucky that fire crews are filling the gaps by arriving first to provide initial medical assessment and treatment.
"We're looking closely and I'm not making any excuses because something bad will happen, but right now we fall back on our safety and our safety net is our 911 system is doing what it's designed to do with fire first response getting there," he said.
Jui said the current reliance on fire crews to arrive quickly to each emergency medical call is a strain on their workload.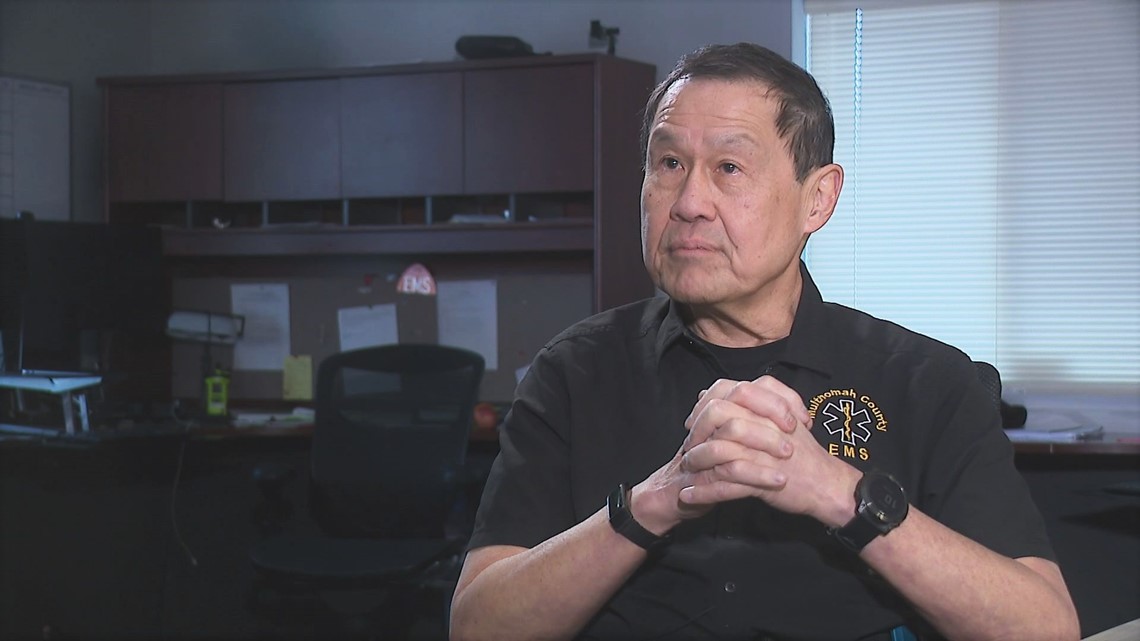 Both AMR and Metro West declined interviews for this report, but county leaders said they're told staffing shortages are mostly to blame for the poor response times, as recruiting and hiring paramedics is a challenge.
In an annual report to the county, AMR Multnomah County operations manager Robert McDonald said "wear and tear" impacted AMR in 2022, causing "heavy attrition" of the workforce.
"Most of the informal exit interviews and all but one of the formal exit interviews indicated employees were leaving to join fire departments in the region," McDonald said. "Most cited very difficult working conditions in the city of Portland."
However, the annual report shows that AMR's overall staffing levels have remained relatively stable over the past four years the company has contracted with Multnomah County:
2019: 243 employees
2020: 253 employees
2021: 256 employees
2022: 241 employees
When asked about these staffing levels, Jui shared data showing how the number of 911 calls in Multnomah County increased in 2022, somewhat diluting EMS response:
2020: 105,586 calls to 911
2021: 113,537 calls to 911
2022: 117,857 calls to 911
In Washington County, Donner said every ambulance provider is struggling to hire and keep paramedics, so the Multnomah County data isn't a red flag for a potential new franchise agreement with AMR.
KGW asked if there is any concern within the county that by adding AMR and expanding their coverage area, it could stretch the company more thin in terms of staffing and response.
Donner responded by saying the county would expect any new EMS provider to hire paramedics who are already working in the area — which in this case, would represent Metro West workers.
"Anytime an ambulance provider moves into a jurisdiction, they look for the people who already know that jurisdiction and they're going to hire," Donner said. "No ambulance provider can expand without hiring more paramedics or buying more ambulances."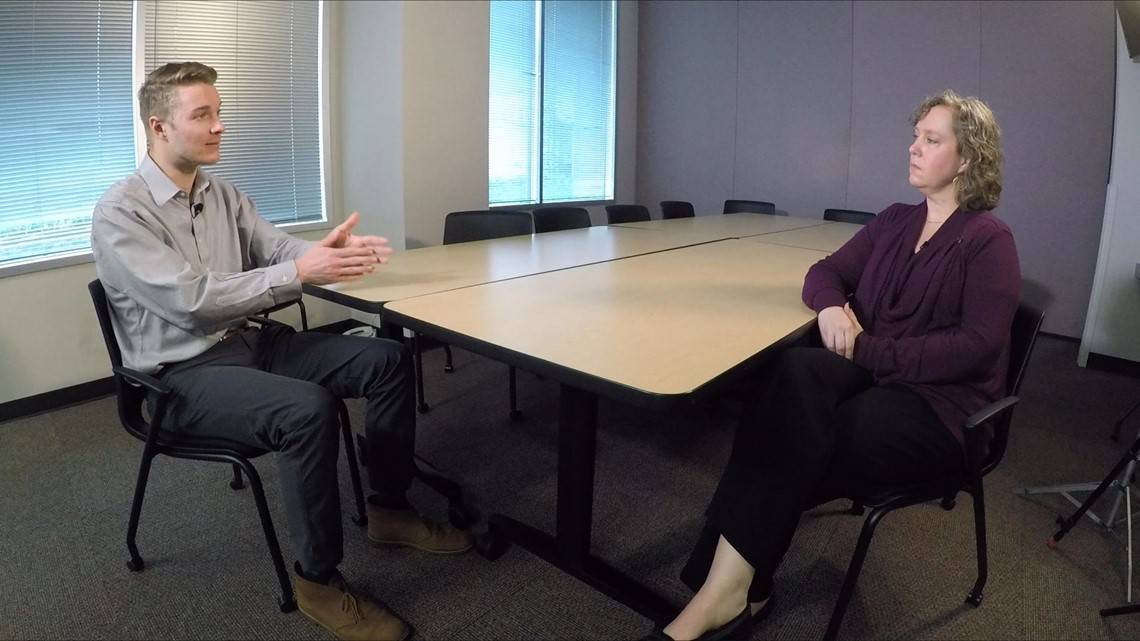 Jui said a lack of availability or capacity at local hospitals is also impacting the slower EMS response times.
Ambulance crews can transport a patient to a hospital, but if there's no room for admission, they're left waiting in the hospital bays with that patient until space opens up — preventing that crew from being able to respond to another 911 call.
Both counties are looking at adding or expanding Basic Life Support (BLS) crews to their EMS response.
BLS crews are often staffed by first responders with less training and specific expertise than paramedics, such as EMTs, who can respond to lower-risk calls.
This would, potentially, free up paramedic teams and Advanced Life Support crews for higher acuity emergencies.
"About 30%of our calls don't require a paramedic to be there, and we have devised a scheme or plan to actually fulfill that portion here without a paramedic and increase the workforce as a temporary measure," Jui said.
Until then, Jui and Donner said they're overly reliant on overburdened fire departments that are making up for slow ambulance response times.
"We are, I would say, inpatient to get the solutions in the pipeline, to get working," Jui said.