24 hours inside Portland's homeless crisis
The KGW documentary "One Day" features 14 unique perspectives of Portland's homeless crisis filmed over a single day in April.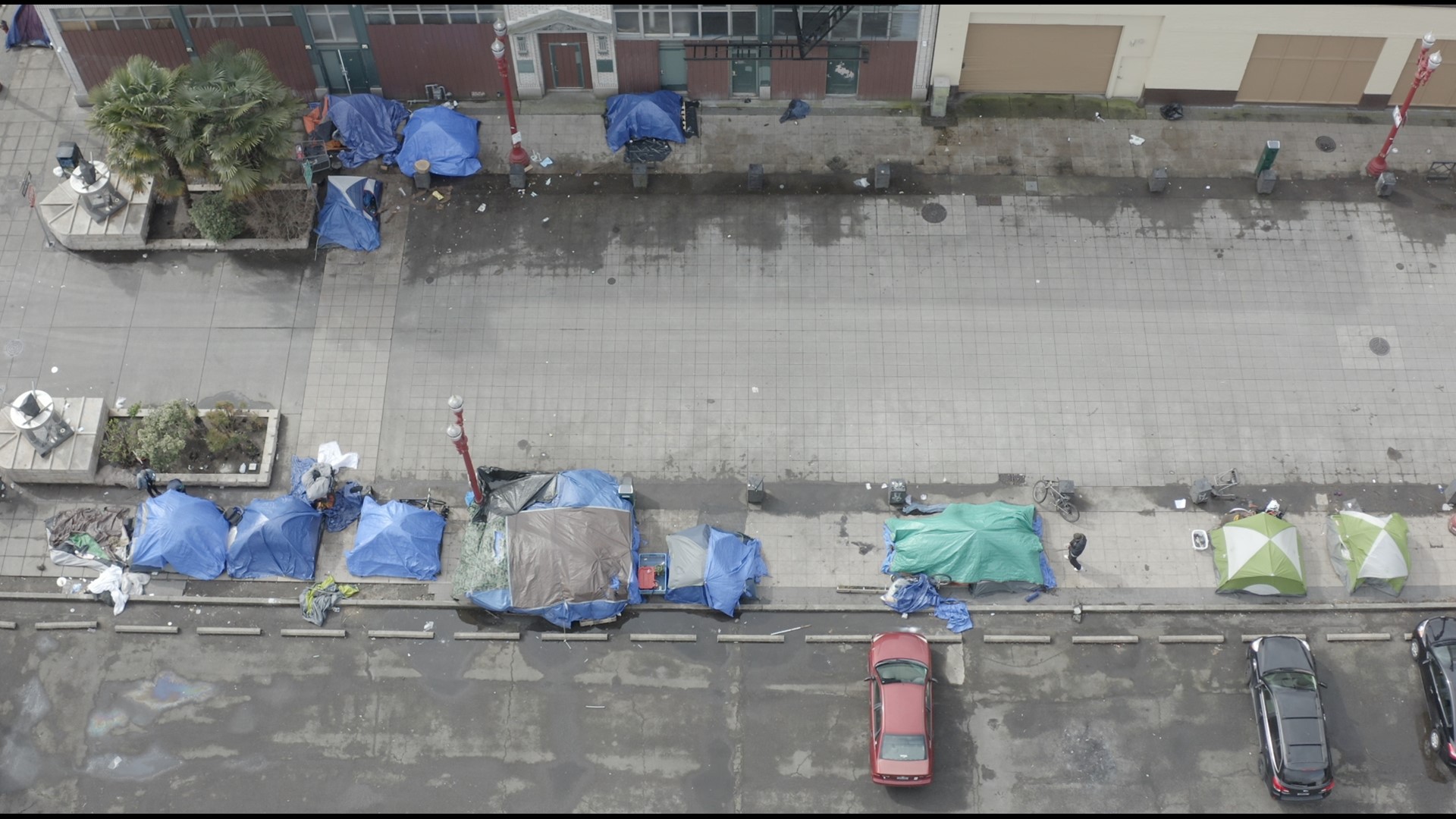 On any given day, thousands of people in Portland navigate the challenges of being homeless.
On April 21, a team of KGW journalists set out to document this street-level response to Portland's homeless crisis. The result is the documentary "One Day" that tells 14 unique stories from all sides of our homeless crisis over a single day.
Morning
:
'More and more people are slipping through the cracks'
Southwest Portland – 5:49 a.m., Union Gospel Mission Shelter, Southwest Portland
Daria, a woman with contagious energy and a love of metaphors, wakes up each morning next to her small dog Prince – and two dozen other people.
"Even though we're sleeping on a mat, I call this a twin bed,' she said. "You don't understand, this shelter is a royal palace for me."
Daria sleeps each night at the Union Gospel Mission shelter before traveling to a Rite Aid in the Pearl District where she works a full-time job.
"I don't look like I'm homeless, but I am," she said.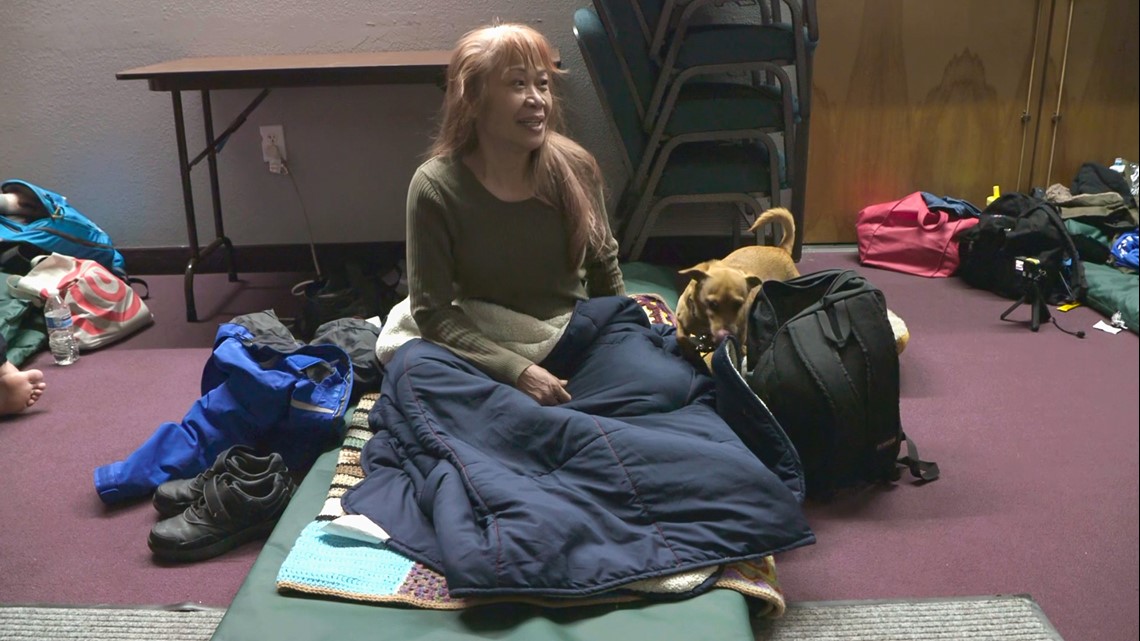 6:12 a.m. - Blanchet House, Old Town Northwest Portland
Starting each morning before the sun rises, chef April O'Connor mixes and matches donated ingredients to make her breakfast menu for the day.
"Oatmeal is more a vehicle for brown sugar transmission than anything else," O'Connor joked, combining apples and sugars and spices with gallons of oats in her 'cauldron' for oatmeal.
O'Connor is a chef at Blanchet House, one of many people preparing food for hundreds of homeless people in Portland's Old Town each morning.
"I think we're doing a decent job of providing services to those who need them, but there are more in need than there are services, so there's always more we can do," she said, speaking on the Portland community's response to the homeless crisis.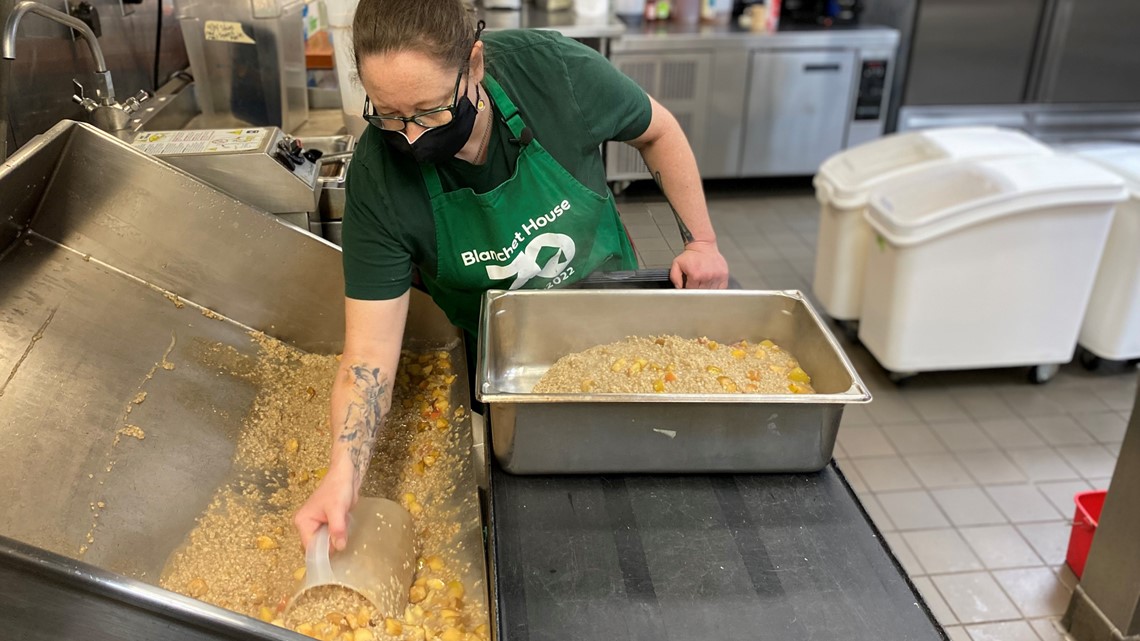 7:03 a.m. - Springwater Corridor Trail, Southeast Portland
Among tents next to a trail in East Portland, Kimmie Murray sifts through a pile of trash for some of her things.
She's living in a tent with her husband, burning wood pallets to stay warm. The situation is complicated by Kimmie's loss of sight over the last few years. She's been looking for stable housing but hasn't been able to find anything.
"If I'm not 55, not pregnant, don't have a kid under 18, or are a major drug addict in treatment or going through mental health [crises], I can't get any help, and my family can't get any help," Murray said.
She said she's spent hundreds, if not thousands, of dollars on application fees for housing without success. Murray adds that she's been offered housing in a nursing home-type facility due to her vision disability, but she won't take it as she would have to separate from her husband of 34 years.
"There's something out there for me and my family," she said.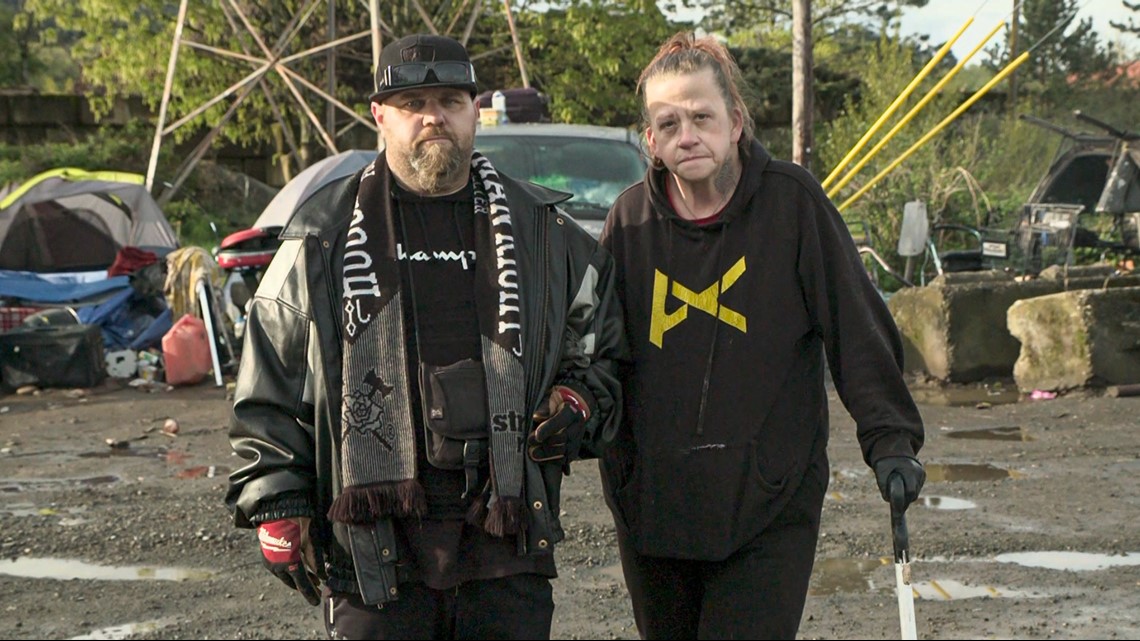 9:18 a.m. - Cleaning Site, Northeast Portland
Through the grunts and the sweat, Ron Thompson believes each truckload of garbage is worth it.
Thompson and a team from the non-profit organization Cultivate Initiatives pick up about 5,000 pounds of trash every day, much of which is left behind after homeless encampments are cleared out by crews contracted by the City of Portland.
Thompson and many other workers are formerly homeless themselves. Now, they find some purpose in work that can feel futile, at times.
"We clean one area out and then [homeless people] come right back because they've got nowhere else to go, we've got to come up with some kind of housing for them," Thompson said.
One of the workers calls out to warn the others there's a pile of feces below an orange jacket. Thompson calmly moves onto another area, saving that for last.
"One day I hope they work me out of a job, and I don't have to come clean up and help them because they're in housing, that's what I want to see," he said.

9:43 a.m. - Park, Southeast Portland
Braiding her 5-year-old daughter's hair, Tianna reminisces on the days she could bake a pizza in the oven.
The RV's oven isn't working right now.
Tianna is 26 and 6 months pregnant. She said she's moved the RV from neighborhood to neighborhood, trying to avoid upset neighbors who want her to leave.
Now, she's settled near a park in East Portland, volunteering with homeless outreach groups to earn some money in anticipation of adding a new child to her family.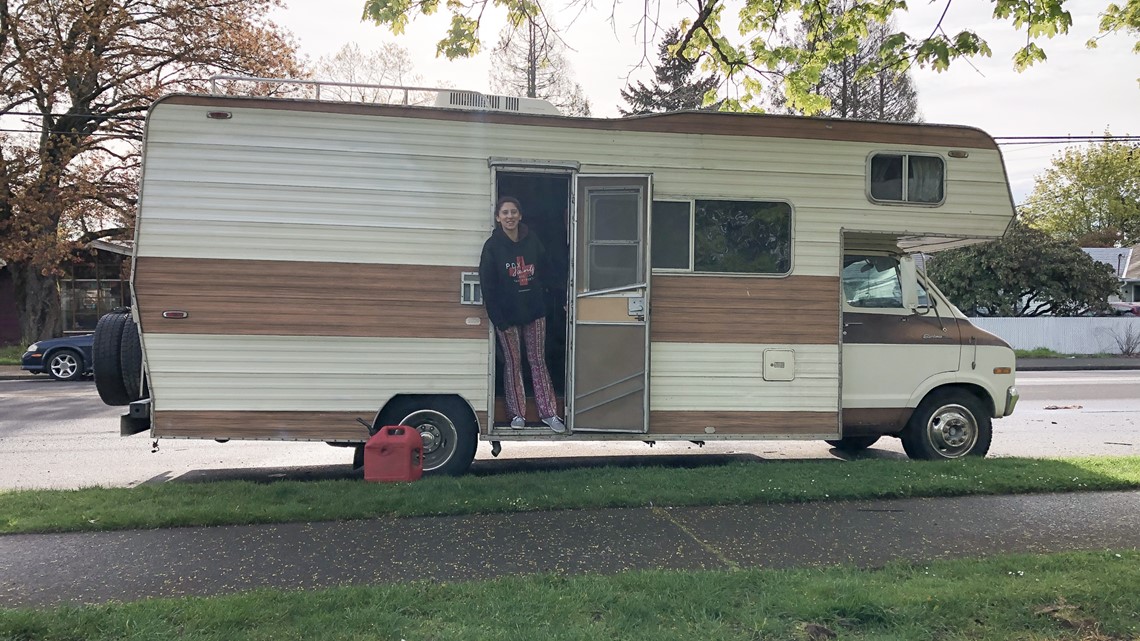 10:50 a.m. - Gateway Discovery Park, Northeast Portland
In between stories of addiction and incarceration, Kristle Delihanty asks if her client wants a 2, faded up.
Delihanty provides free haircuts to anyone who might need them at outreach events throughout the week. A recovering heroin addict and survivor of abuse, she said she values moments to connect with people through the service.
"People are not lost, they're out here to find restoration and reconciliation," she said.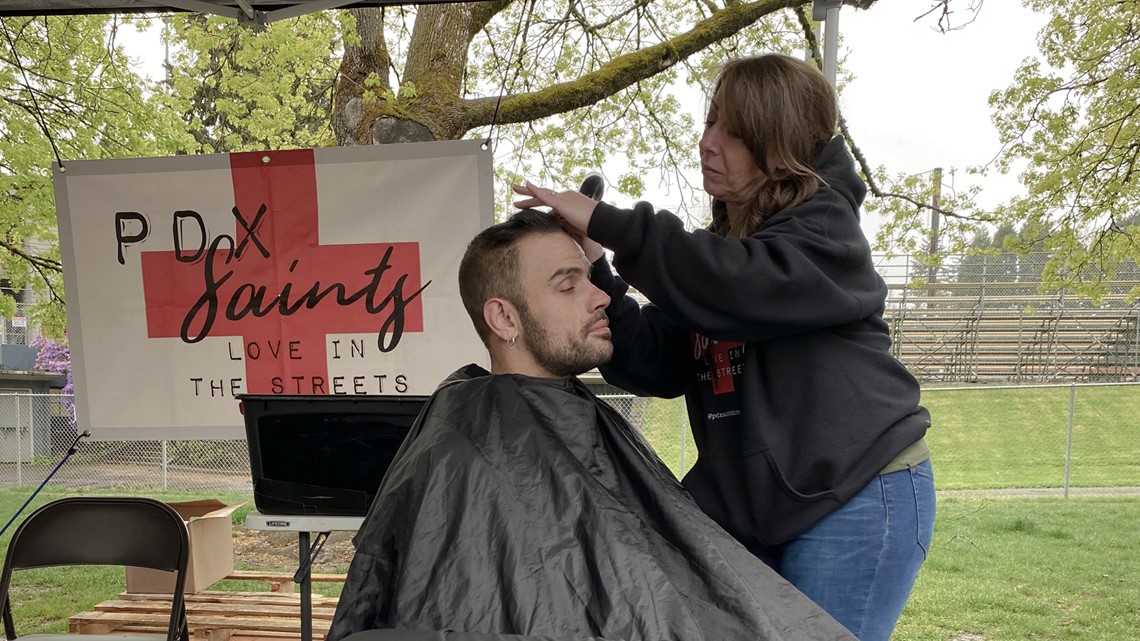 Afternoon
:
'People don't want to see pain and suffering'
Southeast Portland – 12:12 p.m., Freedom Foursquare Church
Blue steps into a white trailer the size of a food truck, where hot water and soaps are waiting for him.
He's been homeless for 11 years, and a warm shower can often be elusive.
"You know there are people who haven't showered for a year, and it's so amazing to see their faces after…washing away all that stress and the life that unfortunately some people have to be in," one of the shower coordinators said.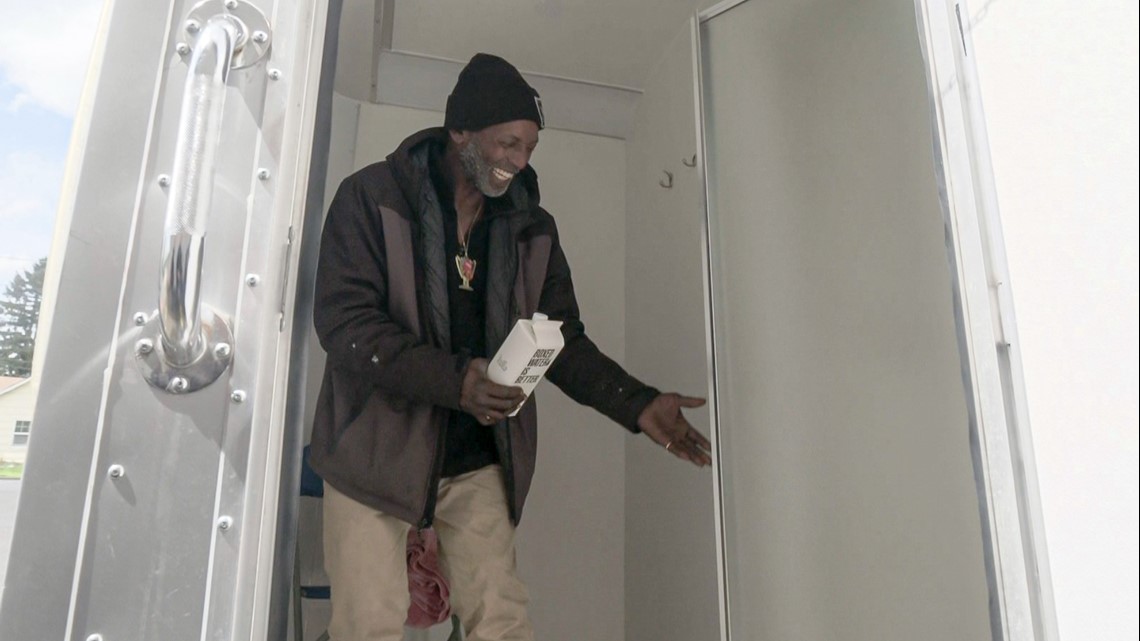 2:23 p.m. - Blackburn Center, Northeast Portland
Dr. Richard Bruno knows about chronic wounds and injuries – he sees them every day.
As the senior medical director for primary care at Central City Concern, Dr. Bruno cares for many homeless people due to the clinic's low barriers for entry.
Service can often be provided that same day.
"Being able to provide this type of care to people where they may have been turned away from other organizations or let down by a healthcare system that has a lot of holes in it, we help fill those holes," he said.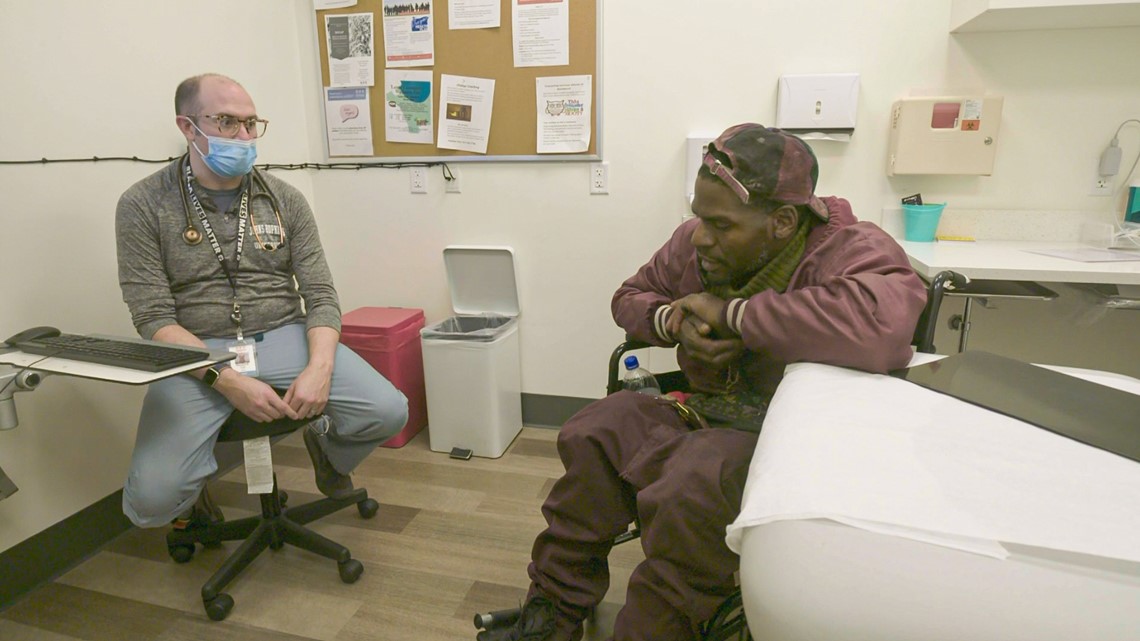 2:58 p.m. - Portland International Airport, Northeast Portland
Less than a mile away, at the intersection of NE 33rd Drive and Marine Drive, Susan Lind watches planes take off and land from a stretch of RVs, cars and camps that provide shelter for homeless people like her.
"Maybe he should come down and see how some of these people are living," she said.
As Air Force One departs Portland, Lind takes a video of the plane overhead and laughs to herself.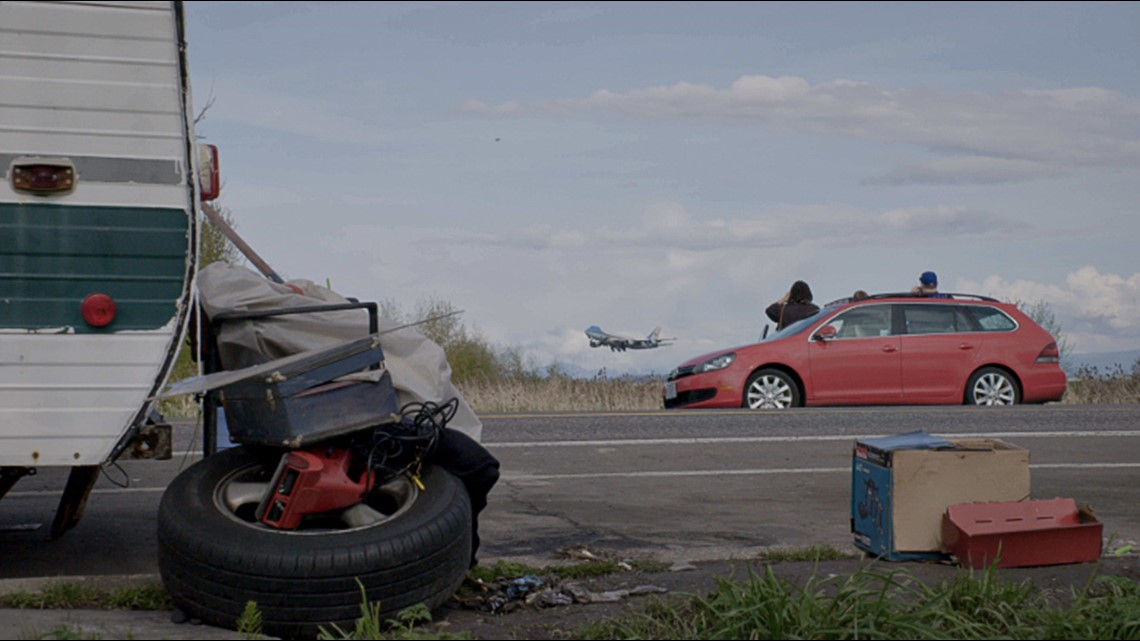 5:44 p.m. - Old Town Chinatown, Northwest Portland
Chris Yen, the owner of Laundry, a vintage sportswear boutique in Chinatown, is used to threats, attempted assaults, vandalism and other issues that too-frequently plague the Old Town area in Portland.
"This spot has been, I don't want to say a curse, but there's been good and bad," he said.
While holding a makeshift machete that he took when someone left it outside his store, Yen talked about the drug-addicted cycle of homelessness that he sees each day.
"The amount of pain and suffering and exploitation and nastiness we see out here is just sad," Yen said. "This idea that more liberty equals more empathy is flawed, I think the amount of liberty in some cases that we give to people is apathetic because all we do is hang them out to be hurt and to suffer."

6:37 p.m. - Portland Fire & Rescue, Northwest Portland
Dispatch operators received a call for a fire at a homeless camp in Northwest Portland. Sirens blare, and crews set out to respond to the threat and assess the damage.
"Our call volume is not sustainable in its current capacity, the call volume, the call types, as much as we want to help it is stressful," said Mike Dunn-Bernstein, a Portland firefighter.
Dunn-Bernstein explained that most of the calls they receive each day are EMS (Emergency Medical Services) and health response-related, which frequently includes the houseless population.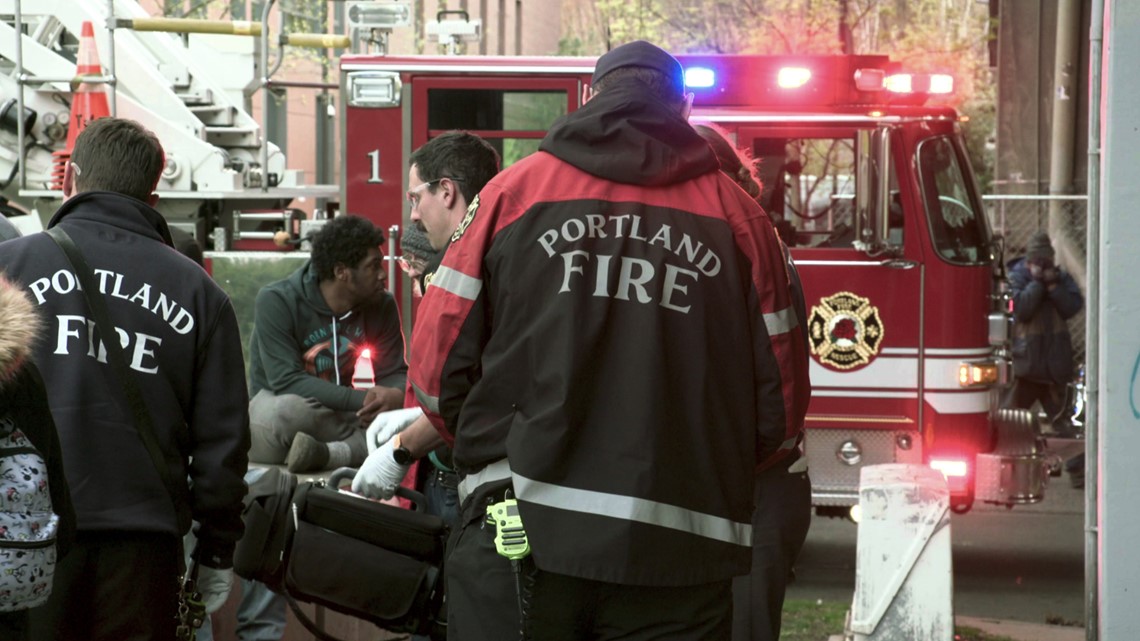 Evening
:
'We have to pick up the slack'
Northwest Portland – 7:56 p.m., Burnside Bridge
Dozens of homeless people meet under the Burnside Bridge, where food, clothes and services are waiting for them.
"Nightstrike is an opportunity for a community to come together and serve our houseless population…once a week they have a community they can rely on and are getting things they need," volunteer Anthony Georgette said.
Volunteers work at the foot-washing station, while others dole out hats or sweaters to people who ask for them.
"Maybe it's addiction, maybe it's a mental health crisis, I don't know and to be honest, when I'm here, I don't really care, what I see is someone who needs underwear for instance, and if that can help them get through the next week, that's what I'm here for," he said.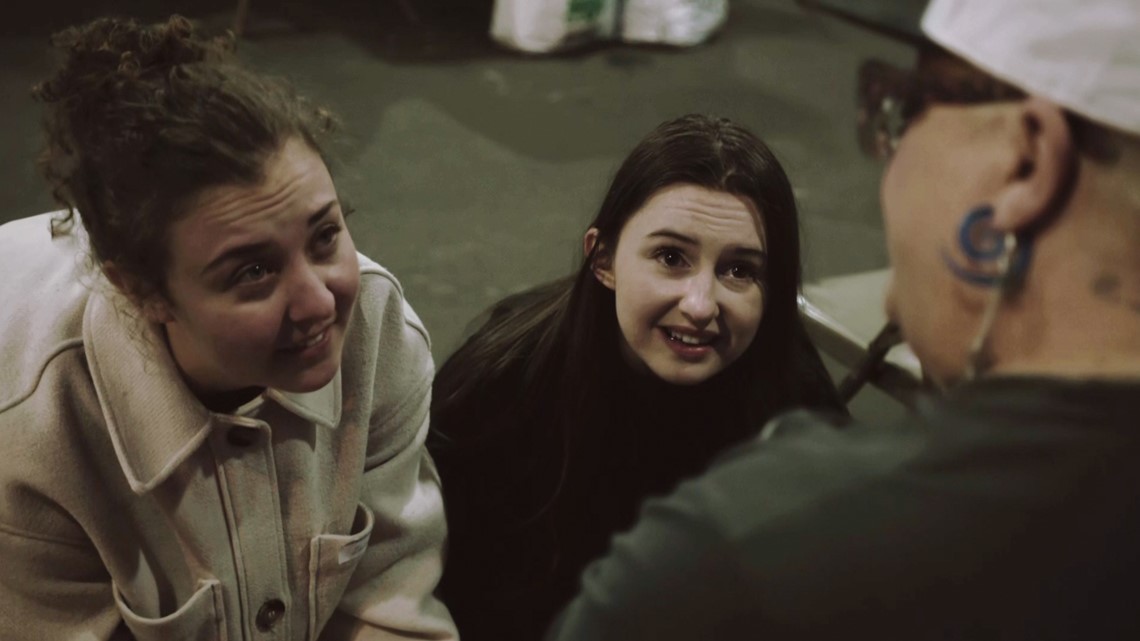 9:32 p.m. - Union Gospel Mission van, North Portland
A group of volunteers from Union Gospel Mission shout from an overpass to the homeless encampments below, "We've got food, supplies!"
A group of houseless individuals make their way up to the roadside, receiving a warm drink, dinner, clothes and other items. The van and its route at night is one of the few services running past sundown.
"Just a sandwich and some socks or whatever you might need, it gives us some hope and it's nice," one homeless man said.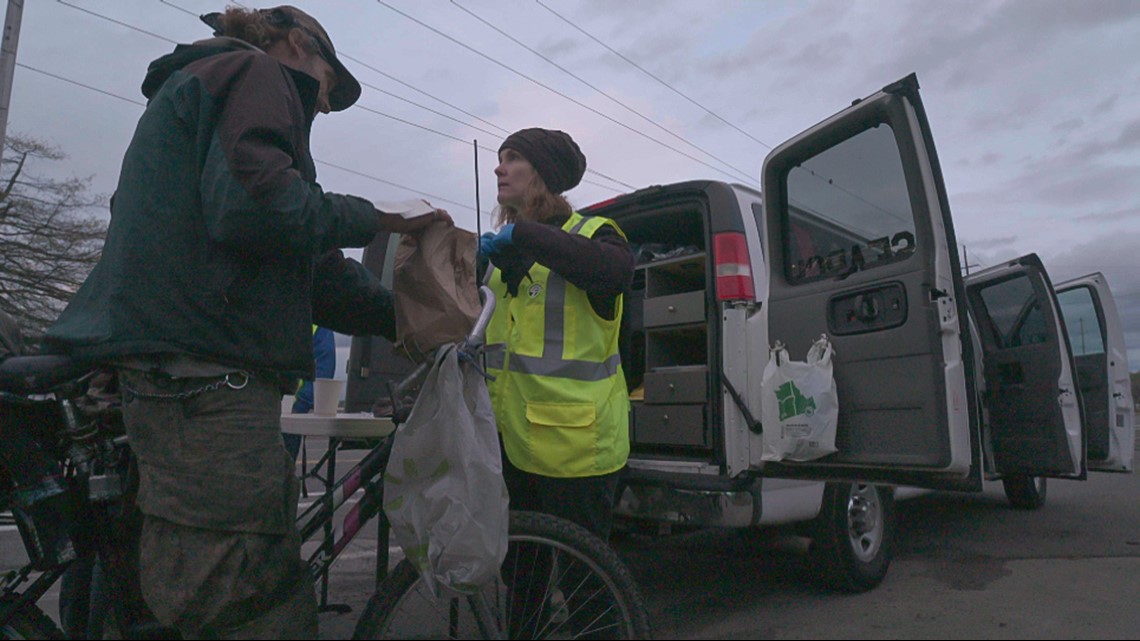 10:49 p.m. - Old Town Chinatown, Northwest Portland
Dan Lenzen walks through his bar, Dixie Tavern, smiling at the mix of music and people.
"There's always something going on, something unique, colorful, we're having fun," he said.
But at this time of night, he explains that the bar serves an additional purpose.
"A lot of the services that help people that are in crisis or homeless, they don't operate when we operate," Lenzen said. "We then have to be the ad hoc services to help a lot of folks."
Outside the bar, head of security Cameron Palm stays aware, ready to deescalate situations or provide care to anyone experiencing a mental health crisis or drug overdose.
"Training [as a behavioral health counselor] has been instrumental in how I approach situations and understanding, coming from a place of understanding, and working my way backwards," Palm said. "It seems like the well is running dry, it's hard for everybody out here."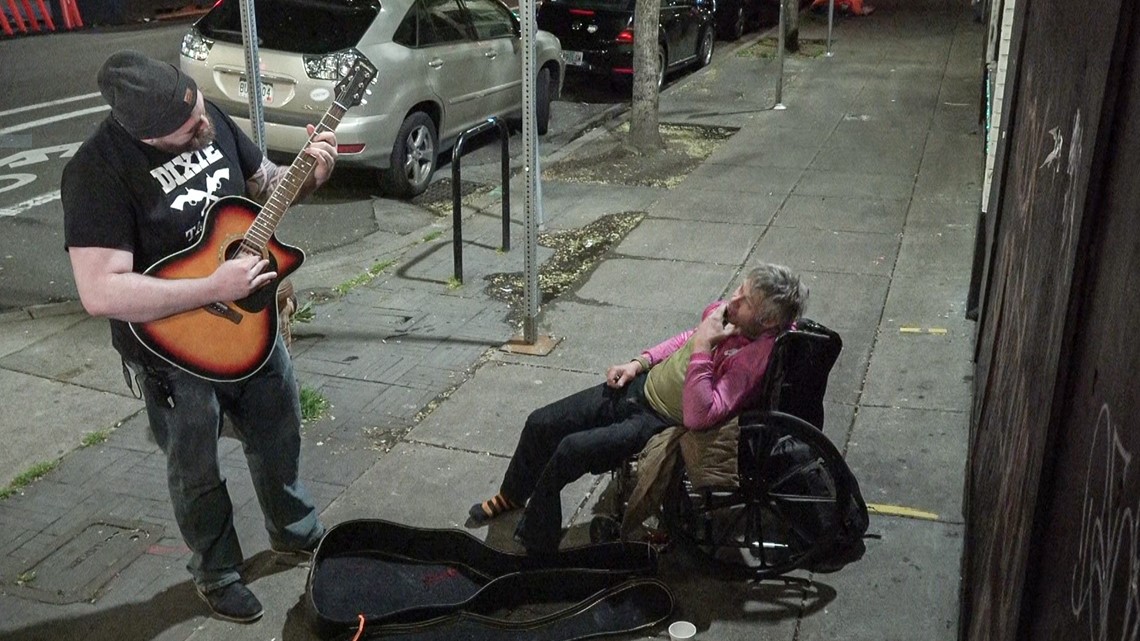 11:14 p.m. - Legacy Good Samaritan, Northwest Portland
A man arrives in an ambulance at Legacy Good Samaritan Hospital. He's no stranger to the emergency department; doctors said he's made around 150 visits in just the past year.
Jason McDonald recently had a heart attack and thinks he may be having another. His leg has been amputated, he's in a wheelchair, and he had to flag someone down on the street to call 911 on his behalf.
"He is an example of a typical patient; they've had multiple hospitalizations, but they also have no housing. They will come to the ER (Emergency Rooms) very frequently," said Dr. Siobhan Gray, a physician at Legacy Good Sam.
McDonald explains his most recent journey. After being referred by social services to a shelter, he was sent by the shelter to a hospital, and then by a hospital back to the shelter, with the cycle continuing. Eventually, he ended up at a bus stop – where his phone was stolen as he started experiencing chest pains again.
After several hours in the emergency room, he was released. A hospital staffer sat with him at a nearby bus stop to make sure he got on safely, then he was gone.
"It feels broken, it feels like we don't have a good solution or resources and it's not how we want to provide medical care and what these patients deserve but it's the situation that we're in," Gray said.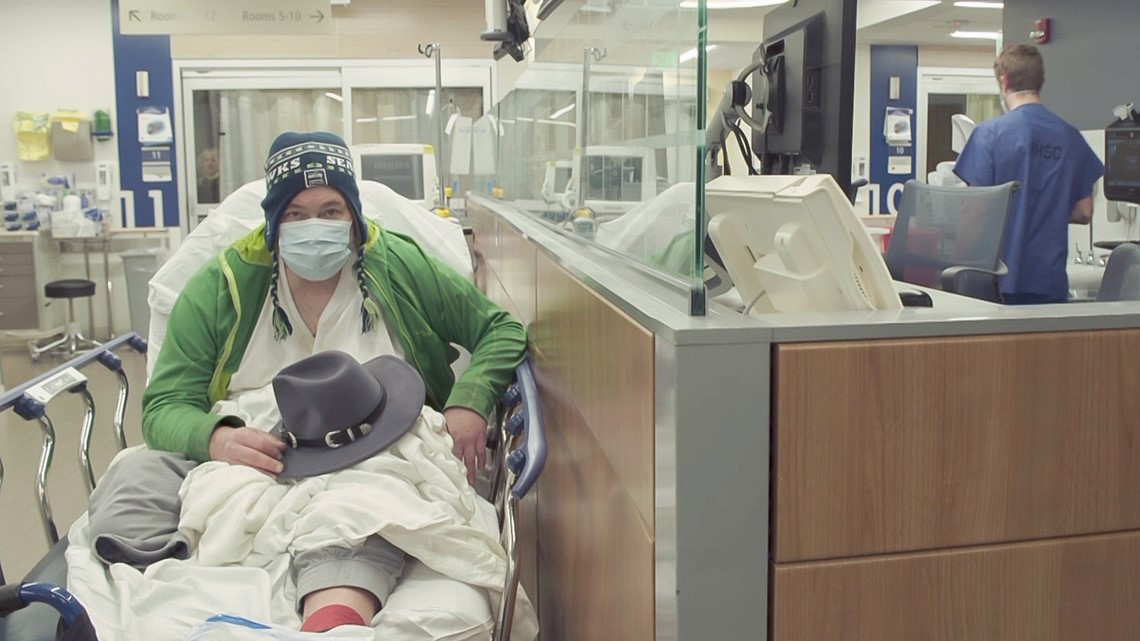 Producers: Kyle Iboshi, John Tierney, Allison Moulton, Evan Watson
Videography: Allison Moulton, Kurt Austin, Nick Beber, Evan Watson, Jon Goodwin, Kyle Connolly
Editing: Allison Moulton, Kurt Austin, Nick Beber
Sound editing: Zachary Carver
Graphic design: Jeff Patterson
Digital: Evan Watson, Celeste Ruiz
Additional help: Vince Jones