PORTLAND, Ore. -- Every day thousands of Oregon children get on a bus to head to school unaware that the bus may be spewing cancer causing diesel exhaust.
Oregon lawmakers are considering a bill that would clean up those dirty diesel buses. It is a drastically whittled down version of the original bill.
The original bill called for a comprehensive statewide plan to get all dirty diesel engines off our roads, but over the past few months, Senate Bill 1008 has been stripped down to a bill about school buses.
It would dedicate more than $20 million of the Volkswagen settlement money to making sure school buses in Oregon are cleaner and safer by the year 2025.
It's not what the Oregon Environmental Council had hoped for.
"I would like to see more but I know school buses are going to do a good thing," said Jen Coleman, health outreach director for the Oregon Environmental Council.
A recent Portland State University study tested the air around Portland for diesel particulate matter and found levels 10 to 20 times higher than what's considered safe.
Those particles are easily inhaled and can increase the risk of cancer, as well as developmental problems in children.
"I'm a pediatrician... kids are especially vulnerable, they're growing, they breath faster, it effects their lung growth and functions," said Dr. Paul Lewis, Multnomah County Health Officer.

Here's the problem: many Oregon children are being exposed to that pollution every day they take a bus to school.
A 2016 government study found hundreds of the dirty diesel buses still on the roads.
More than 150 were in use in the Beaverton School District. Eighty or more older diesel buses were carrying students in the Salem-Keizer, Gresham-Barlow and Hillsboro school districts.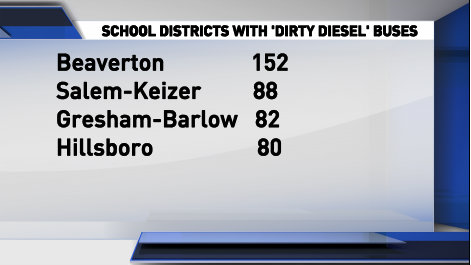 "There's a cost to retrofitting the engines, but there's a cost of exposing people to pollution and a cost to their health," said Dr. Lewis.
So where does Portland Public Schools stack up on the diesel bus list?
Very low. About 95 percent of its school bus fleet is powered by cleaner burning propane.