PORTLAND, Ore. — Five Oregon counties have reached the 65% threshold of residents 16 and older who've received at least the first dose of COVID-19 vaccine, allowing them to move to the state's lower risk category on Friday. Gov. Kate Brown announced Tuesday those counties are Benton, Deschutes, Hood River, Lincoln and Washington.
Multnomah County is not among the five counties moving to lower risk, even though it has vaccinated at least 65% of its residents 16 and older. It turns out Oregon's most populous county didn't submit its equity plan to reach underserved groups, a requirement for eligibility, so it won't be moving to lower risk by Friday.
Multnomah County health officer Dr. Jennifer Vines said it will submit the county's equity plan on Friday with a goal of moving to lower risk on May 28, right before Memorial Day weekend. Multnomah County chair Deborah Kafoury said the county didn't want to rush to put together its equity plan.
"The health of our whole community hinges on the health of each of our communities, and that's why the quite component of the state's newest framework must be developed intentionally," Kafoury said. "And that is going to take more than three days."
In an interview with KGW, Vines also cautioned that just because counties are moving to lower risk doesn't mean the pandemic is over.
"I do worry that there will continue to be groups of people who are susceptible to COVID-19 and that we can see outbreaks in those groups," she said. "We know the virus can find its way to vulnerable members of our community. We just have to hope that with this looser approach heading into summer, that's it's not enough to overwhelm or paralyze our hospitals and health systems."
The lower risk level allows a maximum of 50% capacity indoors at restaurants, theaters, gyms and other indoor entertainment spaces. It also expands retail store capacity to 75%.
In order for Oregon counties to individually move to the state's lower risk health and safety restrictions, they first must do the following:
Reach 65% of the county population 16 or older with a first vaccine dose.
Submit a complete plan to OHA which details how the county will close the equity gaps in their vaccination efforts.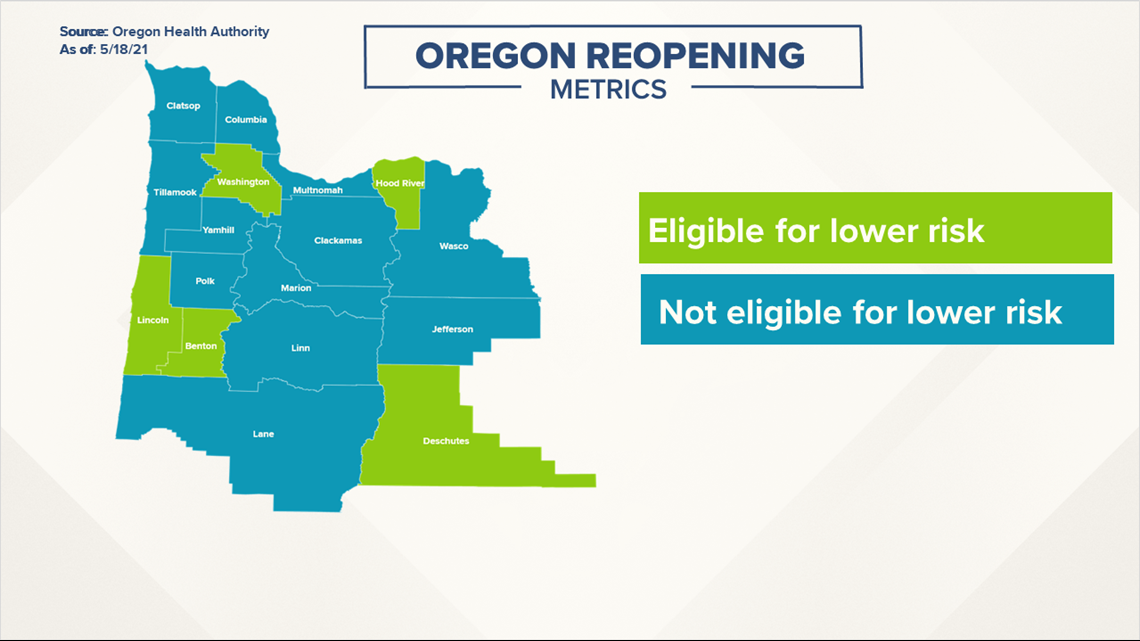 Last week, Gov. Brown announced a 70% statewide vaccination goal for residents 16 and older to fully reopen the state's economy. She said she was confident Oregon could achieve that goal by June to reopen and return the state to "a sense of normalcy" ahead of the July 4 holiday.
After reaching Brown's 70% goal, the state may still require the use of masks and physical distancing, the governor's office said, but all other health and safety requirements for counties under the risk level framework will be lifted, and counties will no longer be assigned risk levels.