NEWBERG, Ore. — Oregon received a shipment of personal protective equipment, or PPE, from the feds on Tuesday, but state officials said they only got some of what they requested.
As Rich Tyler with the Oregon Health Authority put it during an interview Wednesday, the shipment wasn't enough.
"We still have a shortage," Tyler said. "It's a national shortage with PPE."
As a result, things like gloves, masks and gowns designed for single use are being sanitized and used multiple times, and healthcare workers are getting sick.
Earlier this week, OHSU, Providence, Legacy Health and Linn County officials all confirmed cases of healthcare workers testing positive for COVID-19. There were 31 in total.
The state is scrambling to provide doctors and nurses with more protection and to stockpile PPE ahead of a possible spike in patients.
"We're not only responding to the requests that the counties and tribes are asking for but also that we start to have a little bit of a buffer knowing that we have that surge potentially coming," Tyler said.
Some hospitals are doing more to keep staff in the loop about how much PPE they have.
OHSU is keeping a digital supply dashboard updated daily.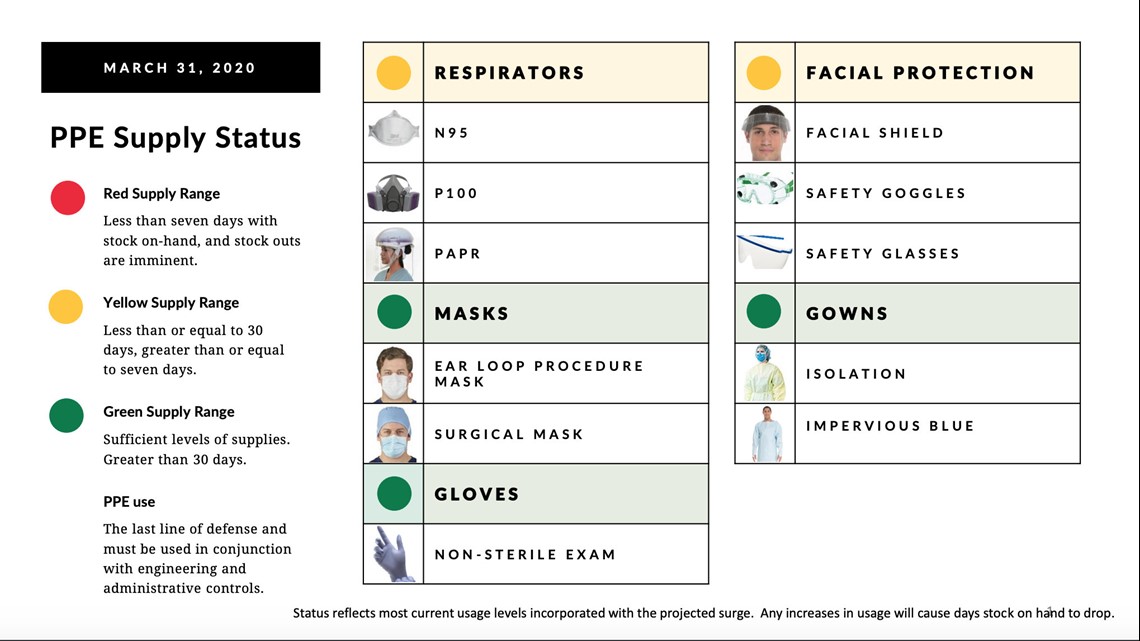 Tuesday, staff could see masks, gowns and gloves were in the green range, meaning the hospital had at least 30 days' worth.
Respirators and facial protection are in the yellow range, meaning administrators have anywhere between seven and 30 days' worth.
If supplies drop into the red range, that means administrators expect that item to run out in seven days or less.
Other hospitals have found themselves in more dire straits.
"We were down to two days' worth of shields," said Brian Terrett, communications director at Legacy Health.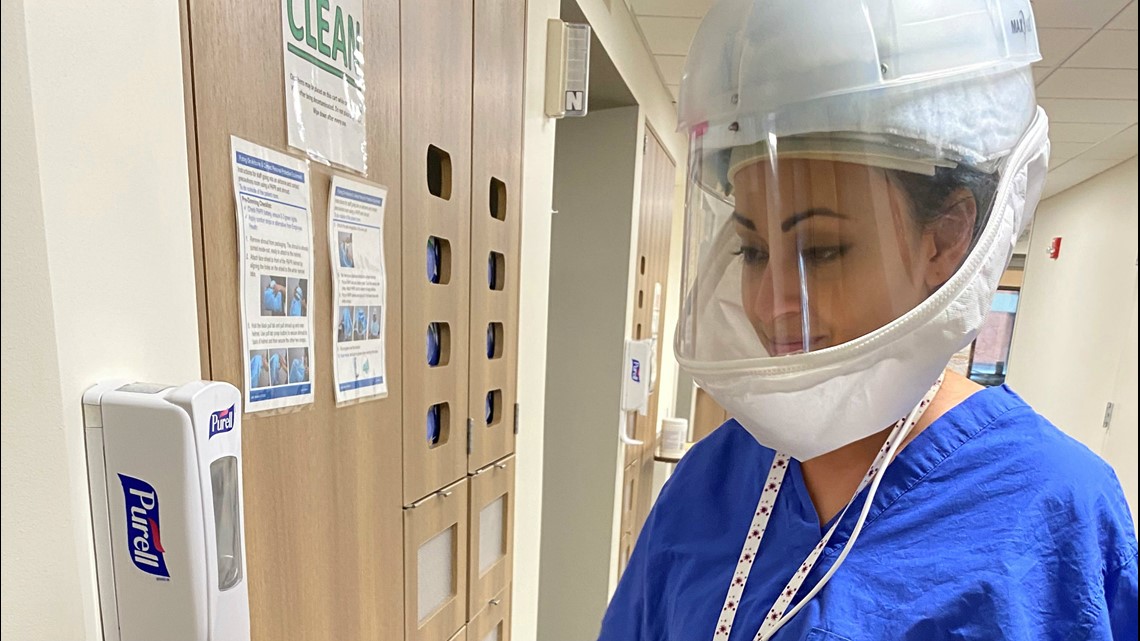 Terrett said Legacy hit that unnerving benchmark two weeks ago.
Then, a nurse stepped in, giving administrators a heads up that she'd been chatting with a man at church who worked at A-dec.
The decades old, family-owned company out of Newberg founded by Ken and Joan Austin normally produces dental supplies, but when owners heard about Legacy's need, they retooled their factory and retrained their staff to start producing face shields.
The couple contributed heavily to Special Olympics and Oregon State University, where the business school Austin Hall is named for them. Ken Austin created the Benny the Beaver mascot.
Wednesday, less than two weeks later, Legacy got its first shipment the Oregon company.
"Our whole team is really excited about this and the fact that A-dec has the resources to support the fight against COVID," said COO Marv Nelson.
A-dec plans to produce thousands of masks every week, enough to help the healthcare group build up a stockpile. The company is donating their labor and overhead costs to make the masks. Legacy is only paying to cover the cost of materials.
That is, assuming their pipeline of supplies stays open.
Nationally, there's a strain on the raw materials, too.
"Nobody could have dreamed this up, right? I mean, it's just been a challenge for the entire country and the world," Nelson said.