PORTLAND, Ore. — Oregonians will begin receiving notifications in the mail this week to let them know they are eligible to participate in one of the state's pivotal contact tracing and testing programs during the ongoing coronavirus pandemic.
The study, called Key to Oregon, is a collaboration between the Oregon Health Authority, Oregon Health & Science University Hospital and the OHSU-PSU School of Public Health. The goal of the study is to track, test and map the COVID-19 symptoms of 100,000 Oregonians over the course of a year.
Government and health leaders aim to use the information gathered during the study to make better-educated decisions about the safety risks for continuing to lift social and economic restrictions during the pandemic, as well as avoiding a second wave of infections.
Recruitment notifications were sent Monday, according to OHSU, and are expected to arrive at mailboxes across the state in the coming days. Researchers expect to contact 150,000 households who fully represent the state, from geographical location to socioeconomic status to race.
Selected households will first receive a postcard that will alert them of forthcoming enrollment information. You can see an example of a postcard in the picture below.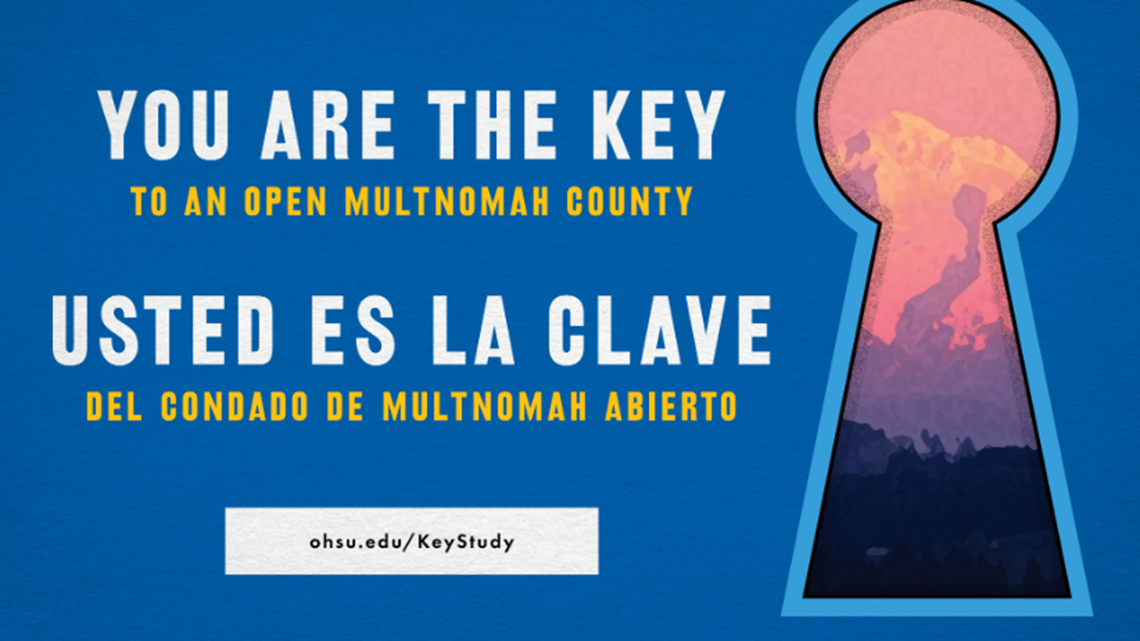 Shortly after receiving the postcard, households will get a letter with directions for how to enroll in the study. Anyone 18 or older in a selected home is eligible to take part in the study. OHSU says the study will follow strict patient privacy guidelines. Participation is on a voluntary basis. Researchers hope to get up to 100,000 volunteers.
People who choose to participate in the study will:
Monitor their temperature and other symptoms every day over 12 months using state-of-the-art technology, such as Kinsa smart thermometers, to collect real-time data.
If they show symptoms, they will receive a home test kit. This will enable them to detect the virus at its earliest stage so they can better protect themselves, their family and the community.
Be referred to the Oregon Health Authority for follow-up and appropriate action as needed.
The state of Oregon has invested $6 million to help fund the study, although additional funding is being sought. For more information on the study, click here.