'Such a great victory': One year later, an update on Oregon's first COVID patient
Hector Calderon spent two months on a ventilator. For the doctors and nurses who fought to save him, it was an introduction to how brutal the novel virus could be.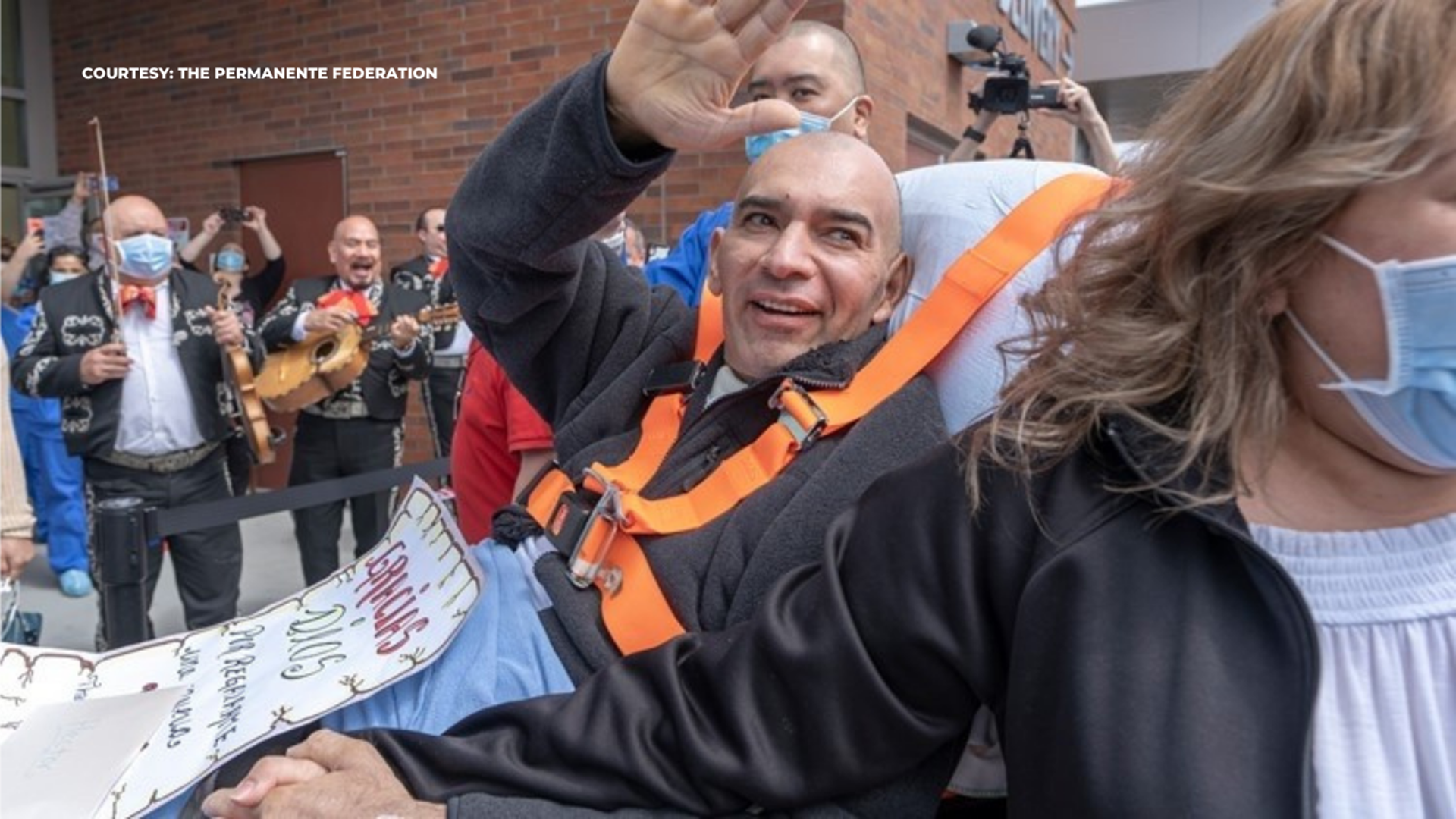 One year ago, life in Oregon was normal.
Kids went to school. Fans went to games. Masks weren't a thing. That said, while none of us knew it, the virus that would soon upend our lives had arrived, and Oregon's first patient was already feeling symptoms.
The announcement came on the evening of Friday, Feb. 28, 2020: Oregon had its first confirmed case of COVID-19. The patient, an adult, worked at a local school. Word of mouth and journalists' inquiries soon revealed it to be Forest Hills Elementary in Lake Oswego. Hazmat crews scrubbed the halls, while doctors and nurses at Kaiser Permanente Westside Medical Center in Hillsboro grappled with the realization that a looming, global pandemic had indeed hit home.
With the first anniversary of that pivotal announcement set for Sunday, three of those Kaiser staff members sat down with KGW, remotely, to reflect on Hector Calderon's case, what they learned from it and how their jobs and the health care industry have changed since.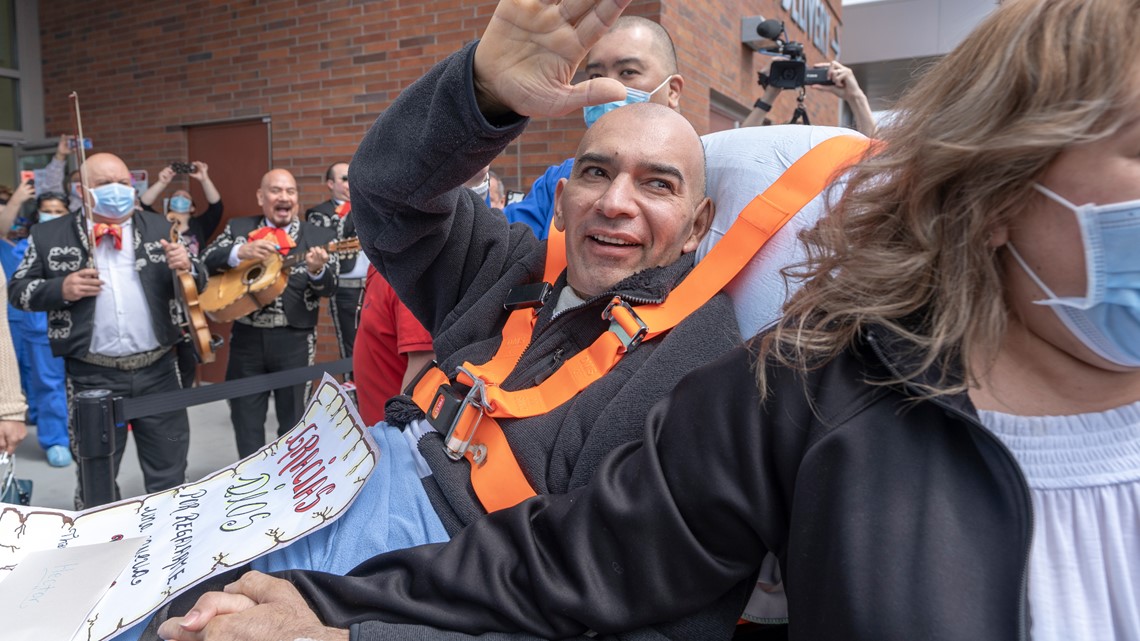 The test
:
A few days prior to Feb, 28, 2020, Dr. Katie Sharff headed to work on a personal mission: to deliver a 'get well' card to Hector Calderon. She had promised her son's first grade class.
"My children actually went to the school where Mr. Calderon worked," Dr. Sharff said in an interview last week.
The mother of two and infectious disease physician with Northwest Permanente knew Calderon, the school's janitor, had been feeling sick for days. When she arrived, she was just as puzzled by his case as her colleagues in the ICU.
"He was a young, healthy man and was so incredibly ill," Dr. Sharff said. "It was just surprising how ill he was without a clear explanation."
ICU charge nurse Eric Cathey remembers the confusion well. Calderon was 46 years old and had no underlying conditions. What's more: COVID had popped up in other states, but not Oregon. It just seemed so far-fetched that he could have the virus. Staff weren't even wearing COVID-level PPE at the time, Cathey noted.
Then, after a few days with no answers, a doctor voiced a gut feeling.
"He had said 'Hey, I have a weird feeling about this guy. We should be masking up,'" Cathey recalled. "There's no reason why this young guy should be as sick as he is."
Staff ordered a COVID test. Most believed it was out of an abundance of caution.
"And then when those tests came up positive, yeah, it became surreal," Cathey said, adding he and other ICU staff who had been caring for Calderon were ordered to go home and quarantine for two weeks. "We are all just exposed. So yeah, initially it was scary."
Alerts went out to all staff, including Dr. Sharff, who had flown to Arizona.
"I was literally sitting on the tarmac of an airplane, and I turned on my cell phone, and I had a text message from my colleague saying 'Call me ASAP. COVID positive.' That's all it said," she said. "It was almost a sense of like shock, like, 'Oh my gosh, what now?'"
Dr. Stella Dantas, the association medical director for ambulatory and convenient care, remembers hospital staff and administrators huddling in a "command center" over the weekend.
"We were quickly figuring out how to get the word out to our patients ... shutting down our buildings and having our patients and our clinicians and our staff be flexible on how they were going to provide care," she said.
Kaiser, she noted, already had telehealth and virtual care options. The lines were flooded.
"A lot of it was questions about, and just anxiety about, 'What do I do? There's a pandemic. Do I need to be tested?'" she said. "Even if somebody wasn't exposed."
The answers were further complicated by another detail in Calderon's case. In addition to being the first Oregonian with COVID, he was also the second American to contract the virus without coming into contact with someone who had traveled. Instead, his infection was the result of "community spread," and, Cathey noted, it was alarming.
"It was like 'Wow, this is really happening. It's here.' You know, 'We can't contain it.'"
As that sobering reality sank in, Calderon's condition rapidly worsened.
Calderon's battle
:
Hector Calderon spent the vast majority of his more than two months in Kaiser Westside on a ventilator, according to hospital staff. For Eric Cathey, it was an introduction to just how brutal the virus could be.
"The COVID patients that become really sick, have been the sickest patients I've ever taken care of," he said. "So, when Hector got really sick, it was very real."
Cathey noted it was hard to explain to friends and family, who were weighing how seriously to take the virus.
"I'm even guilty for that. You know, if I had five days off, it's just human nature. You get off, and you start to think 'Okay, everything seems fine. The community seems fine.' And you get back to work and then you would see it all over again, how sick some of these people were," he said. "And then it just brought you back to reality."
Dr. Sharff, all the while, was getting peppered with questions at home.
"Especially my son who knew [Calderon] well from school would ask on a daily basis," she said. "[I] was just trying to say, you know, 'He's being cared for by an excellent team of health care workers, and they are all working their best for him.'"
Both acknowledged, the team at times was flying somewhat blind. COVID-19 was a new virus, and many treatments for it were deemed experimental. Calderon, for instance, was one of the first Americans to be treated with Remdesivir, an experimental drug later used to treat President Donald Trump. Remdesivir was later approved for treatment by the U.S. Food and Drug Administration.
To call it an "all hands on deck" scenario would be an understatement.
"Just the amount of drugs that it would take to sedate [these patients] … so that they can be ventilated properly," Cathey said. "You then run into blood pressure issues, and then you are on medication to keep their blood pressure up. And then if that doesn't work, then you have to paralyze the patient so that they comply with the vent."
In Calderon's case in particular, staff were very afraid.
"I've seen so many people in his shoes pre-COVID that, I could have wrote them off," he said. "I could have bet my life on Calderon not surviving this hospital stay."
The turnaround
:
Roughly two months after he was admitted to Kaiser Westside, doctors and nurses noticed a shift. Calderon's condition started to improve. He came off the ventilator.
"I do remember when he started to turn a corner," Dr. Sharff said. "And just being able to share [with my son] … it was really nice."
On the afternoon of May 5, 2020, staff at Kaiser Permanente sent out a press release. Oregon's first COVID patient was healthy enough to leave the hospital. He had actually been discharged the day before.
Staff lined the halls, cheering his exit. His pastor and a mariachi band were waiting outside. The latter fulfilled a promise made by ICU charge nurse Chad Cabe who, according to that press release, visited Calderon throughout his time on the ventilator and "gave him a pep talk and said a little prayer for his recovery – even when he was sedated and intubated."
Sitting in his hospital bed, flanked by family, Calderon gave a short interview to a hospital photographer.
"Thank you so much for all your hard work and dedicating all your time to me," he said, addressing the doctors and nurses who cared for him. "My family and I we are so thankful. Thank you for everything. God bless you."
Calderon has declined interviews since, according to a spokesperson for Lake Oswego School District. His recovery continued after his release. He went first to a skilled nursing center for physical therapy.
Today, Calderon is considered recovered from COVID-19, and he's back on the job as a janitor at Forest Hills Elementary.
The takeaways
:
Dr. Sharff is still blown away by how her personal and professional lives intersected with Calderon's case. It's one of many reasons his journey sticks with her.
"The biggest lesson I learned from Hector is just how inspiring an individual patient can be," Dr. Sharff said, tearing up. "I don't mean to get emotional, but, you know, on days where you're like, 'Oh my gosh, this will never end', you think about those individuals where they did recover."
Another encouraging development, Dr. Dantas said, is the shift doctors and nurses have seen in patient care since COVID arrived in Oregon. E-visits, where a patient can chat virtually with a doctor or nurse, were averaging 3,000-4,000 a month, before April of last year. Now, they're up to an average of 11,000-12,000.
It's made patient care more accessible, she noted, and it comes alongside an unprecedented partnership in health care. Kaiser Permanente, Providence, Legacy Health and Oregon Health & Science University all pooled their efforts and their doses to, as quickly as possible, vaccinate Oregonians at the Oregon Convention Center.
In short, Dr. Dantas said, people seem more resilient and adaptable since the pandemic began.
"I really think that, you know, when the [snow and ice] shut [everything] down last week we were challenged with communication. People didn't have internet, they couldn't drive … everybody is so quick to be just like, 'I'm going to go here. You don't have internet, and you can't see your in-basket, I'll take care of your patients,'" she said. "I feel like 2020 and 2021 are linked, that we're not alone. We're all in this together."
Those morale-boosters, Calderon's success story chief among them, are all the more needed, one year into this harrowing battle.
"You turn around, and then you have like another person just like Calderon or another five of them, you know? And it just starts all over again," Cathey said. "But [his recovery] was a such a great victory."