PORTLAND, Ore. — Updated modeling by an institution creating projections used by the White House coronavirus task force shows Oregon's peak could come sooner than previously anticipated and also be less deadly than previous projections.
A week ago, the Institute for Health Metrics and Evaluation at the University of Washington projected Oregon would hit the peak of its coronavirus pandemic curve in early May. Now, the peak of Oregon's curve is expected to be in about two weeks, on April 21.
On that date, researchers estimate there would be five people in the state who die from COVID-19. The number of deaths per day would then steadily decline through the end of May. According to the model published on the IHME website, Oregon is estimated to have 171 total coronavirus deaths. That total is a substantial decrease from last week's model, which estimated 551 Oregonians would die during the pandemic. As of Monday, 29 people have died from COVID-19.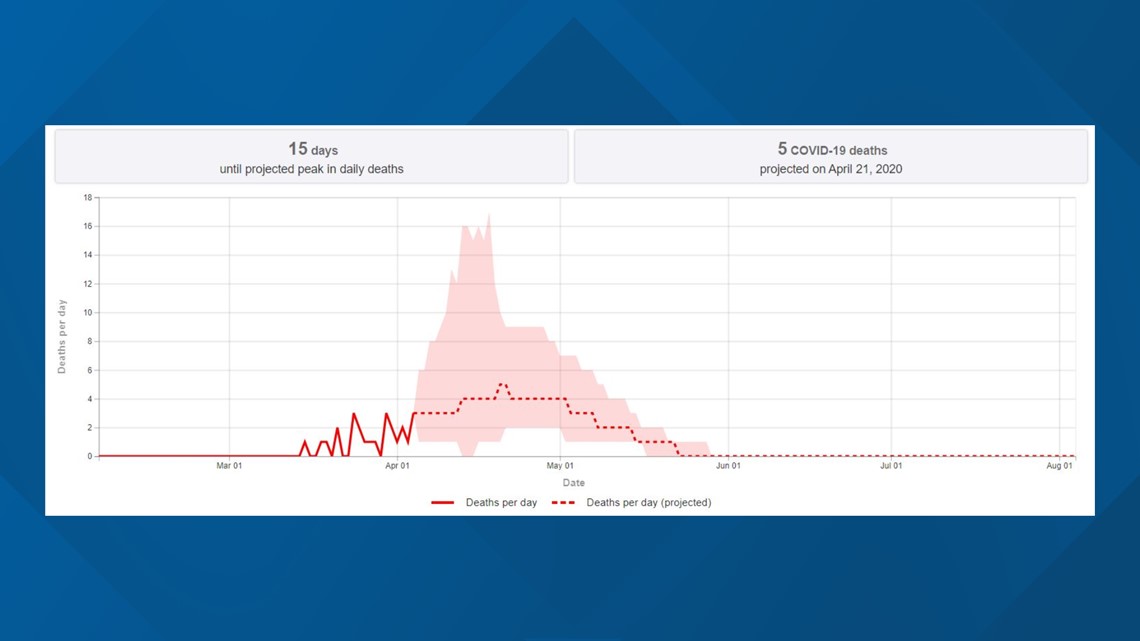 As far as hospital resources go, it appears the state is positioned well to handle the surge of coronavirus patients expected to peak on April 21. Researchers estimate Oregon will need 227 beds, including 47 ICU beds, and 40 ventilators. Oregon has more than 2,600 beds, including 210 ICU beds, available and more than 800 ventilators available. The projections do no take into account personal protective equipment (PPE).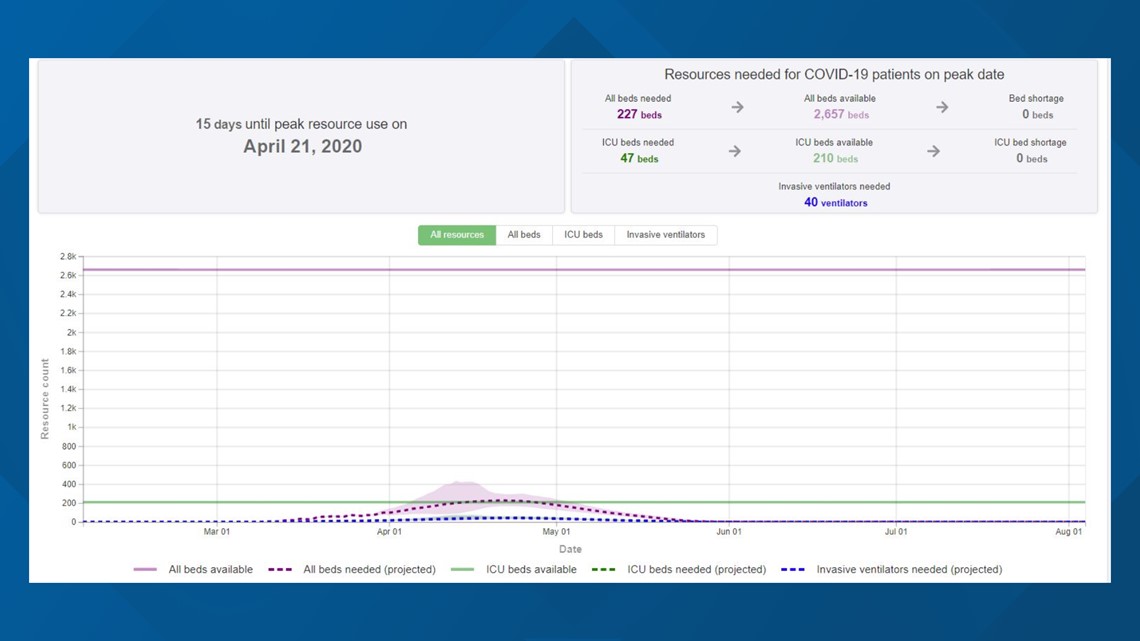 Health officials say the updated model shows social distancing measures in Oregon are working. Gov. Kate Brown shared the same sentiment during an interview over the weekend.
"Oregonians have done a phenomenal job complying with these social distancing measures. We are reducing transmission and flattening the curve," she said.
The apparent flattening the curve success is why Gov. Brown sent 140 ventilators that just arrived in in the state out to New York. Pictures of the yellow box protecting the machines carry a sticker with a green heart in the middle of an outline of the state of Oregon.
The new data from IHME also now suggests Washington state's worst day may have already passed. Gov. Jay Inslee sent 400 ventilators back to the national stockpile.
But if Oregon has plenty of ventilators and hospital beds why not ease restrictions, especially on businesses? Gov. Brown said it's not just about hospital beds, it's about getting enough personal protective gear for health care and front line workers.
She also wants to see a period of no deaths for 10 days or two weeks.
"And number three that you have testing capacity to continue to test and do surveillance in communities around the state. Essentially, doing contact tracing. Determining if there is an outbreak – how it spread, who it spread to—all those pieces. And you just know from the last piece, the testing capacity, we are several days, probably weeks, away from having that ability to do testing surveillance," said Brown.