ST PAUL, Minn. — The Minnesota Department of Health (MDH) reported 9,040 new COVID-19 cases Saturday, along with 45 new deaths.
MDH said Saturday's reporting is for data from Thursday, Nov. 26 and Friday, Nov. 27.
MDH's COVID-19 case definition was recently updated to include antigen testing. Previously, cases were only reported through polymerase chain reaction (PCR) testing. Positive PCR test results are considered confirmed cases, while positive antigen test results are considered probable cases.
MDH will combine these totals for its death, hospitalization and demographic reporting. The department will report the numbers separately for some other areas, like newly reported cases and total cases by county of residence.
Saturday's new case total includes 8,574 confirmed cases and 466 probable cases.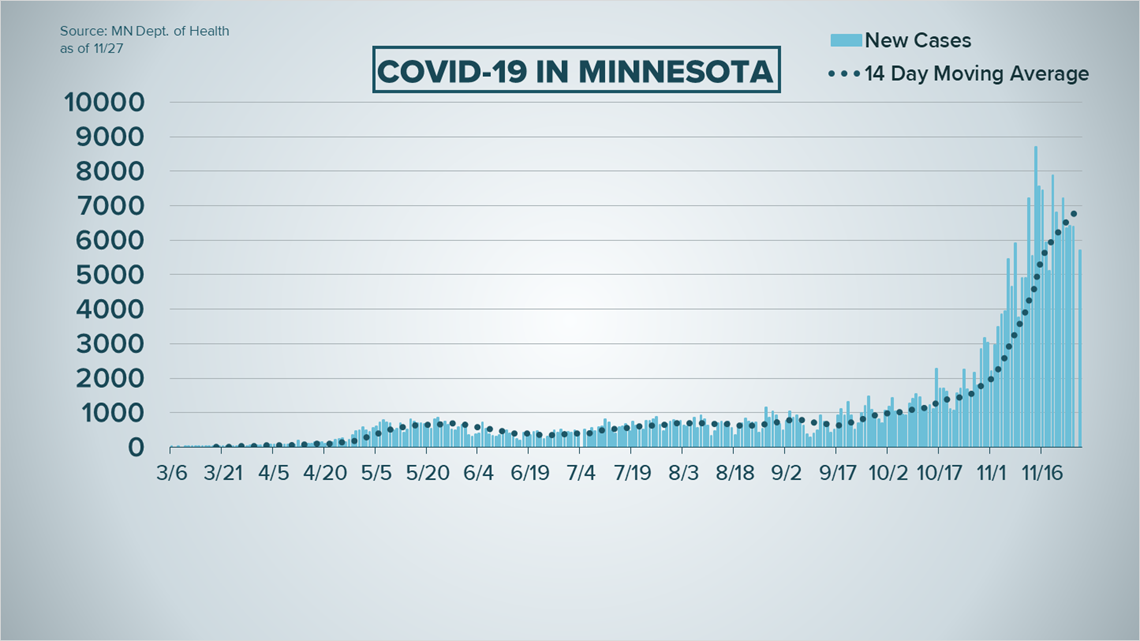 The total number of Minnesotans who have tested positive for the virus since the pandemic began is now 297,928 with 6,095 of those as antigen test results.
MDH says 45 new deaths from the virus were reported from Thursday and Friday. This pushes the total number of fatalities in Minnesota to 3,521.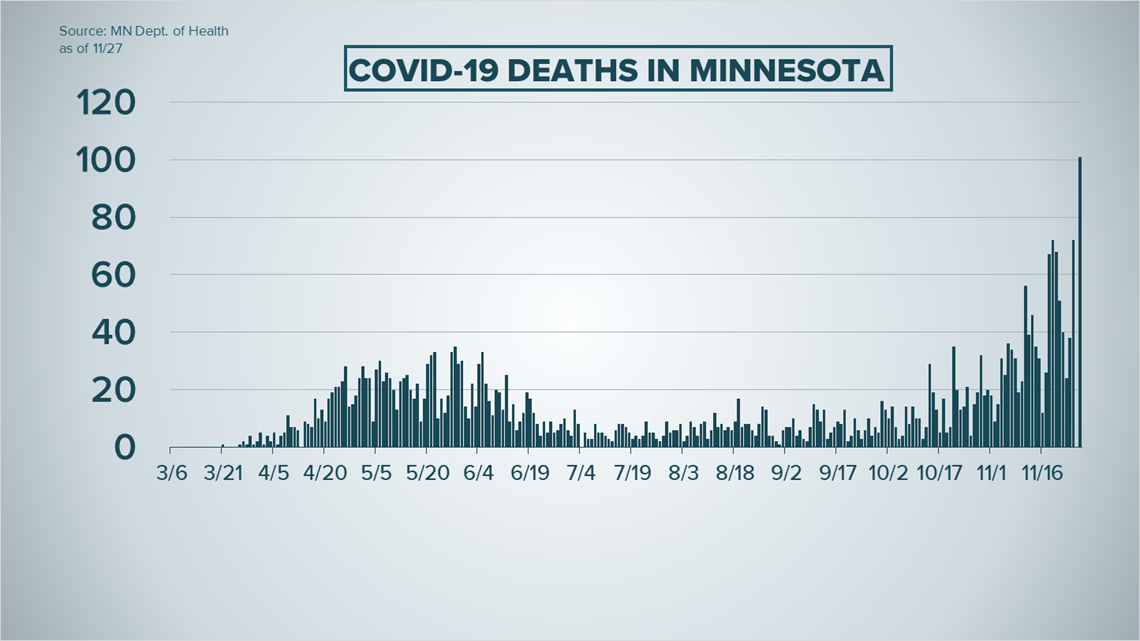 To date, 16,423 Minnesotans have been hospitalized with the coronavirus since the pandemic started, with 3,715 of them needing care in the ICU.
MDH reports that 257,485 people once diagnosed with the virus have recovered enough that they no longer need isolation.
Of those who have tested positive, people between the ages of 20-24 account for the most cases with 32,893 cases and two deaths, and ages 25-29 follow with
27,937 cases and four deaths. Those between 85 and 89 years old account for the highest number of fatalities in one age group with 654 out of 3,815 cases.
In terms of likely exposure to the coronavirus, MDH says 56,532 cases were the result of community transmission with no known contact with an infected person, and 50,448 had known contact with a person who has a confirmed case.
A total of 23,929 cases involved exposure in a congregate living setting, 5,198
were in a corrections setting, and 515 were in a homeless shelter. MDH data shows 13,969 were linked to an outbreak outside of congregate living or health care.
MDH says 18,329 cases were linked to travel. Health care workers or patients account for 7,939 of diagnosed COVID-19 cases. The source of transmission for 127,164 cases is still unknown or missing.
MDH has prioritized testing for people in congregate care, hospitalized patients and health care workers, which may impact the scale of those numbers. However, now MDH is urging anyone who is symptomatic or even asymptomatic to be tested. Testing locations can be found online.
Hennepin County has the most COVID activity in the state with 64,142 cases and 1,113 deaths, followed by Ramsey County with 27,059 cases and 502 deaths, and Anoka County with 21,526 cases and 225 deaths.
Full data, including a breakdown of PCR and antigen test totals in some categories, can be found on MDH's website.
The Minnesota Department of Health has said repeatedly that the number of lab-confirmed cases is only the "tip of the iceberg" when it comes to the true number of COVID-19 cases in the state.
Health officials reported 28 new deaths on Saturday as the total number of fatalities in Wisconsin rose to 3,285, which is approximately 0.9% of those testing positive for the virus.
On Oct. 6, Gov. Evers' administration issued a new order limiting the size of public indoor gatherings to 25% of capacity, to stem the spread of COVID-19. That order was struck down on Oct. 13 by a judge in Sawyer County. The order was reinstated on Oct. 19 by a Barron County judge, but on Oct. 23, a Wisconsin appeals court put a hold on the order.
Wisconsin health officials say a total of 16,882 people have been hospitalized from the coronavirus since the start of the pandemic, about 4.4% of the total number of people who have been diagnosed with the virus.
Of the confirmed cases in Wisconsin, 20% involve people between the ages of 20 to 29, 16% are between 30 and 39, 15% are between 50 and 59, and 14% are 40 to 49. An estimated 11% are between 10 and 19, and another 11% are between 60 and 69.
As of Saturday, Milwaukee County reported the largest number of confirmed cases with 67,015, along with 733 deaths. Dane County has reported 26,843 confirmed cases and 80 deaths, Waukesha County has reported 25,636 confirmed cases and 195 deaths, and Brown County has reported 22,385 cases and 137 deaths.
The first positive case of COVID-19 coronavirus in Wisconsin was reported in a patient in Dane County in early February.