Helpful resources for Oregonians impacted by coronavirus
Here's a list of resources to help Oregonians who are struggling to make it through the COVID-19 pandemic.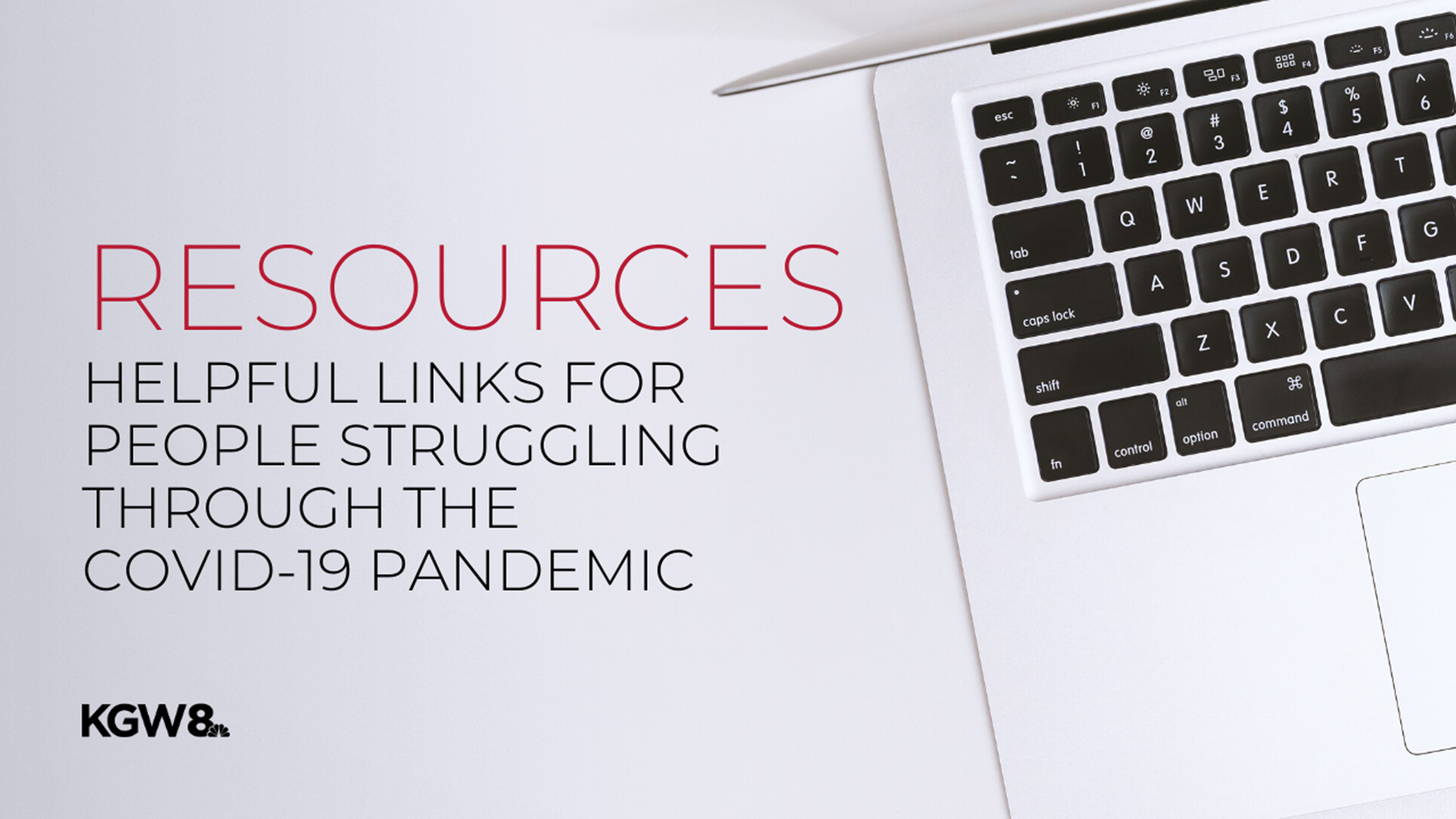 Stay-at-home orders aimed at slowing the spread of COVID-19 continue in Oregon and Southwest Washington. And though experts say the social distancing measures are working, a lot of people are suffering.
Hundreds of thousands have lost their jobs or seen their wages reduced. Many are struggling to pay their rent or mortgage. In some homes, social distancing and stay-home orders have exacerbated problems with substance or domestic abuse. Many are looking for help with their mental health.
That's why we've created this page with a list of resources that could help.
Let's also remember to continue to take care of each other. Reach out and connect with loved ones, friends, co-workers and neighbors who may need a helping hand or an encouraging word.
Thank you for all the good you're doing. It doesn't go unnoticed, and it's making a difference. We'll get through this together.
EMPLOYMENT
:
Hundreds of thousands of Oregonians have filed unemployment claims since March 15. The highest number of claims have come from the leisure and hospitality sector, which includes hotels and restaurants.
Other industries heavily impacted over the past five weeks include health care and social assistance, retail, professional and business services, and manufacturing.
Resources
HOUSING
:
On April 1, Oregon Gov. Kate Brown announced an executive order putting a 90-day moratorium on all commercial evictions for nonpayment.
The order also strengthened Brown's earlier ban on residential evictions. It prohibits landlords from charging their tenants late fees for not paying rent during the moratorium.
Resources
FOOD ASSISTANCE
:
The Oregon Food Bank's partner regional food banks and food assistance sites around Oregon and Southwest Washington report a 20 to 70 percent increase in people accessing food assistance.
Food is available at the moment. The Oregon Food Bank and its network of more than 1,400 partner pantries and food assistance sites — most of which are still open — are not experiencing a shortage of food or supplies at this point. That is mostly due to the community's generosity and Gov. Kate Brown's recent allocation of $8 million.
Resources
HEALTH CARE AND INSURANCE
:
Oregon reached an agreement in early March with private health insurance companies to waive co-payments, co-insurance and deductibles for Oregonians who undergo testing for COVID-19 at a facility that's within their insurance network.
The agreement also will apply to a vaccine for the virus if one becomes available, Gov. Brown said in a statement March 6.
Resources
STIMULUS CHECKS
:
Many in Oregon and across the country have received their stimulus checks in direct deposits. But some are still waiting and wondering when it will arrive.
If you didn't set up direct deposit with the Internal Revenue Service (IRS), you're probably one of those still awaiting relief in the form of a paper check in the mail. The IRS said it planned to send paper checks out last week, but getting through all of them will take months. Some may not see their checks until August.
Resources
COVID-19 INFO
:
The coronavirus pandemic has grown to nearly 3 million cases worldwide. Countries and U.S. states are moving to reopen gradually amid the warnings that acting too quickly could be harmful.
As concerns about coronavirus has grown, so have all the questions about symptoms, social distancing, stimulus checks, and much more.
Resources
DOMESTIC ABUSE HELP
:
Calls into Oregon's child abuse hotline are down significantly, and that's not necessarily a good thing. An Oregon Department of Human Services spokeswoman said it's been "extremely concerning" to go from taking more than 700 calls a day to averaging fewer than 300 calls a day in the last few weeks.
"Teachers, medical professionals, and many others are required by law to report suspected abuse and now that children have fewer eyes on them, there are not as many reports coming in. This doesn't mean abuse isn't happening, just that it's not being reported," the spokeswoman said in a statement to KGW.
Resources
SUICIDE PREVENTION
:
Portland Police Chief Jami Resch said late last month that police calls on suicides were up 41% from the same time last year, and that they had gone up
23% just in the prior week.
"I ask everyone to reach out by phone, text or video chat to connect with your family, friends and neighbors if they are struggling, make sure they know how to access the mental health intervention line or lines for life," Chief Resch said.
Resources
SUBSTANCE ABUSE HELP
:
Amid coronavirus-prompted social distancing measures, in-person meetings that support the sobriety of Americans struggling with substance use disorder have been canceled across many states, including Oregon.
According to Mike Marshall, executive director at Oregon Recovers, people exiting drug and alcohol treatment programs are now finding the support system they need to start building a new, healthier community has gone online.
Resources
MENTAL HEALTH SERVICES
:
Now that we've been social distancing for more than a month, mental health experts say it's a good time to re-evaluate how you're doing. "It's really is important to ask ourselves how we are doing and what we might do differently in order to feel better," said Dr. Jeffrey Eisen, Chief Medical Officer at Cascadia Behavioral Healthcare.
For anybody struggling right now with mental health, Eisen said it's important to know that help is still available even during the COVID-19 crisis. Multnomah County offers several resources as do other counties in the area.
Resources