PORTLAND, Ore. — Schools closed, businesses shut down, gatherings banned and more and more victims every day.
Does that sound like Portland dealing with the COVID-19 outbreak? Yes, but it's also what happened in the Rose City during the Spanish flu of 1918.
Newspaper clippings from more than a century ago reveal what life was like for Oregonians during that pandemic. In many ways, it's similar to what's going on today.
The morning edition of The Oregonian on October 12, 1918, included the headline "All Portland Bows to Will of Nation." This was the day after Portland Mayor George Baker ordered the city's schools, theaters, dance halls and churches closed.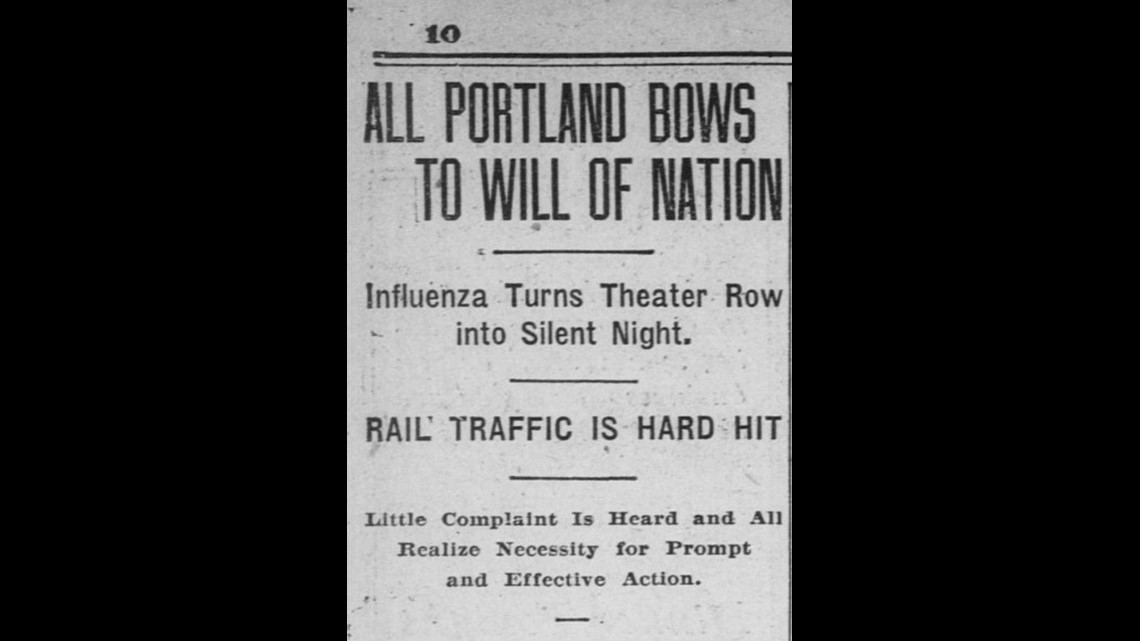 But, as referenced by the headline, his order came after a lot of other cities had already put quarantines in place.
"He didn't really want to shut Portland down," said Doug Kenck-Crispin, a historian who recently wrote about the Spanish flu in Portland for Willamette Week. "He was told to by the U.S. Surgeon General and public health officials."
Like some of Oregon's present-day leaders, Baker was worried about what would happen to businesses.
"[Mayor Baker] was told, 'now you need to close this place up,' and he said, 'what about the economic impact that's going to have on the city?'" Kenck-Crispin said.
It wasn't just Portland that shut down. A clip from the Beaverton Times from October 18, 1918, declares "Beaverton is Closed Because of Influenza." The article says, like Portland, the city was following orders from the U.S. Surgeon General, despite no cases in Beaverton at the time.
A second headline on the Beaverton Times clip reads "City Officials Named at Outdoor Caucus" with the subhead "Even Spanish Influenza Cannot Stop Local Politics, But Interest Lags as Week Goes."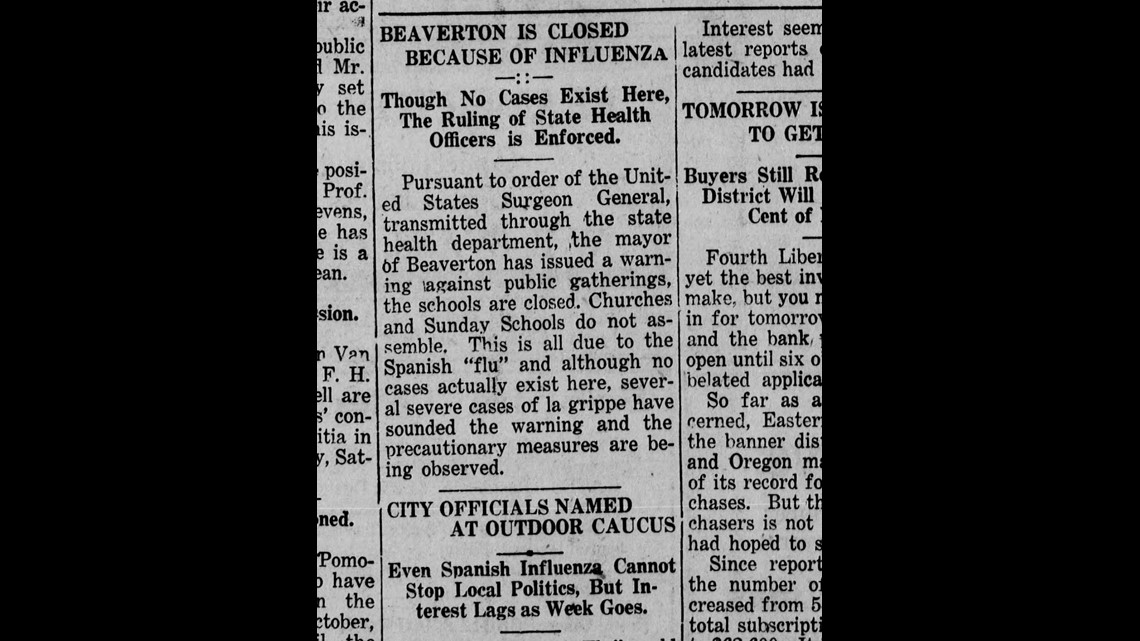 The 1918 midterm elections were held just a few weeks after this article was printed. President Woodrow Wilson was in the middle of his second term, and Republicans took control of Congress.
But voter turnout was unusually low, at 40 percent, according to the United States Election Project. Historians believe the flu pandemic caused a lot of people to stay home.
Fast forward to the 2020 presidential election, and more than a dozen states have postponed their primaries to avoid large gatherings at polling sites. Oregon's primary is still scheduled for May 19, thanks to the state's mail-in voting system.
Like today, news outlets in 1918 tracked local victims of the pandemic.
On October 12, 1918, The Oregonian ran a headline reading "Spanish Influenza Claims One Victim." The article says 21-year-old Bryan Spain died at Good Samaritan Hospital, where he was taken after getting sick on a trip from Denver to work in the shipyards out west.
The Ontario Argus, a newspaper serving the border of Oregon and Idaho, ran an article that month about an Ontario resident dying from the flu after visiting his parents in Oklahoma. W. J. Allison, who spent 10 years working as a night marshal and deputy sheriff in the tiny Eastern Oregon town, left behind a wife and three children.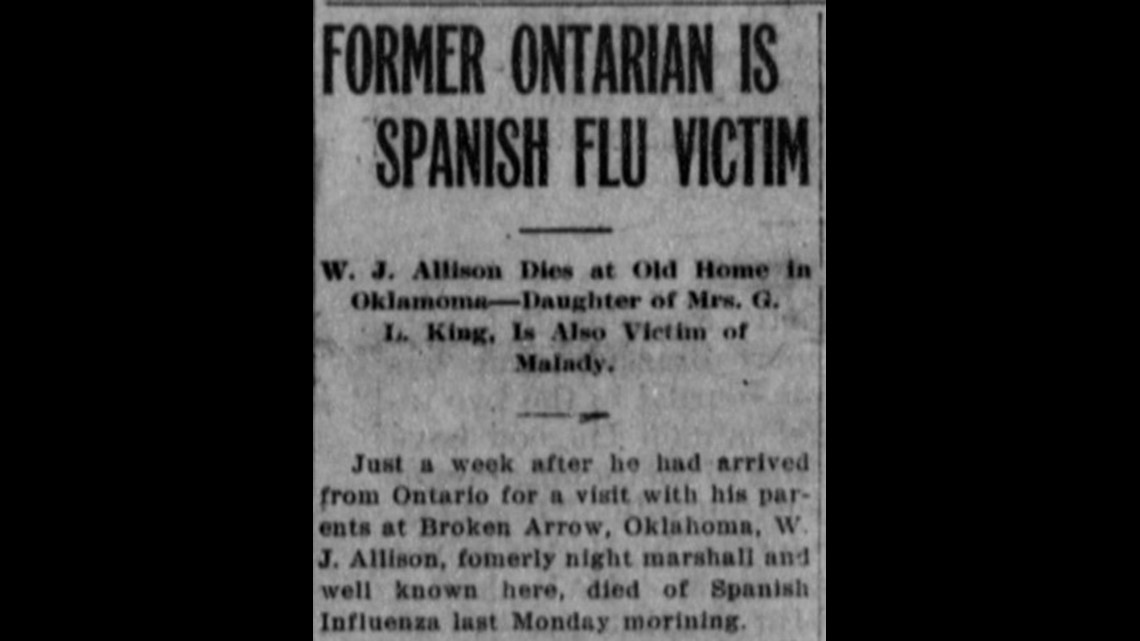 By the time the Spanish flu pandemic was over, 3,688 Oregonians had died..
Newspapers also shared some lighter moments during the outbreak. When Mayor Baker reopened Portland in November 1918, the Oregon Daily Journal declared "City Lifts Flu Lid and There Is Much Rejoicing By Movie Fans."
Portland had 50 theaters at that time, and moviegoers packed them after they reopened, Kenck-Crispin wrote in Willamette Week.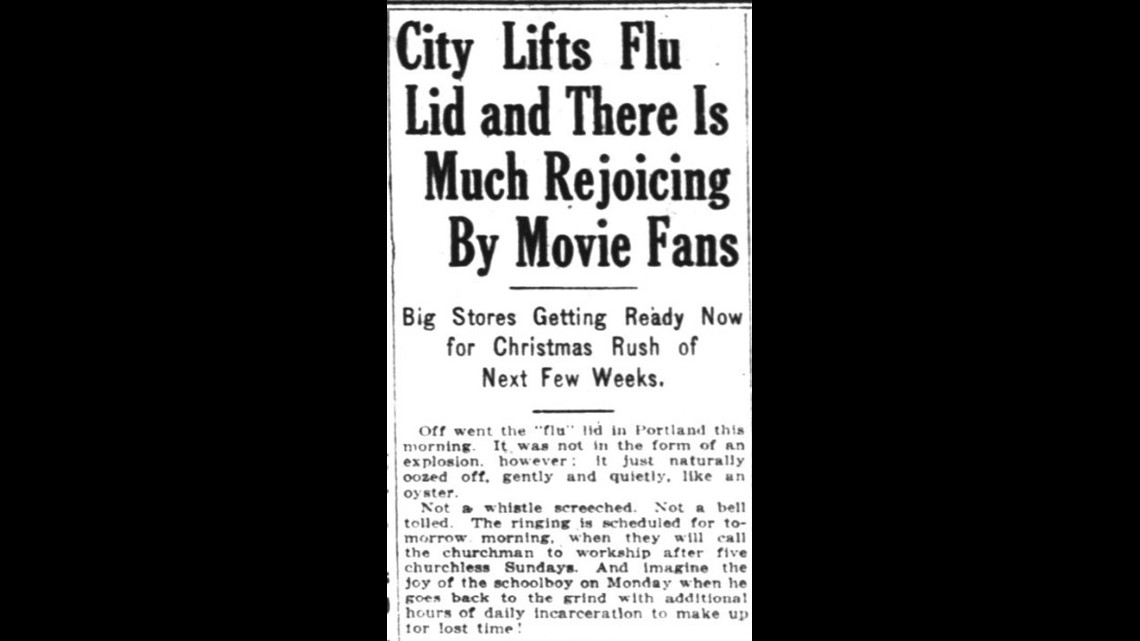 On November 11, 1918, the East Oregonian ran a cartoon called "Doings of the Duffs." It features a young child pulling a pepper shaker off a table, causing the entire family to start sneezing. The father calls the doctor, saying they all must have the Spanish flu.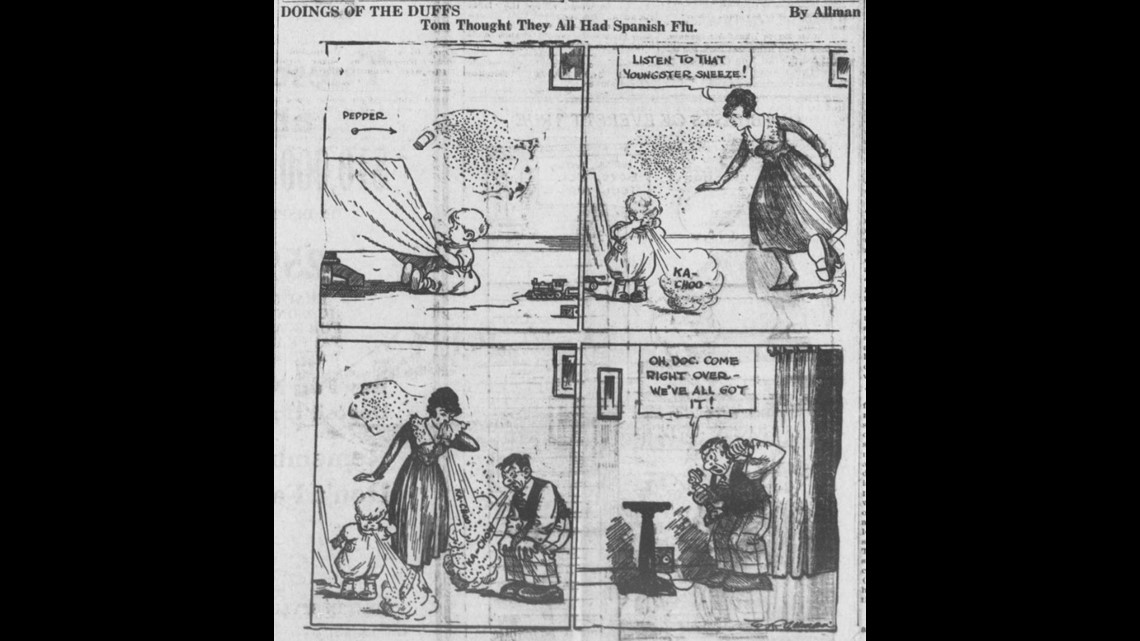 The Oregon Historical Society wants to make sure the COVID-19 pandemic is as well-documented as the 1918 flu. They're asking Oregonians to share their stories from the outbreak and stay-home order so future generations can understand what life was like at this time. You can share your story here.
Oregon newspaper clips from the 1918 Spanish flu pandemic