VANCOUVER, Wash. — During a May 9 school board meeting, Vancouver Public Schools Superintendent Jeff Snell proposed moving start times for all schools in the district with either an earlier or later start time.
The proposal, which still needs approval by the full school board, would move most elementary school starts times from 8:30 a.m. to 8:10 a.m. Two elementary schools, Minnehaha and Lincoln would also start at 8:10, a change from the current 9:10 a.m. start time.
"That actually might give me a little more time to get to work," Vancouver mom Shay Reynolds said with a laugh. Her daughter is a second-grader at Hazel Dell Elementary. "She'd have to go to bed earlier, but I could make it work."
During the meeting Snell said the move was for two reasons. First, he said, the earlier start time for elementary schools would benefit the bus driver shortage that the district is currently dealing with.
"With our elementary students being the first run in the morning and the first run in the afternoon, that frees up all those drivers," Snell said. "That's our largest run of the day to provide the extracurricular transportation."
Snell added that bus routes would start 15 minutes earlier in the morning for elementary students. Breakfast at the elementary level would be shortened to 15 minutes, down from 30 minutes.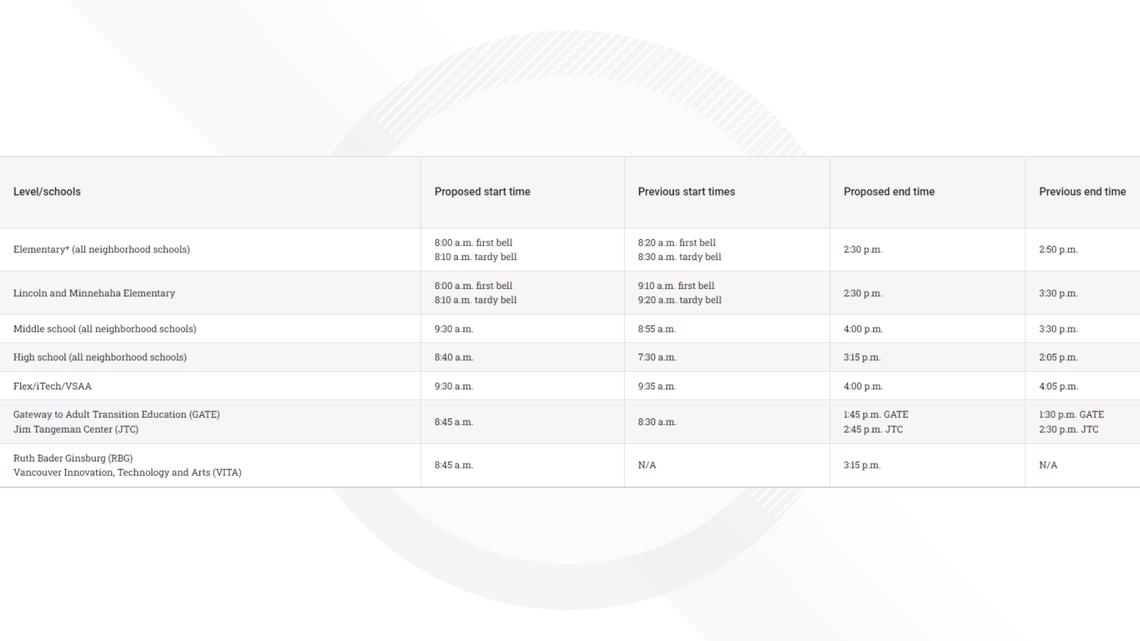 Middle school would start later, at 9:30 a.m. — a 30-minute later start for those schools.
But the biggest adjustment would be at the district's five high schools, moving from a 7:30 a.m. start time to an 8:40 a.m. start time.
"The other reason is a lot of compelling research related to our high school students and adolescents and their sleep and those needs and also mental health," Snell said of the second reason for the change.
The American Academy of Pediatrics says students that get at least 8 to 9 hours of sleep at night do better in school and have improved mental and physical health.
"Having taught high school and my husband teaching high school ... honestly attendance early on in the day is just really poor," VPS parent Elle Carlson said. "Kids have a hard time getting there and they're super sleepy. So they just have a hard time engaging in meaningful instruction and discussion and that kind of thing, versus later in the day they have an easier time."
Of course, with the adjust start times, that also means release times would be pushed forward or backward depending on the school. Reynolds said she likes the earlier start time, but would have a conflict with the end time.
"It would be hard to make that work with my other daughter's pickup, but they must have some pretty good reasons for why they're enacting that change or thinking about it."
Vancouver's high schools are among the few in this area that start before 8 a.m.. The Portland, Camas and Evergreen district high schools start at or after 8:30 a.m.
VPS invited parents to weigh in on the proposal, saying the board would make a decision by the end of May to give parents time to adjust if the proposal passes.