SHERWOOD, Ore. — There is a lot going on at PGE's Sherwood Training Center, where a class of 20 pre-apprentice workers are taking the first steps, learning to be linemen. This relatively new facility has it all, from the classrooms to the outdoors, spiked with utility poles for practice.
"This training center is very specialized, so our training scenarios are very lifelike— you don't find that in every utility," said Jim Phelps, PGE apprenticeship programs manager.
Phelps is proud of the center, and the program they've developed to train journey-level line workers, commonly called "linemen", regardless of gender.
"Our program immerses all of our pre-apprentices on the crews from day one, so they're in the crews and in the neighborhoods and in our territories doing the work. So what we're doing here is training so they can better serve those crews with what we call ground help," said Phelps.
They may be doing ground work on the job as PGE employees.
But at the training center, they are learning to climb high, really high.
And to fix extremely high voltage power lines safely. The pre-apprentice training lasts about two years.
"Our whole foundation is safety is number one. We have to go home in the same condition we showed up. But you gotta move forward to learn to do the work safely and take care of each other," said Randy Bryson, who is lead working foreman with the Gresham line department.
Like other senior linemen, Bryson is passing on his knowledge and his love for a career that is challenging, lucrative, and rewarding.
"Might sound a little sappy, but it's the truth: you gotta be the best of the best. Because the only call the customer can make is to call a lineman."
The pre-apprenticeship program is a joint venture of PGE and IBEW. It gets up to 500 applicants for its class of 20 coveted positions every two years.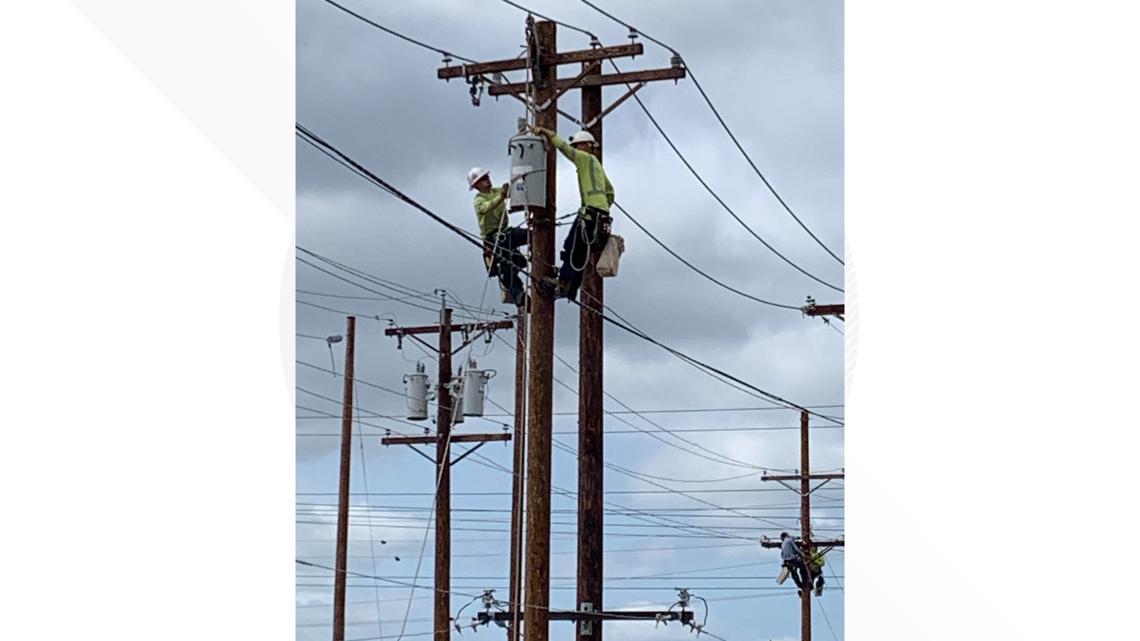 "What we're learning here today is how to climb. And work in your belt working your tools being comfortable in your tools at height," said Jason Brin.
Brin is one of the pre-apprentices — learning a lot with his class, halfway through the intensive training.
"That's what it takes. You find your limit and you push past it. Because people need their power on. But you do it safely," said Brin, who along with the others is on his way to the lofty goal of journeyman lineman.
That goal includes being 40 feet up a power pole in extreme conditions.
"And you'll been able to look down and the house down there, the lights kicked on because of what you just did. That's a different feeling that you can't really describe until you feel it. All the hard work that you did, now those people are gonna sleep warm tonight because of the work that you did, you know? Then you just go on to the next one, you keep going until there's no more."
Trainees are paid employees of PGE and members of IBEW.
After passing through the pre-apprenticeship program, there is still about three years of work and training to get to journeyman lineman level.