"The whole point of education is to learn and grow through knowledge, and I'm worried we're not going to get that chance if we sit back and let [this] happen," said Jason Hupp, a CHS senior.
The students held signs with slogans such as "book banning is fear and ignorance, reading opens hearts" and "educate not indoctrinate" at the lunchtime protest outside the school.
"We're a small town, it's something that's happening here but it's not just affecting us," said CHS senior Avery Keinonen. "If we can make a statement and a stand against this and try and combat it, that's really important to me."
The Canby School District provided KGW with copies of the "Requests for Reconsideration" regarding 37 library books.
The book removal requests were submitted by two community members who cited sexual content, sexual violence, violence, profanity, drug addiction, promiscuity and nudity among the reasons for reconsideration.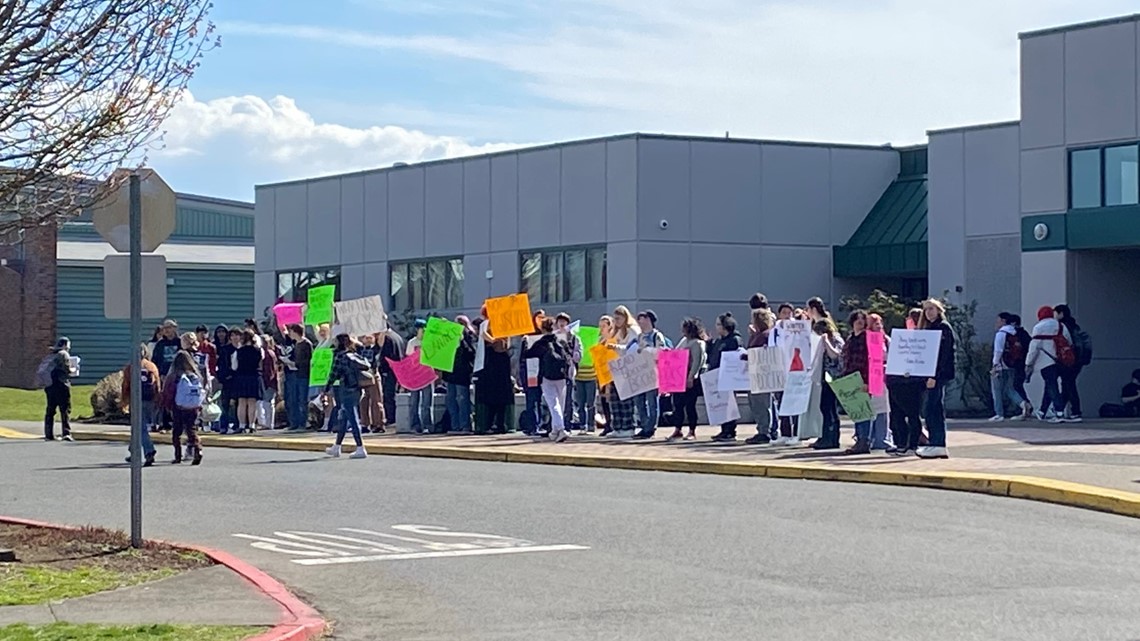 Book banning and library policy has been a topic of conversation at the Canby Board of Directors meeting for months. Some school board members have shared concerns about "explicit content" in school library books.
The minutes also say "the process is tedious when a list of books [is] provided for reconsideration," a description of the board members' opinions regarding the proposed library process.
Months later, the Canby School District decided to remove a list of 35 books from school libraries instead of leaving them on the shelves until a review process is finished. That action frustrated parents like Mary Masingila.
"It's not okay to just pull books out of our school libraries without going through the review process that's been put in place and without talking with others who can be impacted by those choices," Masingila said.
Former Canby High School principal Jim Gadberry said the decision could be limiting, and the district needs to think about what's best for all kids.
"If one of those [35] books passes muster and it's been pulled and I'm a parent out here in Canby and I wanted my son or daughter to read it, have you taken away my right to that privilege of a public education from A to Z," Gadberry asked.
A Canby School District spokeswoman declined KGW's request for an interview with the district superintendent or another administrator.
In a statement, she said "because of the volume of requests" Canby will hold the books "out of circulation until they can be reviewed" this summer.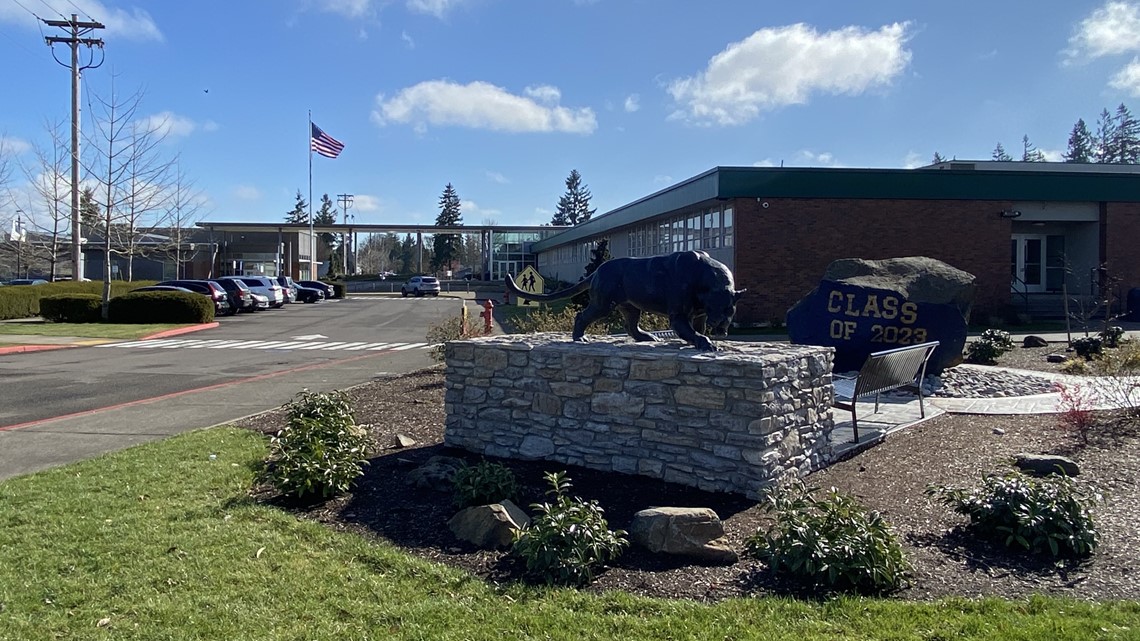 That policy does not instruct the district to remove books whenever a complaint is filed. Instead, it outlines a review process that involves school administrators, teachers, parents and community members before that committee makes a decision.
When asked why the district pulled the books before they were reviewed, the spokeswoman said "there is room in the procedure for discretion in determining whether the materials should remain available while under reconsideration."
KGW asked for clarification on which section allows for this discretion. The district said the issue isn't definitively addressed, but cited section 3c which states: "At the principal/designee's discretion, the school or teacher may continue the program or activity in question until the matter is resolved. The teacher will be apprised of the status of the complaint."
The list of removed books includes a popular fantasy series, books about sexual assault and LGBTQ lifestyles, and award-winning novels that have been on the shelves for decades. The full list is posted below.
"The things that these books talk about are really important for high schoolers to understand," Hupp said. "It's about life experiences that are really hard for some people and taking these books off the shelves removes the idea of this experience and it leaves these people to suffer in silence about things they're really not alone in."
Masingila said the removal of the three dozen books limits student access to various topics that could be representative of their lives.
"Not everybody has the same ability to go and purchase a book that they want to read, so what it does is it takes away a way for kids to access books without having to come up with financial resources to make that happen," she said.
KGW checked the Canby Public Library for the list of removed books. All but one book — Toni Morrison's Pulitzer Prize-winning novel Beloved — had been checked out, was on hold, or was unavailable.
One book had a waitlist of 35 holds before it would be available to check out again.
Gadberry said he appreciated the process that the West Linn-Wilsonville School District took earlier this month to resolve book protests.
A committee at the West Linn-Wilsonville School District voted to keep nine controversial books, though some are now restricted to high schools only.
"What's really unfortunate to see is other school districts have had the same thing happen where lots of books have been under review and they've been allowed to be on the shelves while a committee is formed and they make a decision about these books," Hupp said. "That process has been completely overlooked here."
Gadberry said he would be in favor of CSD adopting a policy that allows parents to opt their children out of checking out certain books through the school library.
CSD confirmed that at this time, the district does not have such a policy restricting book access based on the individual student.
Masingila said she believes the books that have been pulled should be returned to school library shelves until the review processes are finished.
"When the books aren't in the school that are representative of the school population, we're not banning our books to protect students, we're removing books to discriminate against them," she said.
List of books requested to be removed from Canby school libraries:
A Court of Mist and Fury - Sarah J. Maas
A Court of Silver Flames - Sarah J. Maas
A Court of Thorns and Roses - Sarah J. Maas
A Court of Wings and Ruin - Sarah J. Maas
Allegedly - Tiffany Jackson
Beloved - Toni Morrison
Beyond Magenta - Susan Kuklin
Breathless - author unknown by CSD
Crank - Ellen Hopkins
Eleanor & Park - Rainbow Rowell
Fade - Lisa McMann
Heartstopper Vol. I - Alice Oseman
Heartstopper Vol. 2 - Alice Oseman
Homegoing - Yaa Gyasi
I am Not Your Perfect Mexican Daughter - Erika Sanchez
Impulse - Ellen Hopkins
Lolita - Vladimir Nabokov
Looking for Alaska - John Green
Me and Earl and the Dying Girl - Jesse Andrews
Monday's Not Coming - Tiffany Jackson
My Friend Dahmer - Derf Backderf
None of the Above - I.W. Gregorio
Out of Darkness - Ashley Hope Perez
Perfect - Ellen Hopkins
Sold - Patricia McCormick
The Art of Racing in the Rain - Garth Stein
The Bluest Eye - Toni Morrison
The Glass Castle - Jeanette Walls
The Handmaid's Tale: A Graphic Novel - Margaret Atwood & Renee Nault
The Handmaid's Tale - Margaret Atwood
The Nowhere Girls - Amy Reed
The Perks of Being a Wallflower - Stephen Chbosky
The Truth About Alice - Jennifer Mathieu
Water for Elephants - Sara Gruen