A driver in a Marion County crash that killed a woman and four children had a blood-alcohol content of .318 percent — almost four times the legal limit, according to investigators
A Marion County judge deemed the driver, Favian Garcia, "a danger to the public if released" and ordered that he be held without bail.
With his arm in a sling, Garcia, 27, of Gervais, appeared for arraignment before Judge Rafael Caso Tuesday afternoon.
The four children killed in the head-on collision were identified by Oregon State Police earlier that day.
Officials identified the children as Ivan Ricardo Medrano-Contreras, 8, Andrus Medrano-Contreras, 6, Dayanara Medrano-Perez, 4, and Angelina Vazquez-Crisp, 2, as the four children who died when Garcia crashed a Land Rover head-on with a Buick Century driven by Lisette Medrano-Perez, 25, of Molalla, on Highway 99E north of Salem Sunday.
Medrano-Perez was driving to Salem with her three children and a 2-year-old niece. All five family members died at the scene.
Medrano-Perez was the 2-year-old's temporary legal guardian, said Oregon State Police Lt. Cari Boyd. She was set to be adopted by another family member next week.
Tony Mann, superintendent of the Molalla River School District, confirmed the two sons attended Molalla Elementary School as first and third graders. The school is providing counseling service and family support to classmates shaken by the tragedy.
Medrano-Perez brought energy and compassion to her role at Pheasant Pointe, an assisted living center located on a sleepy residential street in Molalla, said Chelsea Slaven, the home's executive director.
"You'll notice how quiet it is right now," Slaven said, gesturing to a silent lobby of residents. "We're all trying to go forward and do what we can to support our residents, our team members and our community as a whole."
Slaven said Medrano-Perez had a "heart of gold" and always went above and beyond for her coworkers. Just last Friday, she visited the assisted living center on her day off to surprise one of her coworkers with a birthday gift.
"Anyone working in assisted living has a heart of gold and Lisette was certainly an example of that," Slaven said.
When Medrano-Perez left work over the weekend, Slaven said it was just like any other day. She said "see you soon" with a broad smile on her face before walking out of the yellow living facility and down the curb lined with trees.
"I expected to see her again," Slaven said with tears in her eyes.
Garcia, who was not the registered owner of the Land Rover, was traveling northbound and collided with the family's car while rounding a corner.
Garcia told a trooper responding to the crash that he had "a hangover all day."
He was taken to the hospital with minor injuries. At the hospital, another trooper said Garcia smelled of alcohol. According to a probable cause statement, his eyes were glassy and bloodshot. He slurred his words and refused a blood test.
Garcia was arrested on five counts of first-degree manslaughter, DUI, reckless driving and driving with a suspended license.
According to prosecutor Tiffany Underwood, it was Garcia's third time appearing on DUI charges. He allegedly struck a parked car in Woodburn and lost his bumper in July. When he returned to retrieve his bumper, he was arrested. His blood-alcohol content was .28 percent. A warrant was issued for his arrest after he failed to appear for his arraignment.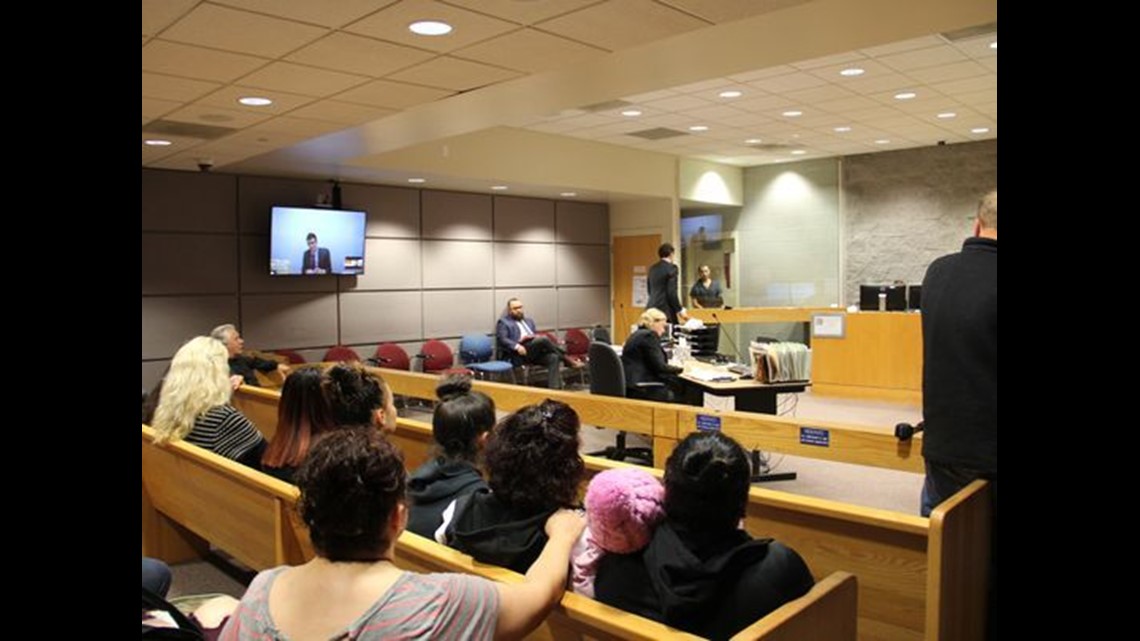 He also was facing charges out of Marion County for intentionally preventing a convenience store clerk from calling 911 in April. Woodburn police reported that Garcia became angry at the clerk after she refused to sell him alcohol at 4:55 a.m.
When she told him she was going to call the police, he disconnected her phone three times.
Police later found Garcia standing in his apartment complex parking lot, where he was slurring his words and stumbling.
He also was convicted of DUI in 2011 in Marion County and for interfering with a Gervais police officer in 2013.
This pattern of drunk driving showed Garcia would be a danger to the community if released from jail, Underwood said. She requested that he be denied bail.
Caso ordered that Garcia be held without bail at Marion County jail.
His next hearing is scheduled for a hearing on Oct. 18.