PORTLAND, Ore. — A suspect connected to a string of recent armed robberies throughout the Portland area was arrested Tuesday evening after a standoff at an apartment on Hayden Island, Portland police said.
Andrey R. Mazur, 32, was booked in Multnomah County jail on two counts of second-degree robbery, with further charges expected.
The suspect has been connected to as many as 16 robberies going back to May 9, including two on Tuesday afternoon, the first of which took place at 2:24 p.m. at a coffee bar in North Portland, according to a Wednesday news release from the Portland Police Bureau (PPB).
In a separate news release Tuesday morning, the Vancouver Police Department asked for the public's help to identify a suspect believed to be responsible for more than 30 robberies across the Portland metro area between April 7 and June 6.
Vancouver police spokesperson Kim Kapp confirmed that the suspect arrested on Tuesday evening is believed to be the same one referenced in the Tuesday morning press release.
Nearly a dozen other Portland-area law enforcement agencies are investigating the robberies, Vancouver police said on Tuesday, including the sheriff's offices from Clark, Clackamas and Washington counties.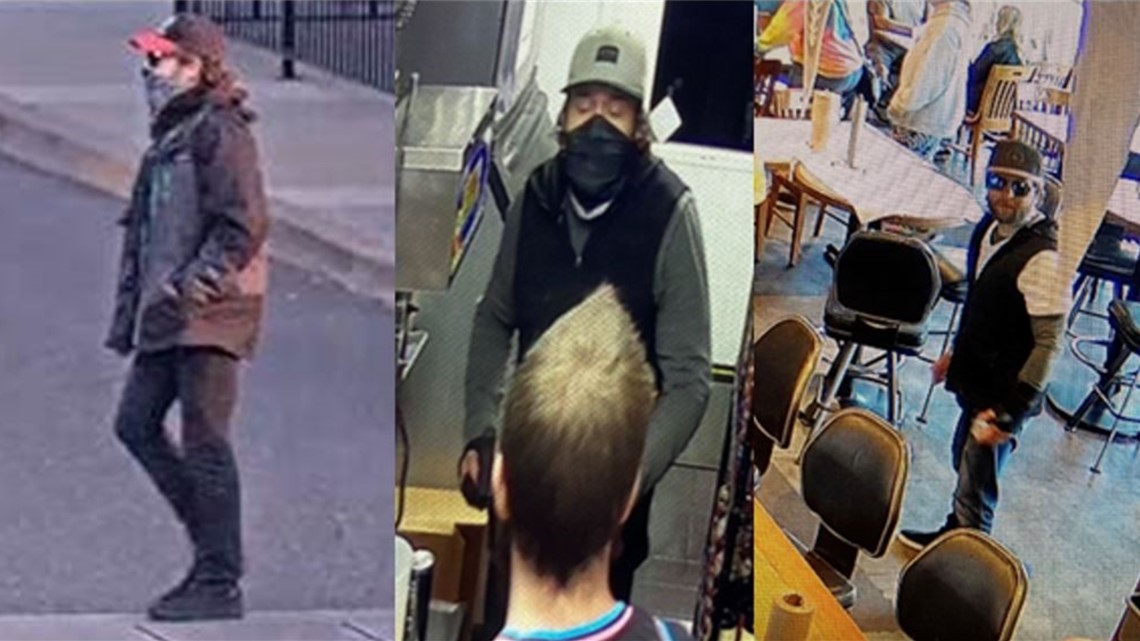 Portland police officers were dispatched to a report of another armed robbery at the Eagle bar on North Lombard Street at 3:46 p.m. Tuesday, PPB said.
Ty Givens, a Portland artist, was tending bar at the Eagle on Tuesday when the suspect came in.
"He walked into the bar … I was helping I guess, and he just kind of ignored me when I said 'hello' to him and went straight to the lottery machines, which a lot of people do," Givens said.
The man approached the bar after Givens was done serving another patron, but started making excuses when Givens asked for identification.
"He kept giving excuses about his girlfriend who is on the way … she's parking the car she'll be in in a second," Givens said. "After a while I was like, 'It's not acceptable, you can't be in here without it so … If you don't have it you have to get out.'"
But, Givens said, the man soon presented a gun and a bag — ordering Givens to hand over cash "and be quiet about it."
"He made me put it in the bag … and he tried to walk out the door — walked out the wrong door and then left the bar," Givens said. "The first set of cops showed up instantly because they were already chasing him. They asked a few questions and then left because they heard he was somewhere else."
A public safety support specialist on patrol nearby saw the suspect driving away and notified other units.
PPB's air support airplane tracked the suspect's car from above and saw him driving fast and weaving through traffic, police said. The suspect eventually parked and jumped out of the car along North Hayden Bay Drive.
Elise Blum, who lives on Hayden Island, told KGW that she saw the suspect park and run toward a nearby condo building.
"A gentleman in this vehicle apparently came ripping around the corner and I heard this really loud noise because he had a flat tire," Blum said. "[He] jumped out of his vehicle, bailed up through the gap in between and into the bushes and then took off running right across the lawn — and none but 15 seconds later there were four squad cars behind me."
Responding officers tracked the suspect to a nearby apartment building and called in crisis negotiators because he was believed to be armed.
Dennis Lakin also lives nearby, and he said he saw the U.S. Marshals arrive outside with rifles drawn.
"One of the comments they made on the loudspeaker was, 'We know you're in there, we can see you hiding in the closet,'" Lakin recalled. "'So come out with your hands up and nobody will be hurt.'"
After four hours, the suspect surrendered. He had shaved off his hair in an attempt to change his appearance, police said. Police recovered what was determined to be a semiautomatic handgun replica from the scene — a realistic-looking airsoft gun, a PPB spokesman said.
"I didn't have any doubt that they were going to get the guy," Lakin said. "I just don't know why the guy was waiting so long to turn himself in."
"I'm not an authority on how the police perform their job obviously, but … It seems like that magnitude of crime is just astronomical," Blum said. "I'm a little concerned why he wasn't stopped sooner."
Detectives who responded to the scene initially connected the suspect to the coffee bar robbery earlier that afternoon, and then later connected him to as many as 14 other recent robberies on Portland.
Anyone with additional information about the cases is asked to email crimetips@portlandoregon.gov and reference case number 22-152164.