PORTLAND, Ore. — A romance novelist accused of killing her husband wrote an online essay nearly seven years ago titled "How to Murder Your Husband."
Nancy Crampton Brophy, 68, was arrested last week and charged with murder and unlawful use of a weapon. Her arrest comes months after her husband, 63-year-old Daniel Brophy, was found shot to death on June 2 inside the Oregon Culinary Institute in Portland, where he was a beloved chef and instructor.
In the essay, Crampton Brophy writes, "As a romantic suspense writer, I spend a lot of time thinking about murder and, consequently, about police procedure. After all, if the murder is supposed to set me free, I certainly don't want to spend any time in jail."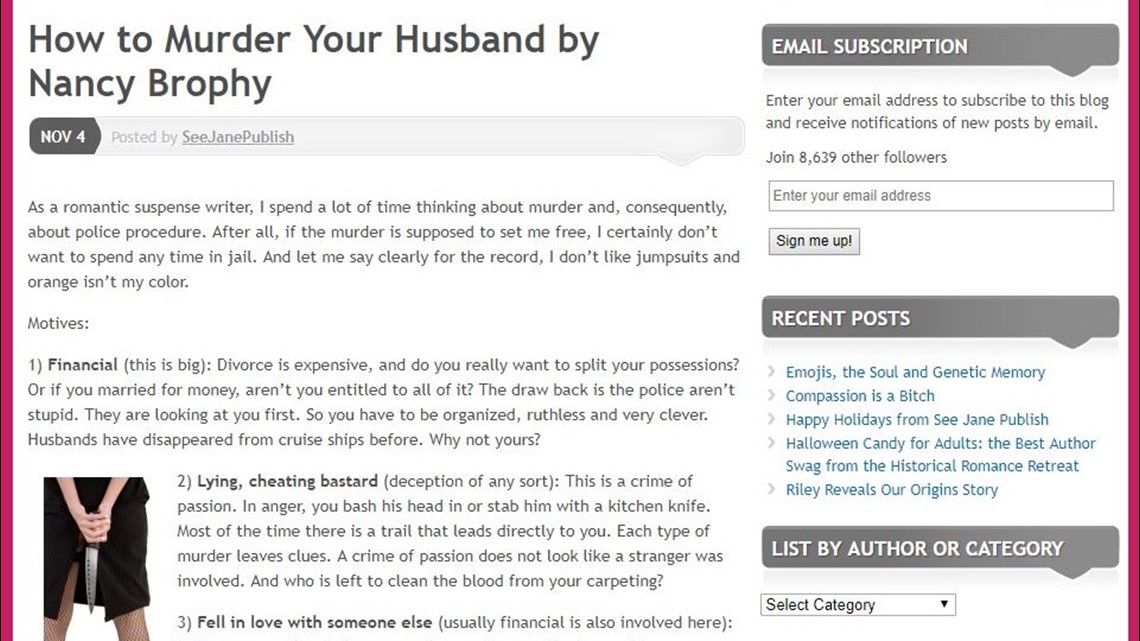 Crampton Brophy also lists motives for killing a husband (financial, cheating, abuser) and ways to commit the crime (guns, knives, poison, hit man). While she says, "it is easier to wish people dead than to actually kill them," Crampton Brophy writes, "But the thing I know about murder is that every one of us have it in him/her when pushed far enough."
According to her website, Crampton Brophy wrote several fictional books including "The Wrong Husband," "The Wrong Brother," and "The Wrong Cop."
While Crampton Brophy was arraigned in court last week, authorities haven't released details about her alleged role in her husband's death. A probable cause affidavit was sealed due to the ongoing investigation.