VANCOUVER, Wash. — A first degree murder trial is now underway for a suspected serial killer in Clark County, nearly 50 years after the victim's remains were discovered.
Warren Forrest is charged with the 1974 murder of Martha Morrison, a 17-year-old from Portland.
Forrest has been in prison since 1978, serving a life sentence for his conviction in the 1974 murder of another young woman: 20-year-old Krista Kay Blake.
In total, investigators suspect Forrest was responsible for abducting and killing seven women and girls on both sides of the Columbia River.
Morrison's remains were recovered months after she disappeared, but her death wasn't linked to Forrest until 2015, when investigators revealed an unexpected discovery: Morrison's DNA was found on a dart gun that Forrest admitted to using to attack another woman.
It took several more years before Forrest first appeared in a Clark County courtroom to face a murder charge in Morrison's case. He was transported from state prison in Walla Walla to appear before a Vancouver judge in January 2020, but pandemic shutdowns then caused further delays in getting the trial underway.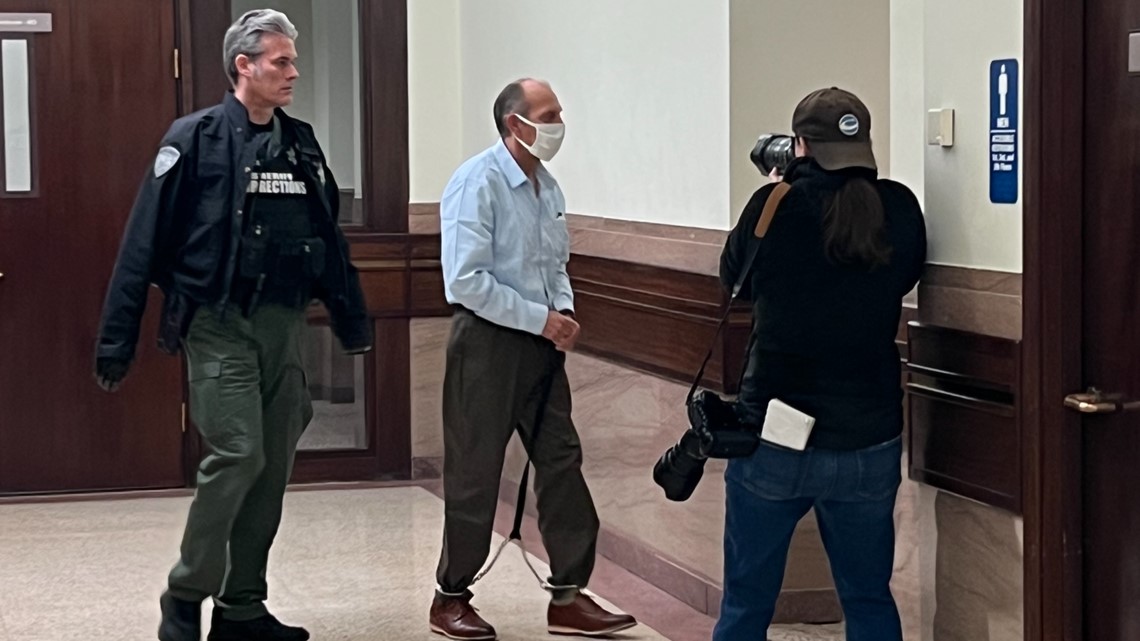 Opening statements finally began Jan. 24 of this year in Clark County Superior Court.
"The evidence is going to show throughout this trial, that Warren Forrest is the one who murdered Martha," said trial prosecutor Lauren Boyd. "He followed a very specific plan, a plan that involved a very specific weapon and a very specific type of girl. It had a very familiar beginning, middle and end."
Hoping to illustrate such a plan, the prosecution called Norma Lewis to the stand. Lewis is another alleged victim of Forrest, who survived. In 1974 Lewis, then Norma Jean Countryman, was 15-years-old. She said one day that summer in Ridgefield, she met Forrest, who offered her a ride home. Lewis testified that Forrest then drove her into the woods of Tukes Mountain.
"At that point he put a knife to my throat and kind of tugged and said, 'Let's get in the back of the van.'"
Bound and gagged, Lewis said Forrest sexually assaulted her. She said he tied her ankles and feet, then bound them all together before tying her down between two trees.
"He struck me in the eye. He hit me very hard and he said, 'I'm going to wait out there and you don't know how long I'm going to wait but if I hear any fussing, that's mild compared to what you will get.'"
Lewis said Forrest left as she lay sobbing, the rope tied around her face causing extreme pain.
"It was intolerable and so I started chewing through the rope—it was a twine like consistency—with my front teeth," said Lewis. "And after a while the rope broke and my head rolled free… I knew I had to get out of there and so I struggled until I could get up on my knees."
With her wrists still bound behind her back and her ankles still tied together, Lewis said she stood up and hopped all night through thick brush and even under several barbed wire fences. She was lost, exhausted and terrified. At dawn, Lewis happened upon the Tukes Mountain maintenance station. A worker drove up and found her.
"He cut my ankles free and he helped up into his office and he sat me down on a chair," said Lewis, holding back tears. "He took his coat off and put it over my shoulders."
Lewis led police back to the place from which she escaped. The place where less than 200 hundred feet away, investigators would find Krista Blake's body buried in a shallow grave.
Forrest's defense attorney argued the state doesn't have enough evidence to show Forrest is the person who killed Morrison.
"They're missing evidence connecting Martha Morrison with Mr. Forrest. There are no witnesses that the two were ever seen together. The state has not proven that he had the premeditated intent to kill this individual," said Sean Downs.
Detectives believe Forrest's first victim was Jamie Rochelle Grissim. She disappeared after going to school in 1971 and has never been found; however, her school ID turned up along remote Doe Valley Road in Clark County.
Hunters found the bodies of Carol Valenzuela and Morrison nearby in 1974.
Forrest has never admitted to other killings or if he knows where Grissim's body is hidden. But Grissim's sister Starr Lara hopes he can now be convinced to reveal what happened to Grissim while being prosecuted for Morrison's murder.
Forrest's murder trial is expected to last up to three weeks.