PORTLAND, Ore. — Outside Lorraine Zumwalts' southwest Portland home are dozens of hearts hanging from her tree.
The Zumwalts have lived in the house for 30 years and Lorraine says she decorates the tree every holiday, she had just taken down her Easter decorations and decided she wanted to do something that would make others smile.
"It's been really hard to watch the news and watch the sadness and the people that are struggling," she said, "A lot of people walk around here and I just wanted to show gratitude. All the things that are blowing are things that I'm grateful for."
The hearts have the handwritten names or things she's most grateful for. There's Mitch her mailman, their Umpqua Bank banker, teachers, medical workers, UPS drivers, her neighbors and both her son Kevin, who's a research assistant at the University of Oregon and her daughter Allison who is a paramedic in North Carolina.
"I probably put maybe two-thirds of them on because I kept finding things. As neighbors kept coming by I had extra hearts and they'd stop and they'd want to take a picture."
As the days turned to weeks and now months, Lorraine kept paying attention to the news. Something she didn't do much of before.
"Never been a big news watcher or even a TV watcher, but of course with this I was anxious to hear what was going on."
She started recording the evening news and paying attention to the lead stories.
"Laural Porter was just so sweet. I loved her little openings and she was calming and encouraging and she just shared a lot of wisdom and sort of humanness to the stories," she says, "One day I thought I'm gonna put her on my tree."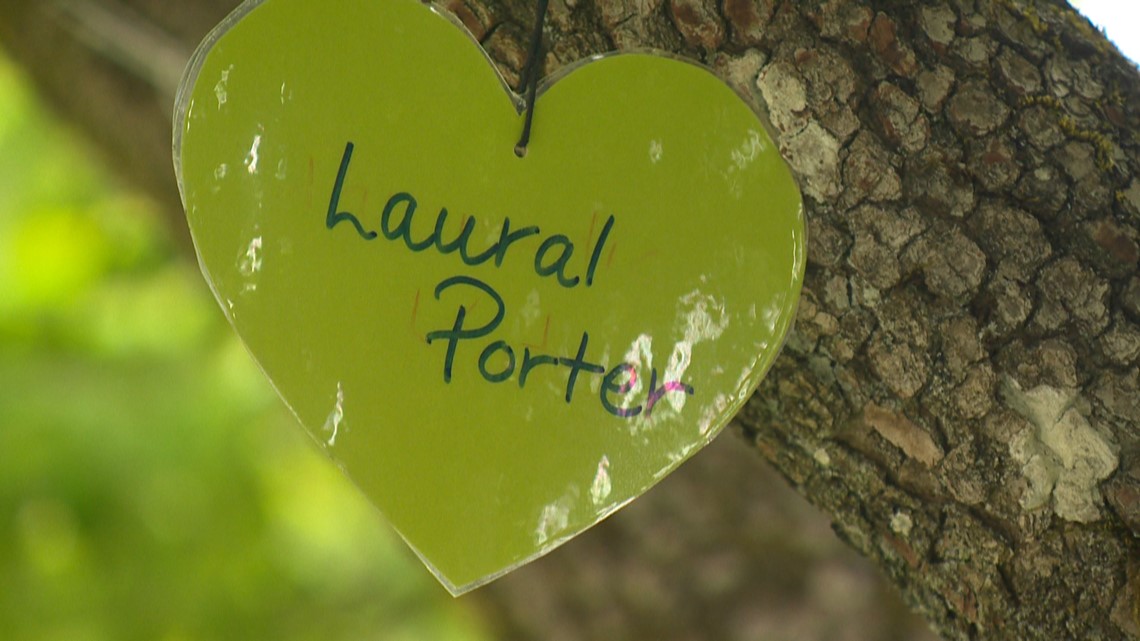 Veterinarians. Dogs. Police and other first responders and jigsaw puzzles.
"I put jigsaw puzzles on there for myself, I'm grateful because I've probably done maybe six or seven jigsaw puzzles."
Neighbors soon started adding their own hearts showing what they were grateful for. Pretty soon, it became a stopping point during neighborhood walks for Liz Page and her daughter Everly.
"I love it, it's so special and it just brings a smile to my face every time. I see something different every time we walk by," Page said.
What is Lorraine most grateful for?
"My husband's employed, my kids are both working and so we're not struggling in that way."
She says it's hard to see others out of work, hungry and struggling day to day during this time, but she's hoping this will be a bright spot and bring a smile to someone's day as they pass by.