Expressions in Black | Season 1 All Episodes
A series of stories that look through the lens of the Black experience in Oregon
Heart & Hustle Productions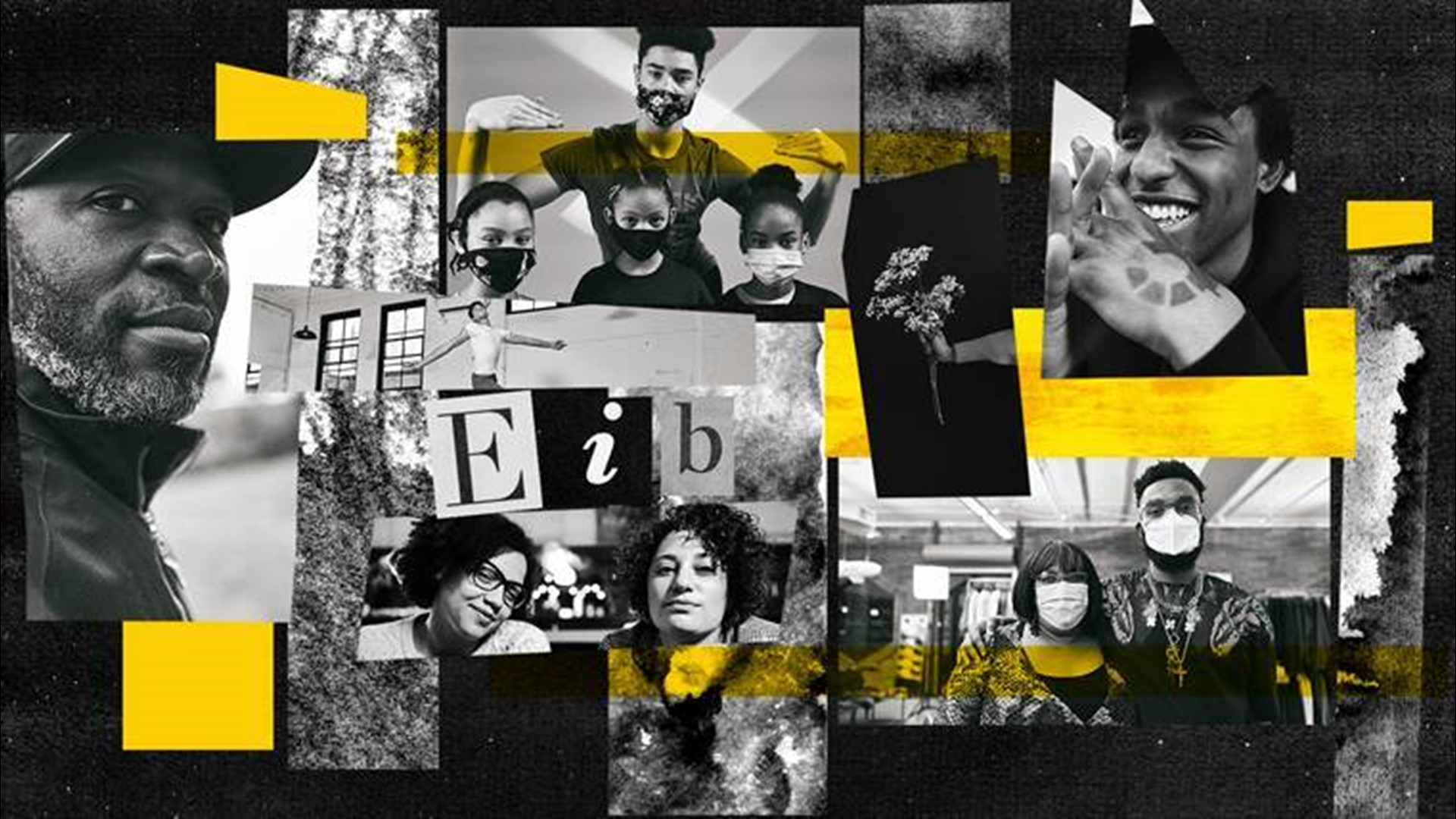 SPONSORED CONTENT: Expressions in Black is a series of authentic segments that deliver real, unfiltered, and intoxicating stories central to the unrestrained expressions of the Black community.
Without conventional parameters, each segment will provide a wide range of viewers with never-before-seen narratives relating to the black experience in Oregon. On most platforms, audiences are exposed to the Black community through a limited lens.
Expressions in Black is produced from a conceptual perspective, delivering thought-provoking and positive content that features the side of the Black experience that will enlighten people and inspire them to change their views about Black excellence.
Episode 1
:
Mike Phillips
Expressions in Black: Mike Phillips
My name is Mike Phillips. I'm from "MONEY EARNING" Mount Vernon. I've toured with Stevie Wonder, Prince and worked with Michael Jackson. I'm the first non-athlete, to sign with Brand Jordan. The correlation between music and sports; they feed each other. It's important to remember your technique. practice doesn't make perfect, perfect practice makes perfect. If you put the proper things into repetition, it will increase the chances of you doing it right when it's most needed.
Watch the Episode:
It's November 3rd and my Mother would've been 86 years old today, she was born in 1934. This day is important, not just because it's my mother's birthday, but it's election day. How many things that existed in 1934 are still with us today?
I've been looking for a particular horn for 15 years and I finally found it. I'm getting it fixed on my mother's birthday. It's the purple logo edition which is my mother's first name, Violet. It symbolizes a lot. I reflect on this day, thinking about my mother; She had a "roll up your sleeves" mentality and always taught me to look out for opportunities. That mindset lives with me forever.
Images: Mike Phillips | Expressions in Black
The reason why I play sax is none other than to fulfill a mission statement to make people happy and full of joy through the gift of music. Saxophone is an inanimate object, so it's my spirit that gives it energy.
Being a musician, you have to really understand that it's a ministry. Wherever I am, whatever head space that I'm in, when I feel happiness, when I feel joy, the instrument is nothing but a translator of what you're going through, and people will feel it.
To change the pads on this instrument you have to understand what's not working. I think the analogy I can make is, election day is a day that we can change out some pads. If you look at the sax it is a pretty intricate instrument. Every key has a relationship with another key and if you mess one thing up it throws the whole alignment off. That in itself is where America is right now. I think America does have the opportunity to be fixed, but we got to do what that saxophone tech did with my new horn, see what's wrong first. And here we are on November 3rd, we get to choose what will bring America back into alignment.
I see the future as something that if we progress towards love and understanding, it'll be a better place for the generation that comes up next. The patience, the discipline, the understanding of things happening in progressions; where you respect time, you understand the process, and you have discipline sewn in all around it.
I'm Mike Phillips and this is my Expression.
Episode 2
:
AJ McCreary
Expressions in Black: AJ McCreary
Being light skinned is a different way to move through the world, it's just a different experience period. I wish more people who looked like me would show up like me. We're able to slip into spaces and then hold the door open for our people.
My name is AJ McCreary and I graduated from Benson High School in Northeast Portland. I went to Xavier University in Louisiana. I was a debutant which really helped shape my interest in community service. My background is in marketing and development, and fundraising; And I hated it. I've always wanted to work directly for my community and to be able to live off of it. So during the pandemic, I actually created that job.
Watch the Episode:
When I think about community I think of a circle. We're raising money for equity, we're actively giving. And the word circle is encompassing all of the things that we are doing. We have a food program where we buy produce from black and brown farmers, then deliver it to black and brown families across the metro area every week. We've started some other little projects including a plant jam, and it's just an ask for white folks to give plants to BIPOC folks. It's just a really beautiful way to create community care, and it's also a way to teach and practice reparations. So we're practicing sharing things that we have with other people, with no strings attached. The idea is, you did it with a plant, now you can do it with some money.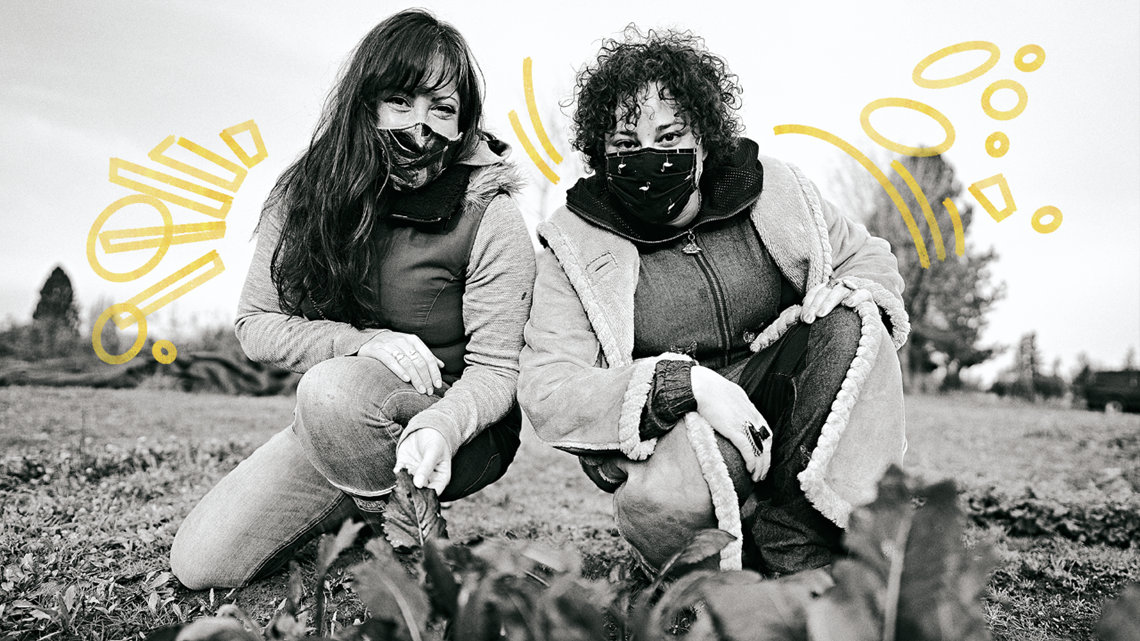 Having the right team has made all of this work possible. We really do care about the families that we serve and we want to serve more families. So when people say our food boxes feel like they are packed with love and care, it's because they are.
Getting to build with a team of black women, black fems and indigenous women in Portland, Oregon is profound. We're creating community healing, we're creating jobs, we're celebrating. It's the best feeling. EGC's work really is about creating dignity, care and love, and there's a lot of food programs that happen in our city, state and nationwide that are horrible. They are just expired food, not culturally specific and they do not include the black and brown food purveyors or farmers.
Images: AJ McCreary | Expressions in Black
Hopefully, our program will help more black and brown farmers and indigenous farmers. It's about doing business in a way that's sustainable for everybody. supporting black and brown farmers, supporting indigenous folks, supporting women-owned businesses is the root of our work, so we get to support people that look like us, that move through the world like us, it's magic.
Our generation, who are now moving in spaces of power professionally, our ask is different. The way that we think is differently, the way that we show up is differently, this is the recipe for amazing things to happen.
Episode 3
:
Jordan Carter
Expressions in Black: Jordan Carter
My name is Jordan Carter, and I am an entrepreneur. I'm the Co-Founder of Produce Portland. Our spot is on the corner of 4th and Davis. We're kind of the anchor on the block. Produce Portland is a hybrid retail store. We like to say that we cater to every market. We actually have a wide range of customers that come into Produce; from the sneaker enthusiast to the vintage thrifter, to the "fashionista", which is just someone who's aware of the streetwear industry and understands how things work. There's a lot of people who support Produce as a brand, just because there are so many of us that are Led into the community. With Produce, we are trying to establish a better Old Town neighborhood because we do see the future potential in this area.
Growing up a lot of people considered me to be fashionable. So I was always into the fashion side of things, but I never really thought about pursuing it. Upon graduation, I went to work in the corporate field and realized it wasn't for me. Being from Portland, I never saw many African-Americans in the higher levels of the corporate world.
Watch the Episode:
As I got into designing my own apparel, I started off with denim and I used to hand distress, using either a box cuMer, scissors, or anything sharp to just go back and forth over the edges. I would spend probably 3-4 hours on one garment. But with a Dremel, it's probably two minutes per piece of garment. It's also kind of peaceful. It's like my getaway from life, just seeing the fibers as they tear and not really knowing what to expect. It's like, you create a piece and you have to live with it, which is just a reminder that sometimes life just gives you lemons. So using the Dremel to design my shirts is just a creative process and also an escape to create beauty out of chaos.
I graduated seventh in my class with a 4.0 GPA, so a lot of the kids looked up to me for mentorship, just because I had everything going for myself outside of the stereotypical direction of athlete, rapper, or entertainer. In high school, Park Rose was considered the white school. And so with me, being one of the African-Americans who took things seriously, who went to college, who got the degree, they were like; "Oh, I can do that too. I can be myself. I don't have to act like I know what I'm doing to fit in."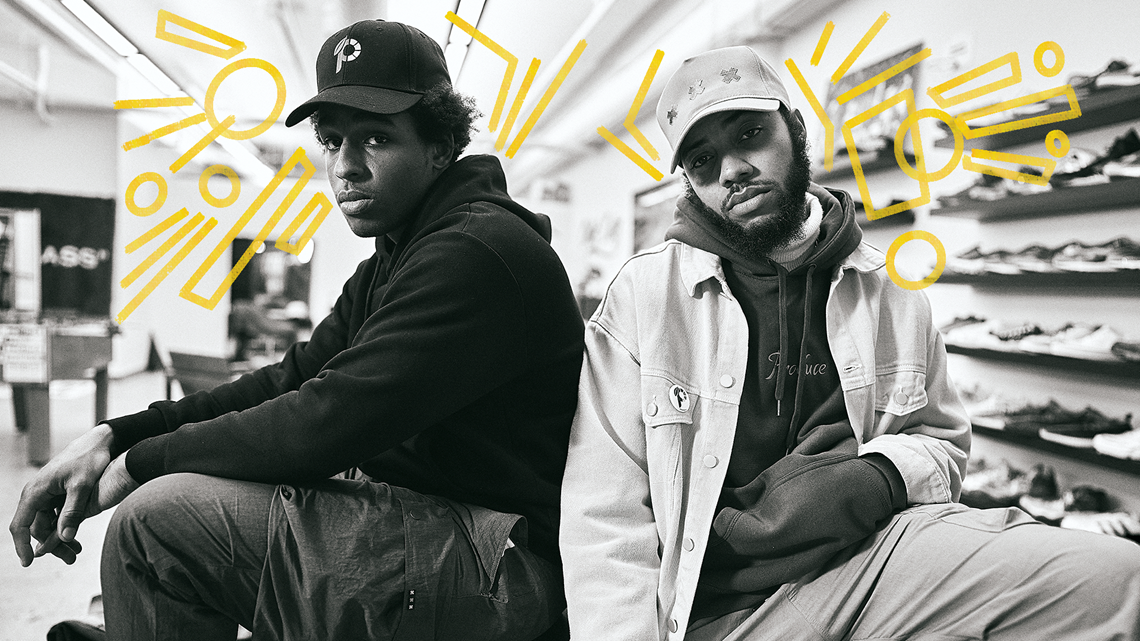 At produce, we consider ourselves to be more than just a store, but a destination. The barbershop concept came about once I got serious about opening a store. Might as well work with friends versus trying to create something on your own. And that's also how the record label got started. That's how the market came about. It's a group of friends just working together on different crafts.
Produce Portland is the store side of things. Produce Organic Records is our music label. I think everyone now has that mindset where you can't really do it by yourself. And you have to align yourself with people who are like-minded. That's what we talk about a lot here, we have to keep our frequency hot. We are all in our own lanes. I think Portland needs a collective that can show people we can work together. In terms of streetwear in Portland, there's not too many black-owned businesses. Streetwear is about rebellion, and it's about going against the grain. It's like I did this because I wanted to do this.
Images: Jordan Carter | Expressions in Black
For me, it's just special to be able to give back to a lot of the designers I see coming up. Just giving people a platform to do better. I am blessed to be where I am today. My family, my friends, the city of Portland, they've all believed in me and my craft. And so I'm reaching a point where I have the opportunity to give back to those same people. For me, it's just what I have to do.
Episode 4
:
Sean "Hobbs" Waters
Expressions in Black: Sean "Hobbs" Waters
I'm Sean "Hobbs" Waters, I'm fourteen years old, and this is my expression.
The most powerful word in the English language is black. It is both dark and light, but it means so many different things on an emotional capacity and on a spiritual capacity. It is so many different things and we use it so many different times.
I'm a dancer. I'm an artist. I'm an entrepreneur. I'm fluid and I identify with a lot of different things.
Dance is my life! The first time I danced, honestly, I just remember being happy. It's how I express myself. I'm always growing, and this is really when I feel liberated. It is ultimately my purpose. That's how I'm contributing to the world. I'm always being tested with dance, physically and mentally, just having that mental capacity to push myself. And you have to look at what you're doing as a milestone and be able to continue to grow. Especially with the pandemic, I've been really tryin' to push myself, and there have been days that I wanna quit and days that I'd wanna just jump into the studio and work my hardest.
Watch the Episode:
Arthur Mitchell is someone that I look up to. He was an emerging African-American dancer during the Civil Rights movement. I'm particularly appreciative of him because he was the first, and I'm pretty sure the only male principal dancer within the New York City Ballet.
He went on to start the Dance Theater in Harlem, and he has influenced so many other, Black dancers and choreographers who have done a lot of different things.
OpenHaus in NE is where I was commissioned to do my third mural. My lifestyle at least is all oriented around art, not only dancing but painting, illustrations, even photography, and music.
Oftentimes, I feel like complicit people come around and then they look at something, and then they don't do anything with it. So with my work, I wanna change that norm. I want people to really reciprocate my work, and then become active.
I didn't actually start producing abstracted pieces until, three years ago. I was definitely reluctant to start getting into that medium, but I'm surrounded by a lot of people who push me to continue to grow and explore new artistic mediums. I have a lot of my work around town. A lot of my art is really just an adaptation of how I perceive the world, especially because most of my art is oriented around social justice. I like all the symbolism in my work, as well. And all my pieces are like that, and in a way to bring light to issues that I think are neglected or need to be analyzed further.
Images: Sean "Hobbs" Waters | Expressions in Black
I am finding myself within my artwork. Like I said, I'm always shifting. I'm always changing, and I don't think I've found my medium yet, but I have a palette of work that ranges from movement to clothing.
City Troll is my urban lifestyle line. Initially, it was another way to funnel money into my dancing, but it's grown to so much more. My clothing line is primarily sold online, but City Troll can be so much more. I like to think of City Troll as a movement. What I'm really tryin' to say is that City Troll is built to break down these White norms by introducing new ideas and new norms that resonate with BIPOC through art.
When people mention my name, I want them to think about my dancing. I want them to think about my art. I want them to think of me as the face of City Troll, as the face of my movement. I'm trying to pave the way for the next generations of dancers who look like me and introduce them to more diverse idioms into the art world. I want them to think of my work and my legacy.
Episode 5
:
Terry Porter
Expressions in Black: Terry Porter
Terry Porter: 17 year NBA Veteran & former University of Portland Head Basketball Coach
One of my all-time favorite moments was when the Portland Trail Blazer organization honored me by retiring my jersey. When you play sports, you dream of getting honored in a way that your body of work is recognized and appreciated. My family was there to share this moment with me and it's humbling when you're honored in such a way. I mean, that's generational stuff, right? When I'm an old man barely walking with a cane, I can tell my grandkids to look up in the rafters and say "Grandpa was a baller back in the day."
This is about life. Obviously, basketball's very important, but the lessons you learn in basketball also transfers to life. I try to live my life in a purposeful way every day, and be impactful to the people that I come in contact with, and provide more opportunities for the next generation.
In sports or life, there's always lessons. The two most important men in my life were my dad, Herman Porter, and my college coach, Dick Bennett. Both taught me a lot about basketball, but also about how to be a man. My dad had a work ethic like none other that I've been around, and he talked a lot about having the willingness to get up and go do what you gotta do. To be a strong black man, I think it's something that I learned from him in regards to how to deal with things that you have to deal with growing up black. I would think that anybody who's in a position to be around a young man, I hope that's what they're doing, teaching them life skills and life lessons.
I think in today's world with so much stuff going on, it's about setting an example. Obviously, the wins and losses are very important in the process, but what example are you providing for them going forward? And everybody has to take that individual challenge. It's about how can you liJ somebody up. This is a brotherhood! Basketball has always been that way, it's a family. The important thing is the respect factor. Everybody's together, everybody knows how to support each other. You get 'em as kids and you wanna try to provide an opportunity for them to get a degree from the great University of Portland and send them down the road of being successful.
Images: Terry Porter | Expressions in Black
When I think back to basketball and what it has provided for me, the opportunity to see different parts of the world, different parts of the country. It educated me about so many different things. The people I've been able to meet. When I got into my coaching profession with the Sacramento Kings, we made the All-star coaching staff. I would've never had that opportunity if it wasn't for basketball. I got the chance to coach Steve Nash, Kobe, Tim Duncan, who was one of the rare players I actually coached and played with. Basketball opened that up for me. It gave me a chance to come out to Portland, Oregon when I didn't have a clue where Portland, Oregon was. Coming here (my wife and I) for us as young people, a young couple, we grew up here from a professional standpoint. When my playing days were over and I traveled to different cities to coach; Sacramento, Milwaukee, Detroit, and Phoenix. At that point, we said, "Okay, we gotta figure out what's gonna be home for us."
We sat down as a family and everybody had a vote, and so we felt this was the best spot for us. Portland embraced us, it embraced me and my family. That's the beauty of Portland, being willing to accept each other's culture and respect each other's background. We all know that this world was built because of different people's backgrounds and ethnicities, and now it's about getting everyone at the table.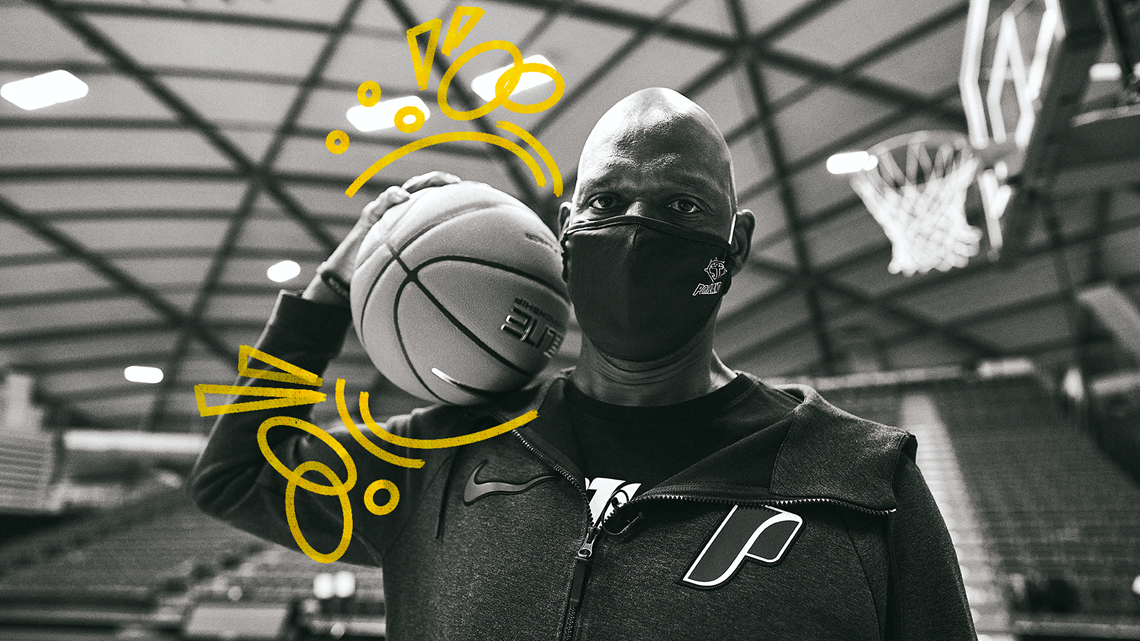 I think one of the things we take from last year, is to not forget all the growing and all the pain that we went through. It was a wake-up call for so many people that things need to change. From my perspective, it's about trying to be part of the conversation with the purpose of trying to make a change.
One of the things we (coaches) talk to the players about, is to be a great leader, help people, and be impactful. Go find something that you're passionate about and use basketball for that vehicle and see if you can impact the world.
Episode 6
:
Justice Adrienne C. Nelson
Expressions in Black: Justice Adrienne C. Nelson
Since I was a child, what has always been important to me was being a truth teller. I cannot tell you something that I don't believe deep in my heart, and I expect the same from others, because if someone is coming from a place of honesty, I feel we can reach any solution.
My name is Adrienne C. Nelson, and I am the first black person to sit on the
Oregon Supreme Court, or any appellate court in our state.
Watch the Episode:
I am from Gurdon Arkansas, a small town of about 2,700 people. Like small town
America, those small towns have gotten even smaller now. I am the product of a
public education. I graduated from Gurdon High School, and I was the first black
valedictorian since integration. I then attended the University of Arkansas at
Fayetteville, where I graduated with a double major; English and Criminal Justice. I then went to the University of Texas School of Law and received my doctorate of jurisprudence. I then moved to Oregon and I began practicing law.
My first job was as a public defender. Then I went into private practice. I left
private practice and I ran a law office for students at Portland State University. And from there, I was appointed to the trial court bench, where I was there for almost 12 years before my appointment to the Oregon Supreme Court.
When I came to Oregon, I was not surprised by the homogeneity. Well, let me say this; When I came to Oregon, I was surprised that people didn't always see what I saw. I saw the divides. I saw the gentrification. But when I asked questions of people who were multiple generations, longstanding members of this state, they seemed surprised that I raised the question, which made me wonder, do people really want to change?
So, I began to contemplate, was Oregon the place for me to raise my child? And
after meeting a number of people who acknowledged that I was seeing clearly and wanting to try and make a different place in Oregon, but didn't know how to start, we began to work together toward creating the Oregon that we all wanted to see.
I have taken much pride in watching Michelle Obama become the first lady of the
United States. I know there will be other women that will take that role, but she
will forever be my first lady. So when she wrote Becoming, I could not wait to read it. I bought the audiobook, I bought my tickets for her tour. I read this book, and there was a particular passage that stuck with me, because I feel that it is describing my life and the phase that I find myself in. "Because all that I have
achieved, I still feel that I am becoming. For me, becoming isn't arriving
somewhere or achieving a certain aim. I see it instead as forward motion, a means of evolving, a way to continually reach toward a better self. The journey doesn't end. It's all a process. Steps among a path. Becoming requires equal parts patience and rigor. Becoming is never giving up on the idea there's more growing to be done."
I want to be remembered as someone who did her best, learned from her mistakes, tried to make everyone feel their light shine through themselves. I hope that people know that I stood in my truth, and I spoke love, and that I always wanted the best for everyone that I met, no matter how they came to me.
Having the newest school in the North Clackamas School District named after me, the Adrienne C. Nelson High School, makes me extremely proud. I also feel like somehow someone, as Maya Angelou said, put a rainbow in my clouds because education has always been important to me, but my high school experience clouded my joy. And the naming of this school put the rainbow in the clouds.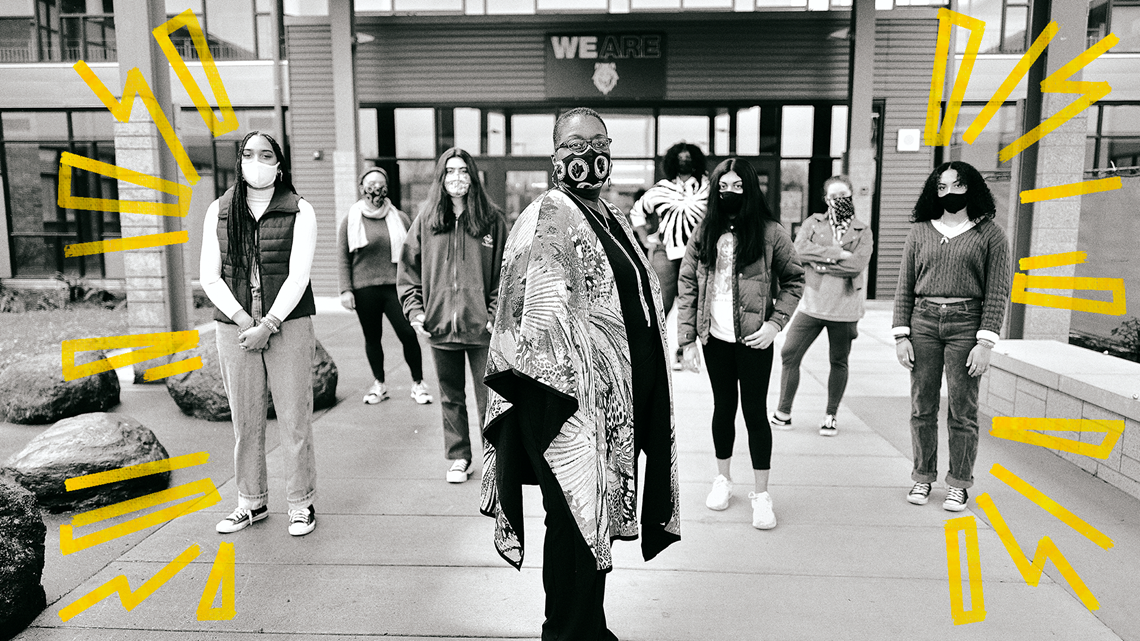 I had the opportunity to meet with some of the students who are going to be
attending the Adrienne C. Nelson High School this fall, and the experience was a
gift. It made my heart skip a beat because I am overjoyed that the students are just as excited about attending the school as I am for them to attend the school. And they all embrace the possibilities. I saw these young women open their hearts and share their pain, I realized that there was much work to be done. But I was also grateful for them willing to be vulnerable in this moment, to show where we can reach out and connect with one another to build those bridges that we need to move forward. Because often, it's not what you do when things go well, it's how you show up when things go wrong and how you choose to fix them.
Greg Harris, the first Principal of Adrienne C. Nelson high school, is also someone I hold dear to my heart. From the moment that I met him, I knew that North Clackamas School District had chosen someone very special. Every interaction we've had has only confirmed that feeling and opinion. He is the epitome of embracing students, helping them live their best lives, providing them with a safe space to learn where they can embrace who they are while embracing others. We're all much more alike than we are different. I cannot imagine a better Principal for this high school than Principal Greg Harris, and I look forward to seeing him build upon his vision for this School.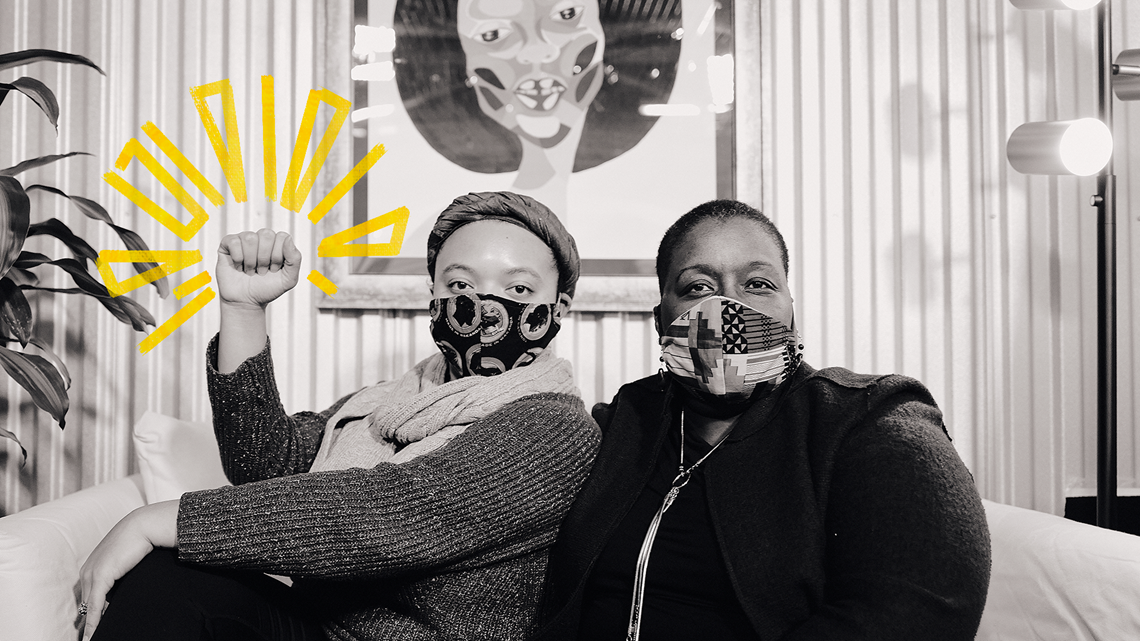 Sade DuBoise is creating a mural for the school. She is an incredible artist and I'm grateful that when I suggested the idea, she immediately embraced it. I'm ever grateful that when Principal Greg Harris and I would talk with her, she not only had embraced what we were hoping, she went beyond and was able to meet us where we were, and take us to a new level. I love how she incorporates nature into everything that she does so that we'll have a mural in this school that is representative of the nature around us. That the students can go to the Hidden Falls Park if they so choose. That they can know that this mural was created by someone who is not that much older than them. And hopefully they can see themselves in her with their creativity.
I've always loved art. And it's very special to me that Jeremy Okai Davis had
chosen me to be in his art piece that is displayed in the new Multnomah Country
Circuit Court Building. Before I even knew who he was, in terms of the person, I
saw his artwork, and I was struck by it. His ability to shape issues through his
pieces, his eye for color, his ability to create pieces that engender deep thought and conversations, makes me proud that he felt that I was an image he wanted to include in his growing collection of art.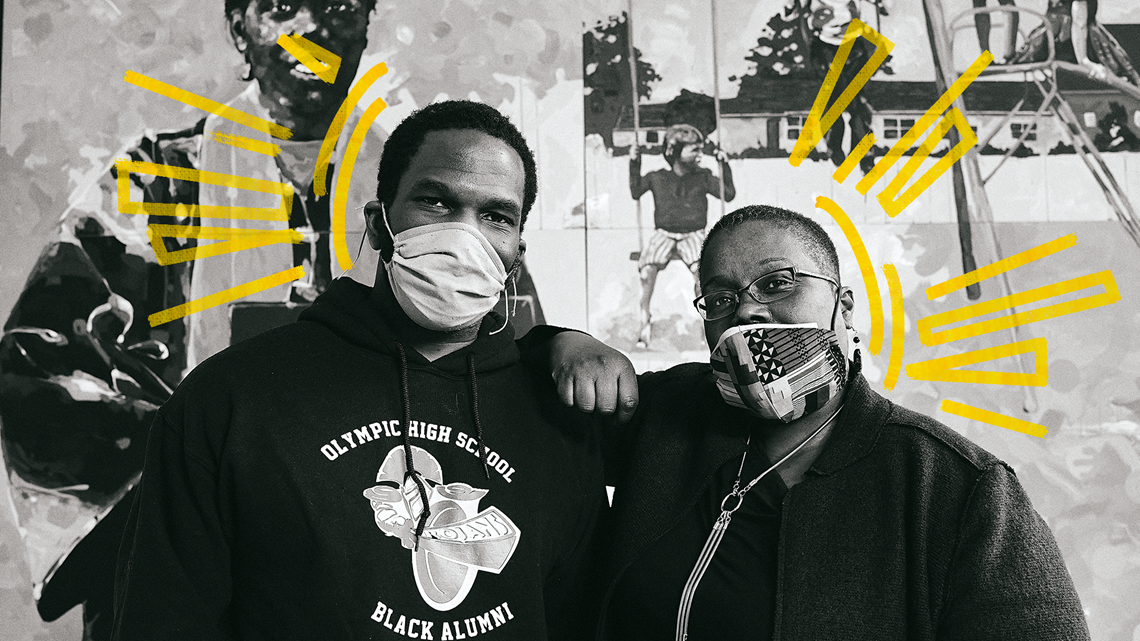 In addition to loving art, I also love to dance. I love music. It is hard to not move
when you hear the sound that then becomes part of your body, and that rhythm
moves through you. Before I know it, I'm dancing in my chair, I'm standing up, I'm
moving around. I see it as my form of exercise; an expression of joy.
My name is Adrienne C. Nelson. I'm an Oregon Supreme Court Justice. I'm an
engaged community member. I'm a mom. I'm a sister. I'm a daughter. I'm a friend. I'm a black woman.
Images: Adrienne C. Nelson | Expressions in Black
Episode 7
:
Jewan Manuel
Expressions in Black: Jewan Manuel aka Plant Based Papi
My name is Jewan Manuel aka Plant Based Papi, and this is Expressions in BLACK. I was born and raised in Flint, Michigan. My grandparents, they actually owned a mom-and-pop shop called Harden's Grocery and I was able to see that day-to-day Connection that they were able to make. My grandmother used to always say that the countertop was her pulpit for her to talk to people and help people because they wanted to see that community built up. The older I get, the more I understand how important that is.
My parents did what they could to provide for us and worked super hard. My dad was probably working overtime six days a week growing up, so I got to see that and what that looked like. That work ethic helped propel us from where we were and provided opportunities for us that many kids in my neighborhood didn't get.
After college, I moved to LA and worked a corporate job, and periodically I would visit Portland. It always reminded me of the Midwest and how much I missed just being part of a community. So I promised myself that once I moved here, I would start doing something that represents me as a man and start working for myself. I've worked in customer service and in the food industry since I was 14 years old, and I don't think I've ever seen as much excitement in the industry as I do since working here in Portland.
I moved around Portland, moved to southeast first, but I'm happy right here in northeast. I've had opportunities to move to the Pearl and other places in Portland, but I just thought it was important not to go anywhere else. I'm all about that sense of community, especially in the black community. I like the people around here, I like to be local, I like to say, "What's up," to everybody. I'll always do that, that's how I was
raised. My transition to becoming vegan was dependent upon me being an athlete and having a hard time recovering after my workouts. When I was a college athlete, they would just give us a protein bar and like two protein shakes and say, "Have a good day!" I noticed that I had to change the things I was consuming if I wanted better results.
The name Plant Based Papi came from my friend Jade. We both love the artist Drake and his moniker on Instagram is Champagne Poppy. So every time I would be in the kitchen cooking, she was just like, "All right, Plant-based Poppy," joking around. That's how the name was born!
Images: Jewan Manuel I Expressions in Black
I got started by selling tacos in front of Workshop Vintage in NE Portland. My whole motivation was inspired by wanting to connect with people. I'm smiling, I'm laughing, I'm giving out free tacos half the time, you know just wanting to be a part of something. I would practice making vegan tacos all the time for my friends and they truly enjoyed it. The roasted jackfruit was their favorite! I would chili roast my jackfruit and roast it for a very long time, I think that's the secret to jackfruit. Cause my whole thing is, I just don't wanna make it a vegan alternative, I wanna make it
imitate meat in a sense. I want people to feel as if they're not missing anything. There's a lack of texture that happens when vegan cooking comes around that people don't feel like they get, and I wanted to be able to fill that void. So shredded jackfruit tacos became a hit. Eventually, that line of eight people would turn to a line of 20, which would turn into a line around the block.
As my brand grew, I started getting mentors and asking real questions about the restaurant industry and how to build a business. It was a blessing to find a few people around town that really helped me in that process. I became passionate about making things that were non-processed. When I started educating myself on vegan food, a lot of it isn't traditionally healthy to be quite honest. So I started thinking about what I can make from scratch. I make my fried chicken out of oyster mushrooms and I have a process of closing out the moisture, serrating them and then breading them like chicken. For my scallops, I use oyster mushrooms because when you roast them in a little white wine, drawn butter, kelp granules, nori flakes and let them sit overnight, they take on the texture of scallops.
One of my specialty items is the truffle mac and cheese taco. A lot of people were like, truffle mac and cheese in a taco? But at that time, I started paying attention to marketing and branding and it sparked my creativity. One of those ideas was throwing a scoop of mac and cheese into a taco shell and instead of a cheese sauce, I made a garlic truffle sauce. And people loved it! As random as it sounds, it got my momentum built up in the city and then I started connecting the dots.
I'm inspired by stories of struggle to success. I think the great thing that we have as human beings is the ability to create whatever we want out of this life. And I'll never forget the belief that people have had in me through my journey, and I carry that with me. When I'm going through difficult times or hard times, I take a moment to pause and realize that people sacrificed for me and believed that I would be successful. It reminds me that I need to go ahead and take on this responsibility to do better.
I want to be able to be in a position of serving my community and it just so happens that I'm fulfilling my purpose as well. And what's even more important is being represented as a black person in my community, fulfilling purpose with positivity. I think people don't normalize black people sometimes. It's like when people say, "Patronize these businesses during Black History Month." No, patronize these businesses every month! That's why my moniker is "Just good vegan food." Because I want to be represented equally and to be seen as more than just a black business.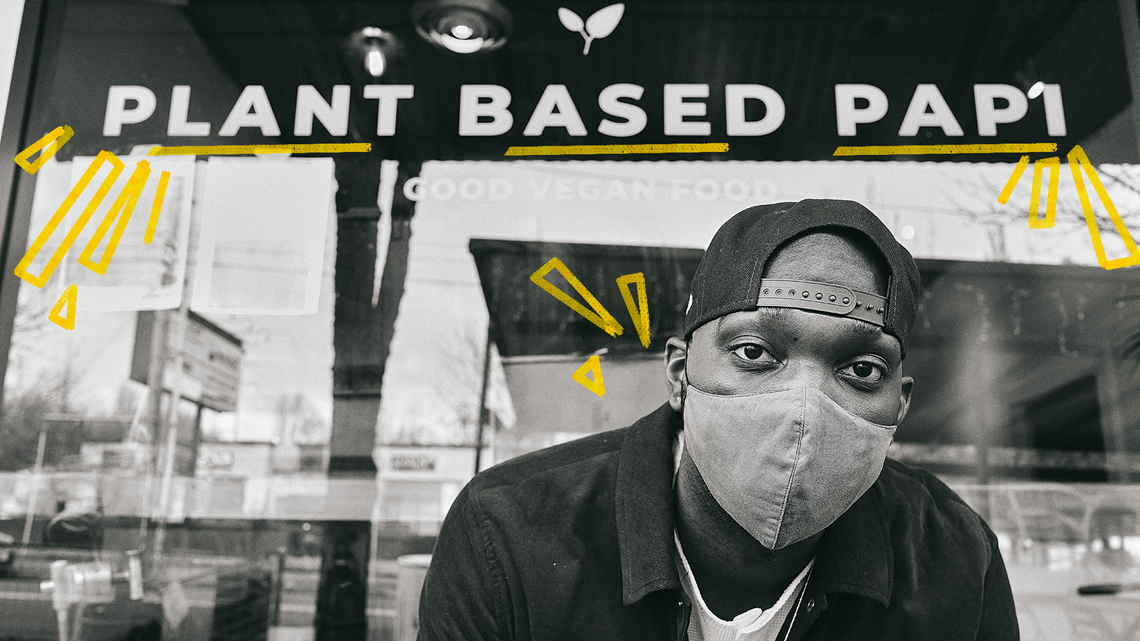 One day, a friend of mine who does a big sister program brought a young black girl into my establishment. The girl asked me, "So you own this spot? And you do everything vegan?" And that was the first time I had that bridge and that connection to the youth; a junior high school student that's able to see a person that looks like her, as dark as her. She's a dark skinned girl. I'm a dark skinned man in a position of owning something and representing something in my community. That is priceless to me.
Plant Based Papi isn't about food, it's about ownership and representation. I am on a mission right now in my community, fulfilling purpose with positivity. I think that's what drives black creativity, the ability to create whatever we want out of this life.
Episode 8
:
Bertony Fautin
Expressions in Black: Bertony Faustin
Growing up in New York and where I am now is a 180 degree flip. I didn't even drink alcohol before I started making wine. I looked around, and it was like, "I got grapes, if it don't work out, I'm gonna make raisins."
It's a lot of hard work. But every day, you're reminded that you're blessed. When I'm out here on the vineyard, it definitely brings a balance. This is where all of my creative amazing ideas come from. Especially when you own the business, run the business and make the wine, there's so many moving pieces. This is my getaway, this is my escape.
My name is Bertony Faustin, and this is the crick life.
When I first got the property here in Germantown Portland, part of it was still forest, so I'm limited to the amount of sunlight that we get. But that same challenge is actually also my benefit.
"Bertony is the hardest worker I ever met. You will always find him somewhere, standing out, somewhere being different, somewhere that you won't find people who look like him, and so that's what a trailblazer essentially, is. He's the first Black winemaker in Oregon, and to be looking different, and to be different um, in that environment says a lot about him." - Eldridge Broussard-Bertony's Coach
Photos: Bertony Faustin I Episode 8
Customers would come into the winery and ask, "Who's the winemaker?" And when I say me, I get the look like, wait what? It was the industry that said I didn't look the part. And so those little moments made me decide that I have to go ahead and be that pioneer and trailblazer.
People ask me, why did you name it Abbey Creek, and Abbey Creek is actually running through our property. Our mantra is Hip Hop, Wine and Chill, that's the sentiment, in that order, as well. You know growing up in New York during the 80s and 90s, hip hop is my thing. So on our logo I have the creek, the headphones and the color of the Haiti flag to own my heritage and owning who I am.
My name is french and my family is from Haiti. I'm actually named after my father but didn't start using my government name, until my he passed away. My Pops is my daily reminder, as I walk in the door of why we do what we do. It was that tragedy that has me here. It made me feel as if I wasn't living up to the legacy, and when I say that, I mean, the immigrant hustle. I made a tribute wine for my Dad. And that was important for me to acknowledge what got me here today.
Some people say I'm African American, but I correct them and say I'm Haitian American. And the reason for that distinction is so that you can honor that other side of me, as well.
So Abbey Creek to me is the umbrella. The foundation is the vineyard and everything trickles down to the tasting rooms, the wineries, the kitchen and the overall experience. I call it the Crick Life. You know, that's the me against myself sort of mentality!
Crick PDX is our tasting room downtown, and it's another extension of the OG Crick in North Plains. So many people were worried about how we were going to fit in and for us it's more about how we stand out. When I talk about wines, to me it's not necessarily about the flavor profile or the character. It's about the context and how you want to enjoy the wine.
So, I actually hashtag all my wines, because it's a feeling. For instance, the Cabernet Sauvignon, we call it cha cha. You know, you ever have those moments, you see food coming and you start to move in your seat? That's what the cha cha does to you. We don't just sell wine, you can get that at the gas station. We provide the experience of Love, Magic and Moments. It's up to you how you walk through the door, but it's up to us how you leave.
Crick Kitchen is our restaurant. During Covid I waned to continue to make progress and take advantage of the moment, so I started Crick Kitchen which is next to our winery in North Plains. My culinary director is Chef Earl Roberts, I call him Chef Homeboy RD. Chef Earl also teaches culinary arts at Clark College. You can eat with anyone. But you break bread with family, and that was the idea of the Crick Kitchen.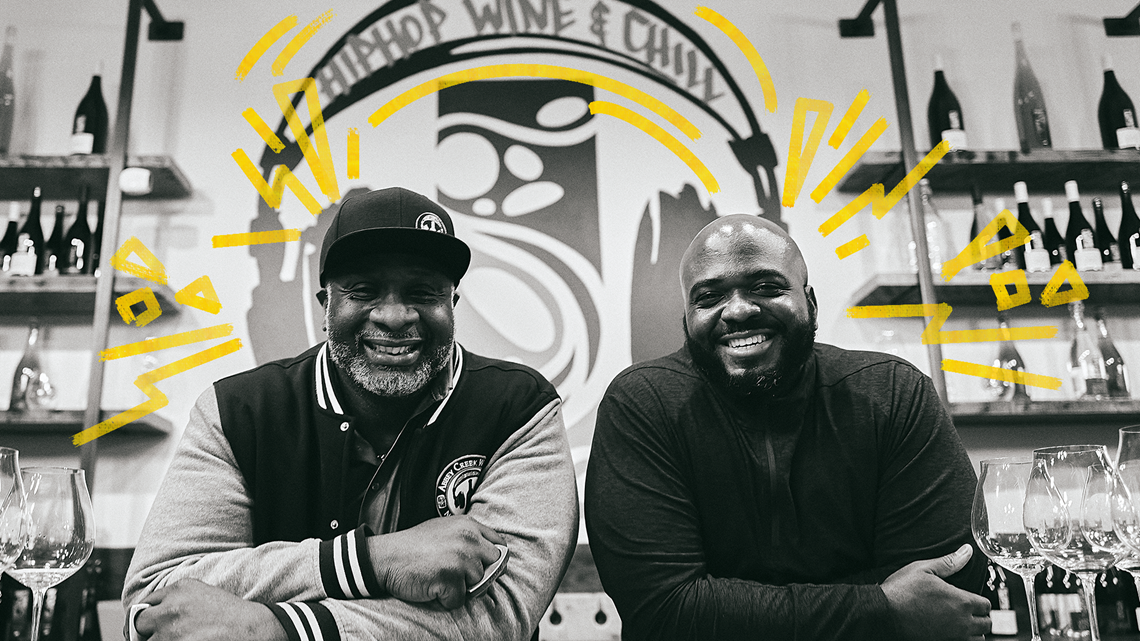 Due to being compliant with the state Covid-19 guidelines, we haven't been able to actually entertain on site. So we created a dinner to-go model. We call it the Crick Fat Sacks. People have been coming all over to grab their sacks on the weekends. Once we can open back up, we will be able to have people come experience the Love, Magic and Moments.
And what's also kind of dope about what we're doing here is turning this kitchen into an incubator program. Chef has the direct pipeline to working with students so we can give them amazing opportunities. People of color, in this industry for so long have been the backbones of the kitchen. I want to make sure that I see more people that look like me, in this field.
So many people ask me, why are we in North Plains? I tell them that it's because this is where we get to stand out. Where else can I be the most impactful? This is where you don't expect me to be. If I went to wine country, we would have never had the same kind of opportunities and the eyes on us, that we do now. But we are creating such a movement, but what can we do tomorrow? What can we do the next day? Abbey Creek is about the who, and more importantly, Abbey Creek is about you.
Episode 9
:
Subtitle here
Expressions in Black: Jonathan Johnsongriffin
All my life I've always looked to be inspired and to inspire others. That's a privilege for me, that's who I am. I think that's something that I learned early on from my family around me and the community that raised me. I think as a black man I've always been super aware that examples are extremely important. I have to play my part and I have to help us move forward as a community every day. I've always respected where I come from, where I'm at, and I've always been aware of where I wanna go. If I can't express who I am, if I can't stand up for what I believe in, I'm doing a disservice to the community.
My name is Jonathan Johnsongriffin, and this is Expressions in Black.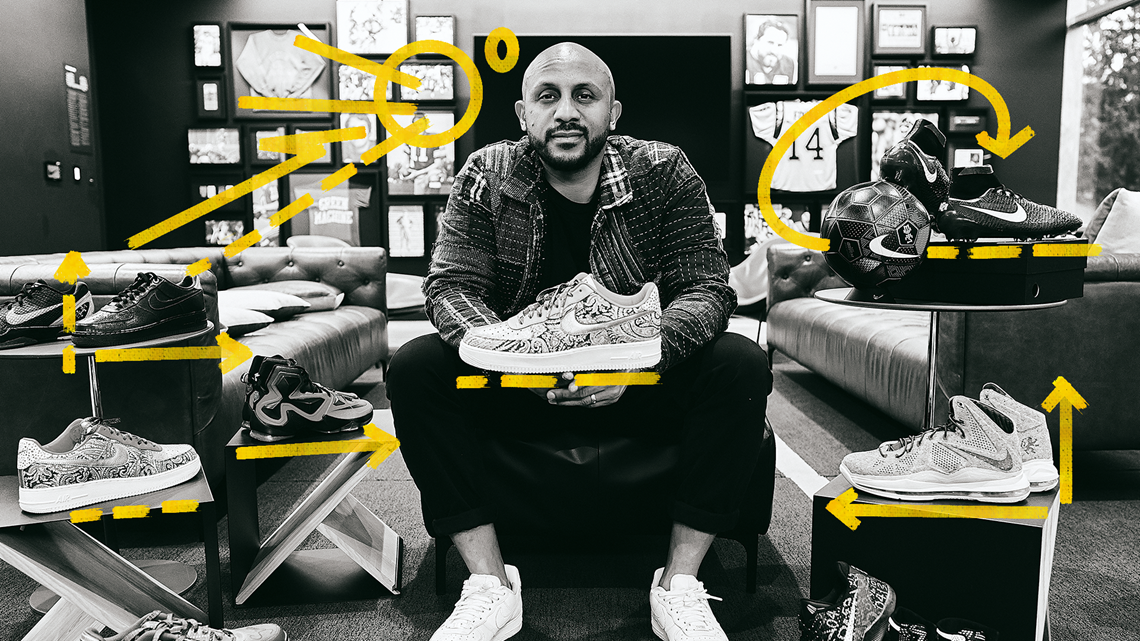 So when I was a teenager I just always loved to draw. I always loved to create beautiful things. My mother played a really iconic role in my life, she raised me in a community center on the East end of Louisville, Kentucky. And so through that, I was always exposed to sports, art, and purpose. When I look back at my body of work, this didn't just happen, you know, it's been building for a while. Nobody was talking about purpose work back in the day, and now that's what's fueling the brand. I think purpose storytelling for me, it's about a relationship. It's a relationship with communities, it's not a transaction. When I got to Nike I began that relationship here in Portland through mentorship, and that turned into a program we started around Black History Month.
Back in 2011, we really wanted to elevate the voice of our black athletes so their stories could be told, and it was a program based upon mentorship for high school students. It was about creating a language that spoke to our younger generations to answer their call to greatness with design. Black History Month then turned into some of the other purpose programs that we now have today! Whether it be the EQUALITY, EQUALITY HAS NO BOUNDARIES, UNTIL WE ALL WIN, and even YOU CAN'T STOP SPORT.
We are sending a message that says; Hey, we are a sport community that's gonna influence and change the world. It really started a movement with LeBron James, Serena Williams, Kevin Durant, Megan Rapinoe, and all these different impactful athletes standing side by side telling the world that equality should have no boundaries, that we should all have equal playing fields. It's an absolute privilege for me to be a part of that conversation.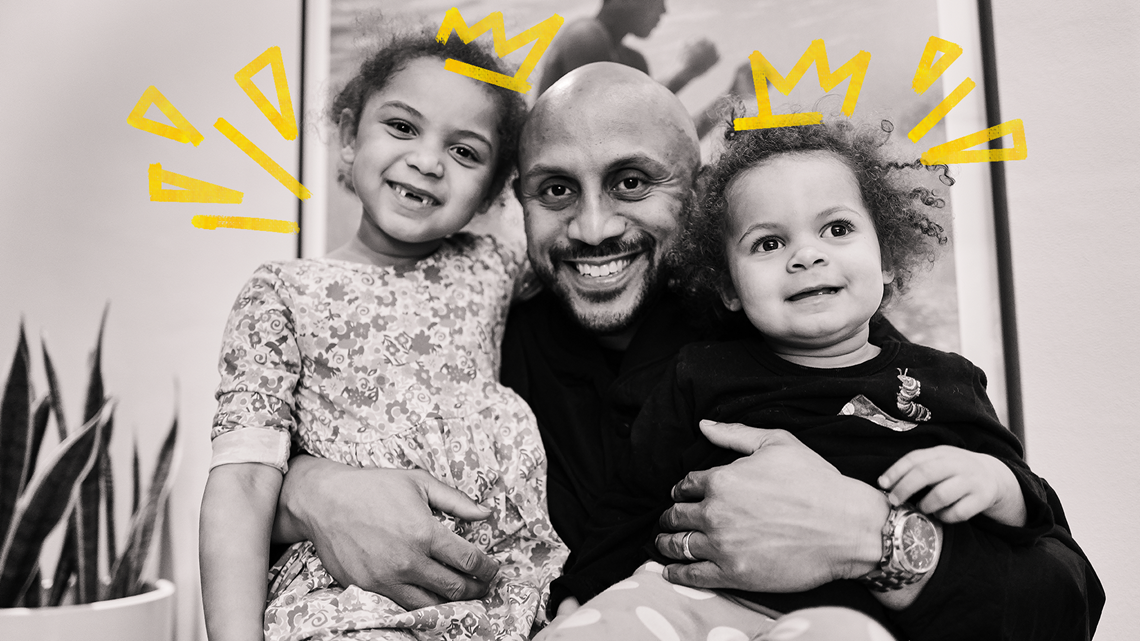 I love being a father! There's not a suit that I put on when I wake up and go to work that I change when I come home, it's the same suit. At the end of the day this role is what matters, you know, this is the legacy. This is why it's important to be an example. Life for me is about legacy. We can't choose how long we're gonna be on earth, but the time we're here we can choose what we do with it. Working from home has been an amazing time to just be able to be in a space with family, reflect on who I am, where I came from, where I am right now and where I wanna go. You know, literally this space that I've been working in for over a year now has been my creative playground and it actually feeds who I am.
When you talk about being creative, when you talk about being an example, we should absolutely bring that to work with us. When I look around and I see stories from my ancestors, artifacts from my mom, seeing these objects of past, present and future chasers, people that are creating greatness, it just reminds me of why I'm here, you know, it reminds me of my responsibility and the example that I have to continue to put forth. You know, for me, with two young daughters I see infinite possibilities and I see this idea of the future and what it could be. If I took anything from the year 2020, it's the mindset of doubling down on the inspiration, because inspiration is what is gonna take us to 2021, 2022 and beyond.
Photos: Jonathan Johnsongriffin
Throughout my career, I've been able to tell a lot of stories. The thing about Nike that was really inspiring to me is that Nike was always good at telling amazing stories. And so when I got here, I wanted to be a part of that. One of the things that I did with Lebron is this first championship shoe, the Lebron 10 Cork's. Whether it be designing shoes, starting mentorship programs inside of Nike, working in the community, the journey I've been on has been an amazing one. The first shoe I worked on with Serena Williams, she wore at the Australian Open. And as those stories started to flow, more storytelling mediums started to flow. And now we've created the Serena Design Group Program bringing more representation and more diversity to Nike design.
For me, truly being able to bring my full self is extremely important because I think that is actually the value that I bring. If I'm doing it in my community and we're not having the same dialogue inside of companies, inside of boardrooms, with athletes, with allies, then we've missed. Being able to work on multiple different names that allow different voices to be heard and stories told, I mean, that's why I'm still here to be honest. I believe anything is possible because of my mother, because of my wife, because of my daughters, because of Serena Williams, because of LeBron James, because of all the people that came before me, because of the people that are standing next to me, and the people that are gonna come after me. I believe that I can as well as our community can, because there's examples. It just shows that we have so many reasons to believe, and it's actually my mission to show other people that they can believe!