Expressions in Black | Season 2
Real, unfiltered stories central to Oregon's Black community.


SPONSORED CONTENT: Expressions in Black is back for a second season of authentically produced shorts that deliver real, uninterrupted stories central to the Black community.
Watch Expressions in Black Monday nights at 7:20 p.m. after The Good Stuff on KGW. Episode will re-air each Wednesday at the same time.
Each of the featured characters takes viewers on an unfiltered journey through their experience, giving every episode a unique flavor, feel and flow.

This season, the Heart & Hustle team traveled beyond Portland city limits to Astoria, Hood River and other parts of the state to capture the varying environments where Black Oregonians are thriving and sharing their Black excellence.
Episode 1
:
Bobbi Mackenzie
Expressions in Black: Bobbi Mackenzie | Actress and Singer
"I knew that acting was something that I was built for at a very young age. When I would go see movies, I would learn those lines and recite them to my family. So I came to my parents and I was like, 'This is something that I actually want to do.' I've been on stage for a few years now and I will never get tired of it. I feel like it's where I belong.
I would say that my life's motto is stay ready so you don't have to get ready.

I go to school at Tigard High School. It's fun because I have actually made some important friends that are so important to me and so dear, but it kind of feels like something's missing. So, when I did live in New York for two years, doing 'School of Rock', I loved it. I mean, that's where I'm hoping to live in the future. I see myself in Julliard, studying acting, but I definitely want to do musical theater, and Julliard too, 'cause I feel like that would be a lot of fun. But, definitely New York…Julliard...yes!"

"Acting is about a real experience. The character who you're playing, they're real. Sometimes you do have to channel things from your real life. It's very important that I ask myself 'What is this character's want? What's something that I went through that was kind of like that, that I can bring that raw emotion to the table.' I would probably say some of the characteristics that I got from my family and parents is to treat people the way that you want to be treated."
Sometimes when I'm talking to my little sisters, I remind them to work hard for what you want. Don't be lazy. If you want something, you have to work hard and really strive for it. So, the reality of being Black, it really fuels me because I put in all this work to get here and I shouldn't have to feel any roadblocks or uncertainty. I know that I'm talented. And I can't keep thinking of myself as lesser than because I'm not white, or a male, or something like that. I can do what you can do, if not better."
Images: Bobbi Mackenzie | Expressions in Black

"My optimism probably comes from my dad because he's the one who was teaching me these things; that it's okay, you're gonna do your thing. If people don't receive it, that's okay too, 'cause you're going out there and you're doing it. Be proud of that. That's just something that I have to remember. It's not always gonna be a yes. And just because it's not a yes, doesn't mean you're not good either. Believe in yourself! That's what acting is to me."
Episode 2
:
Kayode "Ambush" Balogun
Expressions in Black: Kayode "Ambush" Balogun | DJ at The Numberz
"Black music for our culture is representation. Especially after decades of it being co-opted and stolen from us. For us to have control over our music, is the pinnacle of representation.

For me, my love for music and hip hop culture specifically, it didn't open doors for me. Where I came from, you had to open the doors yourself. Coming up as a DJ in Philadelphia, it was to get busy. It was to get to work. It was to make sure that I'm doing everything I can to make sure the crowd has a good time.

My role has changed a lot now. I'm actively playing a part in elevating other creators and making sure they sound as good as they possibly can. So sky's the limit. I'm getting out there and branching out, and just tryin' to share my love for music with other people."
"When I first came out to Portland, if you were to ask me if I was going to be involved in radio, I would say 'absolutely not.' Nah! Radio was always like the dead end for DJs. You end up at a radio station, you don't really get to do what you want. At the time I was relying primarily on chasing down club gigs, chasing down lounge gigs and it was working great. But I ended up running into a brick wall. I had a health issue. Undiagnosed congestive heart failure. So, everything that I thought was important stopped. Then this opportunity with The Numberz popped up. It made me slow all the way down and look at things from a different perspective.
The station was started by Jefferson Smith and Anthony Deloney. And the idea was, you know, to create a platform for Black businesses. I started seeing the value of that station. You're talking about Black music curated by Black Portland. That's unheard of. This is definitely where "The Numberz" started. XRAY FM at the time was our sister station, our parent station, that really helped us with the back end, and helped us understand how to get on the air. So XRAY will always have a very special place in our heart."
Images: Kayode "Ambush" Balogun | Expressions in Black

"Currently, we are operating out of the Portland Art Museum, through a series of fortunate events. They were like, 'we don't have any events going on right now and the museum is pretty much shut down.' They said if we wanted to come through and work out of there, they would give us a residency. So we gave it a try. The ability to be surrounded by all this art and open space is just really, really inspiring. The Numberz started out as a radio station. The idea, for me right now, is for it to be a complete media entity. We have a couple of shows that go live broadcast to Twitch, and on the air simultaneously. The technology exists. There's no reason why we should be limiting ourselves to just what's on the FM dial.
My daughters and two youngest kids go by the name DJ Major and DJ Tempo. Having kids that are interested in the industry, is special. I never initially was like, you guys are going to be DJs. But they've been backstage. They've been at the rehearsals. They've been at all the things that I've been involved in. If you don't create a place for younger artists to thrive, then the culture overall is going to suffer.
The mission for me is to unite all the different people here in Portland that want to make their community better and stronger. And The Numberz is the best way for me to do that. Our people have always been capable. So whatever we can do to uplift voices of color, let's just get it done."
Episode 3
:
Jocelyn Rice
Expressions in Black: Jocelyn Rice | Outdoor Apparel Designer
"I realized over time, the morning is the most important time for me to be myself and to be comfortable in my space. A lantern, the candles, it's just part of what I do, and I don't know how I started. When I can hear the birds or the rain or whatever, I want to be as present in that moment as possible. In order to do that, I didn't want to turn on my lights. I didn't want to let the rest of the world in yet.
Having the opportunity to tell stories through clothing, and something that my people are rooted in, just really transformed my life. The clothes that I love is something that is really meaningful to me. I want something that, when I put it on, I can embody what that is— as a homage to our hair and our culture is really, really important to me. And bringing it into this outdoor space, which is something new. I do genuinely feel like I'm providing people with something that's really good for them."
"I love to read history of Black folks and the outdoors. One of the stories that I read that I love the most is the story of Joseph K. Bowler. He created a Jim Crow traveling kit. It consisted of a pair of old mechanics coveralls and a little stove. He wasn't allowed in hotels, and he would sleep out in the wilderness, so his connection is very different. The stories of folks that you've never heard of still have to be told. Why not tell them in this way? It might be Harriet Tubman's story, or it might be Angela Exodus' story. It's kind of that connection to a story and ancestry, and the outdoors.
The artificialness of the world has always kind of bothered me a little bit. Just walking outside and putting my feet in the grass, really bringing it back to the very, very basics, it's just so incredibly peaceful, and it is nothing but me in that moment. It's inside all of us, but because we have so many other devices around us, so many other things going on, we don't pay as much attention to it as we used to."
Images: Jocelyn Rice | Expressions in Black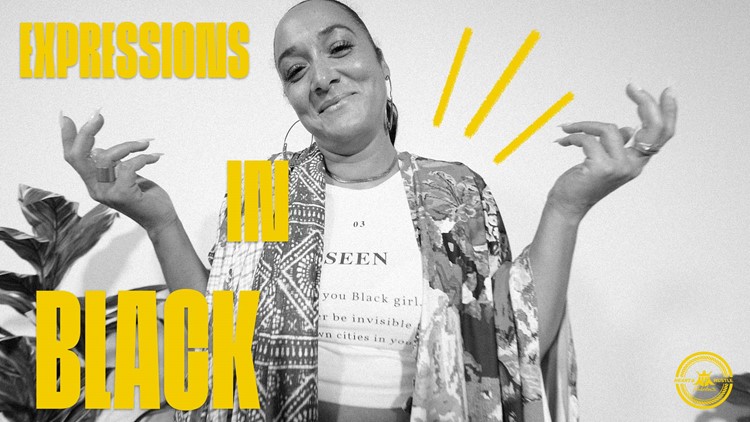 "When I was working in corporate, I couldn't get my ideas through. They weren't understanding the different connections I was trying to make, understanding that nature and outdoors can mean different things to different people.

For me, my hair was a barrier to me getting outside. I wanted to make sure that I was figuring out a way to create something that had meaning in it and that was for a new purpose. So, the durags seemed like the perfect place to do it. I think durags are a form of self-expression. The patterns, the stitching, even how you wear that piece— you can wear it fifteen different ways. It has such a rich history to it. It is for us. And it's so personal to Black folks. You can wear it in the gym, you could wear it on a hike. I mean, that's the beauty of a durag too, it's so different, depending on what you're going to do that day.
I want to see more Black women designing outdoor apparel; like we just don't exist there. I want a full-on line. I want rain jackets. I want fishing gear. I want the whole thing. And Black folks can say, 'I purchased that from Black Earth United.' At the end of the day, I'm still making something that somebody's got to go out into the world in, and it matters how I'm thinking about that product. Every piece I make, I bless it. I put it in my best energy because it's me making it. The connection to the culture is you, it's us. The intention is very different than what a big company has, but the hustle is exactly the same."
Catch new episodes of Expressions in Black, Mondays at 7:20 p.m. right after The Good Stuff.