EUGENE, Ore. (AP) — When Vin Lananna, president of TrackTown USA, and Paul Weinhold, president of the University of Oregon Foundation, first contacted then-Gov. John Kitzhaber in mid-2014 to request a $40 million state subsidy for TrackTown's bid to hold the 2019 track world championships in Eugene, they were met with coolness and skepticism, newly released emails show.
After Lananna gave an in-person pitch to Kitzhaber on July 7, Kitzhaber economic policy adviser Vince Porter sent a scathing assessment of the request to the governor and his top advisers.
Talks should continue, Porter wrote, but "there are a lot of hurdles to get over before it becomes much more than a pipe dream."
Nonprofit TrackTown's request contained "probably as much as $20 million that we would never want to consider subsidizing," he added. "I don't think the state should be even considering something larger than $20 million" to help fund the event in Eugene, he wrote.
The subsidy request — which would require three-fifth votes in both chambers of the Legislature — also was met coolly by Salem's two most powerful legislators, Senate President Peter Courtney and House Speaker Tina Kotek, both Democrats, Porter's emails indicate.
Yet, only five months later, Kitzhaber publicly pledged to "use all the means at my disposal to deliver the financial support needed for the championships" in a video message he sent — along with then-Secretary of State Kate Brown — with TrackTown's team to the International Association of Athletics Federations bid meeting in Monaco in late November.
For the first time in that video, Kitzhaber endorsed a specific amount: the full $40 million. Getting the governor to publicly state the $40 million was a priority for TrackTown, Porter's emails show.
What happened between Kitzhaber's initial resistance and his endorsement? His campaign coffers were swamped with donations from people who want the track world championships held at the UO's Hayward Field.
The emails show that Kitzhaber's apparent reversal coincided with almost $400,000 in campaign contributions he received during a 42-day period in September and October 2014 from athletic apparel giant Nike, its co-founder Phil Knight and its CEO Mark Parker, as well as four members of the UO Board of Trustees.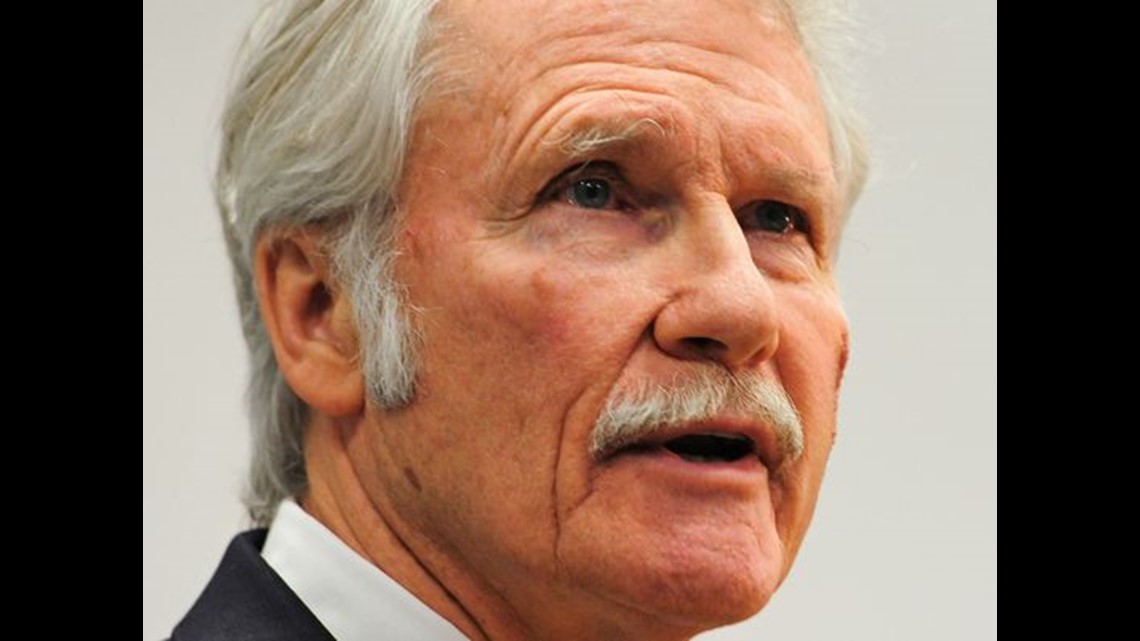 The donations came at a busy time in Kitzhaber's 2014 re-election bid: Other money was pouring in as the November election approached. But the donations were unusual in their size and concentration, and because many of the donors had not given to Kitzhaber in at least the past decade for which Oregon keeps disclosures online.
Knight, who donated $250,000, had not personally given to Kitzhaber in that time. A registered Republican, he backed Kitzhaber's GOP opponent, Chris Dudley, in 2010 with $400,000. Parker's $50,000 donation was his first to a state politician. Nike's $65,000 to Kitzhaber during those 42 days dwarfed the $22,500 it gave to him during the entire 2010 election cycle.
Among the UO trustees, Chuck Lillis, the board chairman and an infrequent political donor, gave $10,000 to Kitzhaber. He and his wife contributed $1,000 to Kitzhaber in 2010. Connie Ballmer gave $5,000, her first political donation in Oregon. Allyn Ford gave $5,000 and Joe Gonyea III gave $2,500, though both trustees are much more frequent political donors.
The donations came at a crucial time for Kitzhaber. Polling showed that he had a big lead over his GOP challenger, Dennis Richardson, when the donations started, but his campaign was rocked in early October by allegations of ethics violations related to his fiancee, Cylvia Hayes, which ultimately led to his February 2015 resignation.
Kitzhaber on Tuesday didn't respond to requests through his attorney for comment.
In a prepared statement, Nike spokeswoman Sabrina Oei said: "As part of the 2014 gubernatorial campaign, Nike was asked to support Gov. Kitzhaber's campaign.
"Based on his record of leadership on issues important to Nike, the business community and the state — including our decision to significantly expand in the state of Oregon — we provided support to the campaign. This is consistent with our general practice of supporting candidates."
Angela Wilhelms, secretary to the UO board, said on behalf of the four trustees: "There is absolutely no correlation between personal political contributions by trustees and any decisions by Gov. Kitzhaber.
"Any insinuation of quid pro quo or any other connection is just flat wrong," the statement said.
In recent weeks, TrackTown and Lananna have found themselves defending the IAAF's April 2015 decision to award the 2021 championships to Eugene without a formal bidding process, after the IAAF awarded the 2019 event to Doha. French police are investigating alleged bribery in the IAAF, and the Eugene award itself. The revelation that Sebastian Coe, the new IAAF president, had been for years receiving undisclosed annual payments of $150,000 from Nike, a potential conflict of interest, have sent shockwaves through the sport.
TrackTown and Lananna say they've done nothing wrong. They continue to pursue from the state essentially the same funding package they sought for the 2019 event: a permanent doubling of the statewide lodging tax, which would provide $25 million to the world championships as well as money for other tourism-related projects; $15 million for renovations to Hayward Field; and $3 million from the state general fund to pay for security at the 2016 world indoor track championships in Portland and 2016 Olympic Trials in Eugene.
Support from the executive branch remains strong, despite Kitzhaber's resignation.
Less than a month after Brown took office as governor, she signed a letter of support for the 2021 championships, the emails show. Unlike Kitzhaber, Brown hasn't publicly committed to a dollar figure.
Emails show Brown was scheduled to meet with Coe in Salem on Jan. 13. But the meeting was canceled by TrackTown shortly after Coe gave up his Nike payments.
Asked Tuesday whether she supports a specific dollar allocation for the 2021 event, Brown's office sent a statement saying the event is an excellent economic development opportunity that builds on Oregon's strength in track and field.
"The governor's office is currently working with state officials on legislation for a funding strategy in advance of the February 2016 session," the statement adds.
But the request will face at least one powerful opponent in Salem: Senate President Courtney.
"I have been clear with the organizers of this event since before they made their bid," Courtney said Tuesday. "My position has not changed. I do not support spending our limited state resources for this event."
Speaker Kotek's office said Kotek has yet to take a position because she hasn't seen a formal proposal.
Lananna spent months wooing Kitzhaber.
It began with a meeting in June 2014, emails show. After that, TrackTown officials frequently contacted Porter in an effort to get Kitzhaber to visibly support the bid.
In early July, Lananna emailed Kitzhaber asking for another meeting. "Since our time frame is pretty short the urgency for setting the next agenda will be critical," Lananna wrote.
Three days later, Porter sent his negative assessment of TrackTown's subsidy request.
Porter wrote, "It's worth considering $15-$20 million for the championships," but only with strings attached.
Eugene and Lane County "could not be the sole benefactors of this event," he wrote. Training camps should be set up in different cities and "we should insist that some of the events be split away from Hayward field," he wrote.
"I doubt there is a conceivable way for us to accomplish any of this in such a short timeframe," Porter added.
Kitzhaber initially declined Lananna's invation to attend track's World Junior Championships in Eugene in late July 2014, but he eventually attended after Gonyea, the UO trustee, flew him in from San Francisco on a private jet. The $8,500 expense was recorded as campaign contribution from Gonyea's firm, Timber Products Co. of Springfield.
In mid-August, Lananna and Porter met the chiefs of staff of Courtney and Kotek in Salem. Shortly afterward, Porter reported to Kitzhaber that people close to Courtney recommended "to not push right now."
"It would be counterproductive for us to get (Courtney) ... in a room to discuss the bid," Porter wrote. He also mentioned that Lananna had met with Kotek.
"With this information it feels like we don't want to set up a meeting" with Lananna, he added. But Kitzhaber pushed back.
"If we are serious about at least exploring the possibility of bringing the games here (nothing public mind you) then I think we need to have something to say to the folks submitting the bid at the end of September," he wrote on Aug. 31.
In early September, Porter prepared, with TrackTown officials, a letter of support for Kitzhaber to send the IAAF with no mention of the $40 million figure. TrackTown executive Michael Reilly immediately protested.
"While the revised letter from the governor demonstrates a strong sign of support, the elimination of the dollar figure creates some challenges for us moving forward," he wrote to Porter. "Is it possible to represent the letter with the number included so that we minimize the challenges ahead? Based on my discussions with the various experts, I believe the figure is an important element of our bid."
Despite TrackTown's objections, Kitzhaber and Porter stuck with their initial wording in the final letter, dated Sept. 10.
On Sept. 19, UO Trustees Ford and Gonyea contributed $5,000 and $2,500 to Kitzhaber, respectively. Four days later, Knight's $250,000 contribution was recorded, as was a $25,000 contribution from Nike and $5,000 from UO Trustee Ballmer.
On Oct. 15, TrackTown sent draft talking points for Kitzhaber to use at a formal IAAF bid evaluation dinner in Eugene.
Once again, TrackTown included the sought-after mention of $40 million. But, once again, Kitzhaber didn't include the figure when he took the podium to speak in late October.
On Oct. 30, the 42-day total of donations from Nike and its leaders and the four UO Trustees had reached $387,500 — roughly 8 percent of all Kitzhaber contributions during the 2013-14 election cycle.
By Nov. 14, Kitzhaber, who by then had won his re-election campaign, recorded his video message for the TrackTown bid presentation in Monaco.
In it, he used almost word-for-word the phrasing TrackTown had previously sent him. From his ceremonial Capitol office, Kitzhaber said: "I plan to support specific, bipartisan legislation that I believe will generate as much as $40 million to directly support the championships.
Information from: The Register-Guard, http://www.registerguard.com