PORTLAND, Ore. — Each week, KGW provides a list of events and food options you may want to try in the Portland area over the weekend.
Here are our picks for this weekend:
Festival of Balloons
Photos: 2015 Festival of Balloons in Tigard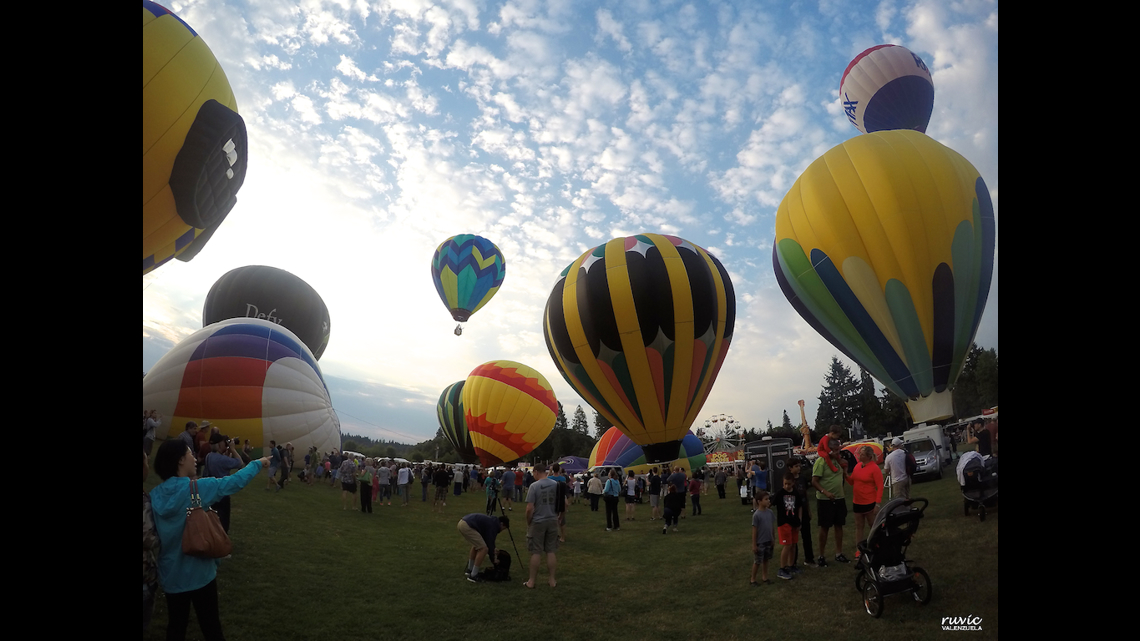 Hot air balloons will be filling the skies of Tigard each morning this weekend for the 35th Festival of Balloons. Weather permitting, about 20 hot air balloons go up at around 5:45 a.m. each morning. The festival is more than balloons, though. There will be craft booths, local food vendors, carnival rides and games. A 3-day weekend pass is $5 online or $8 at the gate. Kids 6 and under are free.
Click here for more information
Cider Summit PDX
Cider Summit PDX
More than 150 ciders, cocktails and apple spirits will be available to try at the 9th annual Cider Summit PDX. The event is billed as the region's largest cider festival. Tickets are $35 and included a souvenir tasting glass and 12 tasting tickets. Food will also be available along with small bite samples. Several musical acts will be performing throughout the weekend.
Click here for more information
Good in the Hood multicultural festival
Good in the Hood multicultural festival
The 27th annual Good in the Hood festival is this weekend in Northeast Portland. The community event is billed as the largest multi-cultural festival in the Pacific Northwest. It features three days of music, activities for kids, a parade, multi-cultural food options, and a beer and wine garden. The festival is free to attend.
Click here for more information
Gorge Blues and Brews Festival
Gorge Blues and Brews
If you're looking to get of out of Portland this weekend, you can head out to Stevenson, Washington, for the Gorge Blues and Brews Festival. There will be live music, beer from Gorge craft breweries, wine from regional wineries and plenty of food options. Tickets bought online are $20. They're $25 at the door. A ticket includes five tokens for tasting and a glass. Onsite camping is available at the Skamania County Fairgrounds for $75 per night.
Click here for more information
Off the Waffle
Off the Waffle is a family-owned brunch café serving Belgian Liège-style waffles in Southeast Portland. Liège waffles are sweeter and richer than regular Belgian waffles. The waffles are made using chunks of Belgian Pearl Sugar folded into the dough that melts during the rising process to form a crispy, caramelized exterior when it's baked in a cast iron waffle press.
Off the Waffle offers a wide-range of waffles that can either be ordered plain, fully loaded, savory, sweet, Gluten-free or sugar-free. If waffles are not enough they also serve omelets, custom-roasted coffee from Eugene's Café Pacori and fresh-squeezed orange juice. Visit their Portland location at 2601 SE Clinton St.
Soro Soro Coffee & Dessert
Soro Soro Cofee & Dessert is among the newest bakeries in Portland. They feature lighthearted and goofy designed pastries, such as Earl Grey chocolate cakes with googly eyes. The café uses Stumptown coffee for many of their drinks and for the non-coffee drinkers, there's hot chocolate and a wide range of teas. Visit them at 2250 E. Burnside St. Unit C.
The Bye & Bye
The Bye & Bye is a vegan bar located at 1011 Northeast Alberta St. People have been raving about their amazing selection of beers and comfort vegan food that leaves even meat eaters satisfied. The Bye & Bye also offers plenty of seating and a quintessential hipster vibe. Make sure to try their signature namesake drink: Bye and Bye, made from peach vodka, peach bourbon, lemon, cranberry juice and soda served in a mason jar. It's so Portland.
Jacqueline
Jacqueline is a seafood restaurant known for their $1 happy hour oysters, Dungeness crab toast and cioppino. Jacqueline borrows its name and vibe from Wes Anderson's "The Life Aquatic with Steve Zissou." The restaurant has an extensive European wine list, hard to find Champagnes, Pacific Northwest wines, cocktails and beers. Visit them at 2039 Southeast Clinton St.