PORTLAND, Ore. -- Had it not been for a hilarious autocorrected text message the world might never have known about Swearball.
It started when founder and KGW newsroom staffer Timothy Oberlander received a text from a friend about going to brunch.
"I had just come back from a run and texted back that I was a sweatball (at the moment) and autocorrect said 'swearball,'" Oberlander recalled. "We thought it was the funniest thing. What's 'swearball?' is it kickball where you just scream obscenities?"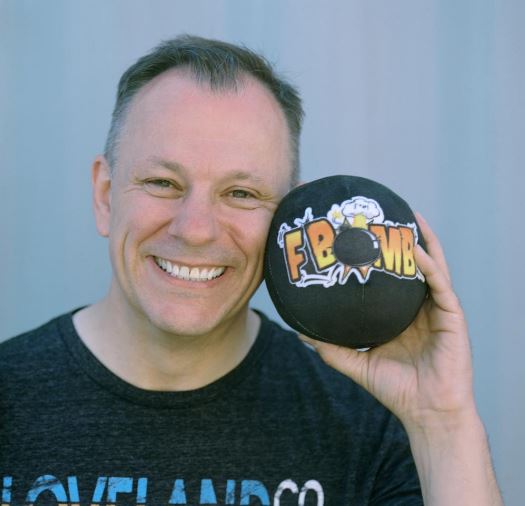 The word "swearball" settled into Oberlander's brain, where he landed on an extremely literal translation: the Swearball is a ball that actually curses when you throw it.
"About a month later, I said, 'I'm going to make this,'" he said.
Swearball launched this year, and Oberlander is selling the first run of 1,000 items.
The novelty allows users to record their favorite curse words to be played when the ball is thrown. There is also a ball that will drop a four-letter f-word, well, when dropped. Products are available online at the company's website and from Oberlander himself.
Oberlander, who is an Uber driver on the side, is part of the UberENTREPRENEURS program, where he won a $2,000 seed investment as well as courses in Portland State University's Business Outreach Workshop.
Oberlander, who is also a photojournalist for KGW and owner of the media lab Save My Films, said he figured out how to manufacture the products in China and then bring them to the U.S. to sell.
"It was business education the whole first year," he said, of launching Swearball. He found resources online to help him navigating manufacturing and importing product. "It was trial and error."
The product: Swearball has three products, all of which are plush balls that curse when thrown. One, called Swearball Classic, allows the user to record a word or phrase that is played back when the ball is thrown. The F-Bomb ball has 12 pre-recorded versions of the "F" word. The Magic "S" Ball has 14-prerecorded "fortunes" that are triggered when the user asks a question.
How it makes money: The company sells its toys direct to consumer. Each ball costs $19.99. The company started selling product August 15 and is already profitable. Oberlander is in negotiations for a European distribution agreement with distributor in the United Kingdom.
Size of the market: The U.S. gift, novelty and souvenir market is a $17 billion a year business. Oberlander expects Swearball to be positioned well in the college humor segment as well as within the gag gifts, office gifts and dad gifts.
Competition: Oberlander sees other novelty toys on the market but nothing that competes directly with what Swearball is making. The closest competitors are products like stress balls and gag gifts like whoopie cushion.
Competitive advantage: Swearball is a low-cost, high-margin product. Oberlander plans to create a broader brand around novelty and humor products, similar to what Cards Against Humanity did for the card game. He is already working on more items aimed at adding levity to situations that can be frustrating. "I want a brand people can go to for fun and the offbeat," he said.
Managers and their background: For 12 years, Oberlander has run his own business, Save My Film, where he helps clients transfer and back up film and audio files. He is also an Uber driver on the side and works as a photojournalist at KGW.
Investors: Self-funded, plus $2,000 from the UberENTREPRENEURS Pitch Fest.
Capital sought: $10,000 to help expand the product line and boost marketing efforts ahead of the holidays.
Ideal exit: Oberlander wants to develop a strong global brand and turn Swearball.com into a one-stop place for fun and funny products. A larger toy manufacturer would be a likely fit.
CLOSER LOOK
The company: Swearball
Headquarters: Portland
Founded: 2016
CEO: Timothy Oberlander
Online: swearball.com
The Business Journal doesn't endorse companies featured in The Pitch, nor is this an invitation to invest.