PORTLAND, Ore. — Downtown Portland Monday revealed mostly empty sidewalks and destruction.
A plate glass window hung broken at the Stevens-Ness legal forms store. The local owner wants to celebrate 100 years in business and 58 years at the Southwest 4th Avenue and Salmon Street location, but with the ongoing destruction in downtown, it does not feel like a time for a party.
At Southwest 3rd Avenue and Yamhill Street, the popular Chipotle restaurant is locked, closed after someone shattered two large windows here. And at the H&B Jewelry and Loan on Southwest 3rd Avenue, a one-time prime location is now a plywood bunker and still it gets attacked.
"This is a little business that's supported Portlanders and Oregonians for 70 years. And our customers are all races, all walks of life," said owner Phil Tobin.
He said early Saturday was the second time young white men and women broke into his store. He's so angry he sat as a guard in the store himself Sunday night until 3 a.m. Monday.
"You don't work 50 years and have a bunch of people destroy it overnight," he Tobin said.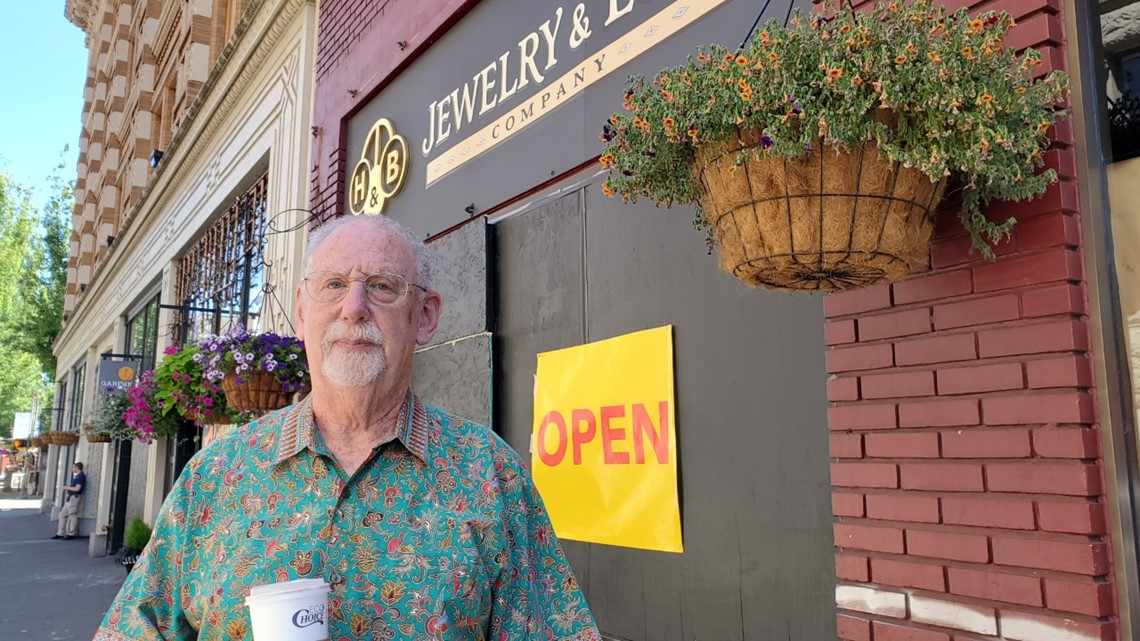 Night after night, violence swirled down the various streets of Portland's downtown until block after block is covered with protective plywood. Those brave enough to leave glass in view are taking their chances. Workers inside one new building were applying a special coating Monday to help with graffiti removal and to make it harder to shatter the glass.
At the federal courthouse, the steel fence put up by the government was being dismantled, stacked and trucked away mid-day Monday.
The government had said it would de-escalate the tension with demonstrators, but it did just the opposite.
Over the weekend, after destruction both downtown and in North Portland, Pastor Matt Hennessy spoke directly to violent demonstrators and called for a pause at a news conference.
"We may love you as God's children, we don't like what you're doing. And therefore we want to work with you and we ask for a moratorium, literally a moratorium, on the streets to give us an opportunity hearing you," he said.
Portland Commissioner Jo Ann Hardesty, a longtime police critic, wrote on Twitter that Mayor Ted Wheeler should turn the bureau over to her.
Portland mayors historically have kept control of the police themselves. And Wheeler on Monday said he would continue to head the police bureau. Wheeler had no comment when asked about the weekend destruction.
The damage done week after week is not only expensive for business owners, it's also creating an awful reputation for downtown.
Jon Brooks lives in Beaverton and wants to join the protests but won't.
"Because of the interlopers who come in, who I think intentionally just cause trouble. They're not interested in social justice or anything." Brooks said.