PORTLAND, Ore. — Two weeks after they towed their food carts off the lot on Southwest Alder Street, several cart owners still don't know what the future holds.
Photos: Renderings of proposed five-star hotel in Portland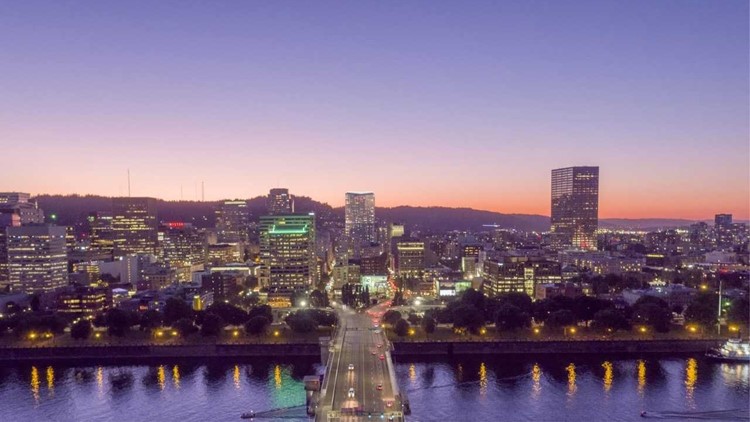 For more than a decade the lot on Southwest 10th Avenue and Alder Street was packed with food carts and people. Now, they're cleared out.
On Friday, developers are holding a groundbreaking ceremony there for the new upscale tower. Meanwhile, the displaced food cart pod is still waiting on a new home - hopefully one that's permanent.
It's a new era: one where gourmet grilled cheeses and "sushirritos" aren't whipped up at the parking lot on anymore.
"It was kind of emotional all around. Pulling that truck and seeing everybody leaving one after another, it was crazy," said Danny Chan, Sumo Sushi food truck owner.
Dozens of small business owners aren't making money and many of their employees are now out of work.
Chan has another food cart on Portland State University's campus. Still, he's not earning nearly as much now without the Alder cart.
"We've been doing OK here but with the loss… I have bills to pay," Chan said. "That's a lot of money to lose."
It came at a bad time for all the businesses at the Alder Street pod.
"This is right when our busiest season starts, so this is a major disruption to our business to have had to uproot and go elsewhere," said Matt Breslow, owner of Grilled Cheese Grill.
Breslow feels lucky. He found a new spot for this cart at a pod on Southwest 3rd Avenue and Stark Street. But he's not making nearly as much there.
"We're at about 50% of what we were at 10th [Avenue]," he said.
Breslow also has another well-known location on Northeast Alberta Street that's been around for 10 years.
A few other carts found new homes around town, spreading out from the Southwest 3rd Avenue and Stark Street pod all the way to Gresham. But about 30 carts are sitting in storage on a lot at the post office, waiting on word of a new home.
"Right now I'm in just the waiting process and we're crossing our fingers and hoping it can happen soon," Chan told KGW.
It just might happen soon. Cart owners learned there will be an exciting update during a meeting on Tuesday about a new home downtown.
Keith Jones of nonprofit Friends of Greenloop is working with Portland City Commissioner Chloe Eudaly's office on pinning down an area for a new long-term pod.
Originally, talks were over relocating to the North Park Blocks temporarily. But that's no longer on the table.
Eudaly's office said they're close to locking down a spot not far from the original one, but they wouldn't disclose the exact location just yet.
"It seems like the City wants to do something to create a permanent home for food carts downtown. Because it's a great part of that culinary scene of downtown Portland. There's really nothing quite like it," Breslow said.
Jones has long pushed for a "culinary corridor," which would be a stretch of food carts lining a couple streets in parking spaces in downtown Portland.
Food cart owners dig that plan.
"Our plan is to be [at Southwest 3rd Avenue and Stark Street] for probably at least until when the culinary corridor opens up and is there operating permanently. That is the hope," Breslow added.
He and other food cart owners are well aware of the fact surface lots are getting eaten up in the city every day.
Eudaly's office said they're helping because the popular Alder Food Cart Pod generated a lot of money. They see it as an investment in entrepreneurs, many of whom are migrants.
There is a great deal of infrastructure that needs to go in to get a new pod up and running, such as electricity, and there are high costs associated with that.
If you would like to help out, you can donate to this GoFundMe that Jones set up.