SALEM, Ore. — The Oregon Occupational Safety and Health Administration (OSHA) has fined Courthouse Club Fitness $90,000 for keeping four Salem area locations open during Oregon's statewide COVID-19 freeze, which began Nov. 18.
The total amount of the fine is the result of citations against each of the four Courthouse Club Fitness facilities. Each inspection resulted in a $22,500 fine; a $17,500 "willful penalty" for being open to the public and $5,000 for violating "red warning notices" the Oregon Department of Consumer and Business Services said it posted at each location last week, according to spokesperson Mark Peterson.
Courthouse Club Fitness was the first inspection completed since the two-week freeze began, according to Peterson.
The owner of Courthouse Club Fitness, John Miller, posted a letter prior to the freeze on the gym's Facebook account. The post has since been removed but in it, Miller wrote, "As a result of the harm done to our business from the first shutdown, we will not survive another closure."
The letter cited the lack of cases linked to gyms and fitness centers during the pandemic and says they will self-impose capacity limits during the freeze.
Miller ends the letter with, "This is not a decision I take lightly, and I understand some may not agree. At the end of the day, I am convinced staying open is the best and most responsible option for our members, our staff, and our community."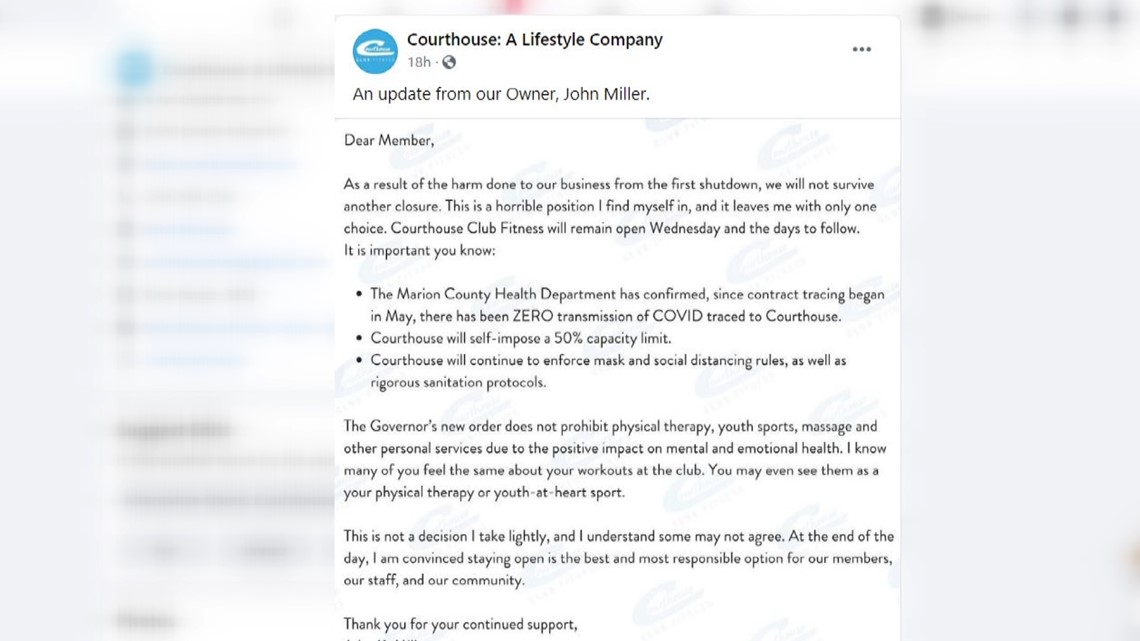 In a Facebook post Wednesday morning, Courthouse Club Fitness said it would be closed on Thanksgiving but open again on Friday.
Gov. Brown and Oregon health officials on Wednesday announced a new set of COVID-19 restrictions that will go into place once the two-week freeze ends next week. For most counties, indoor gyms will remain closed under the new restrictions.