PORTLAND, Ore. — Crayons and pencils are among the first things people typically think about when it comes to school supplies. But schools are moving to the digital space, with most students now doing the majority of their work on tablets and computers.
Inside a large, nondescript warehouse in southeast Portland is a non-profit called Free Geek. Inside, hallways and rooms are filled with so much donated used tech, it boggles the mind. There are shelves and shelves of donated laptops inside one room. Inside another room, known as "Mac World," there are rows and rows of Apple computers.
Free Geek started 20 years ago and runs like this: When people have tech they don't want anymore, or tech that's outdated or doesn't even work, they can keep it out of the landfill by donating it to Free Geek. If a hard drive has sensitive data on it that people don't know how to wipe clean, Free Geek will literally destroy it using an industrial hole punch. Then technicians install a brand-new hard drive, refurbish the existing one or completely recycle the parts.
More than 50 employees are there to fix anything else wrong with the donated devices and within two weeks of a donation, the computer, tablet or cell phone is placed in the hands of someone who really needs it, either for free or a very modest price.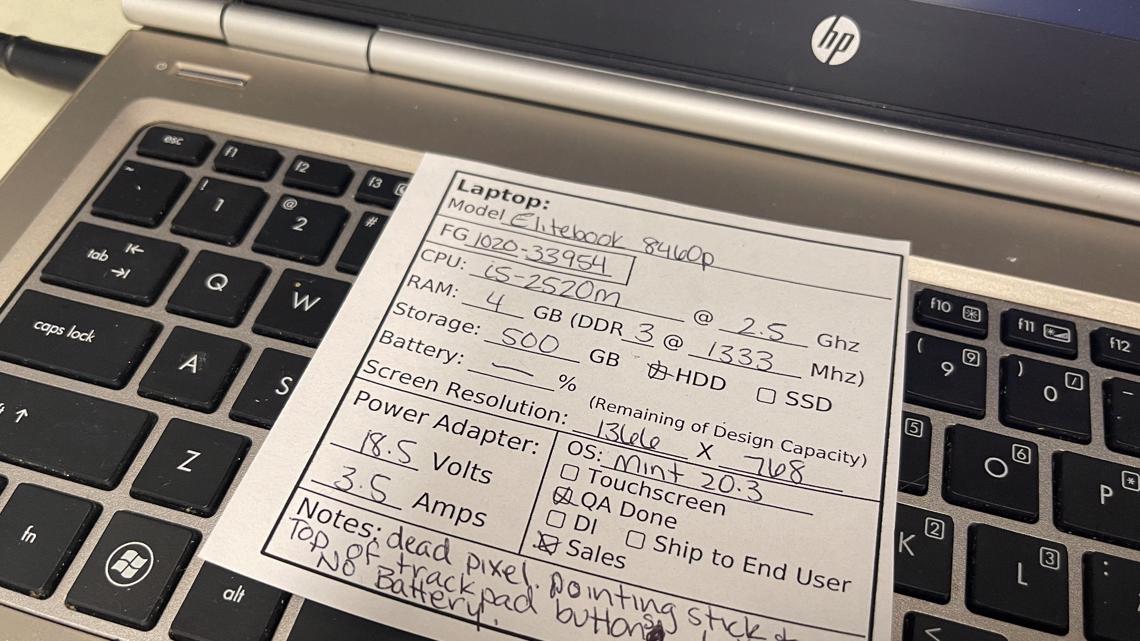 Free Geek prioritizes giving tech to students, BIPOC, low-income and elderly groups, or people going through hard times like those who lost their homes and belongings in the 2020 wildfires. Free Geek also hosts free classes on how to use computers, writing programs and the internet for those who need that help.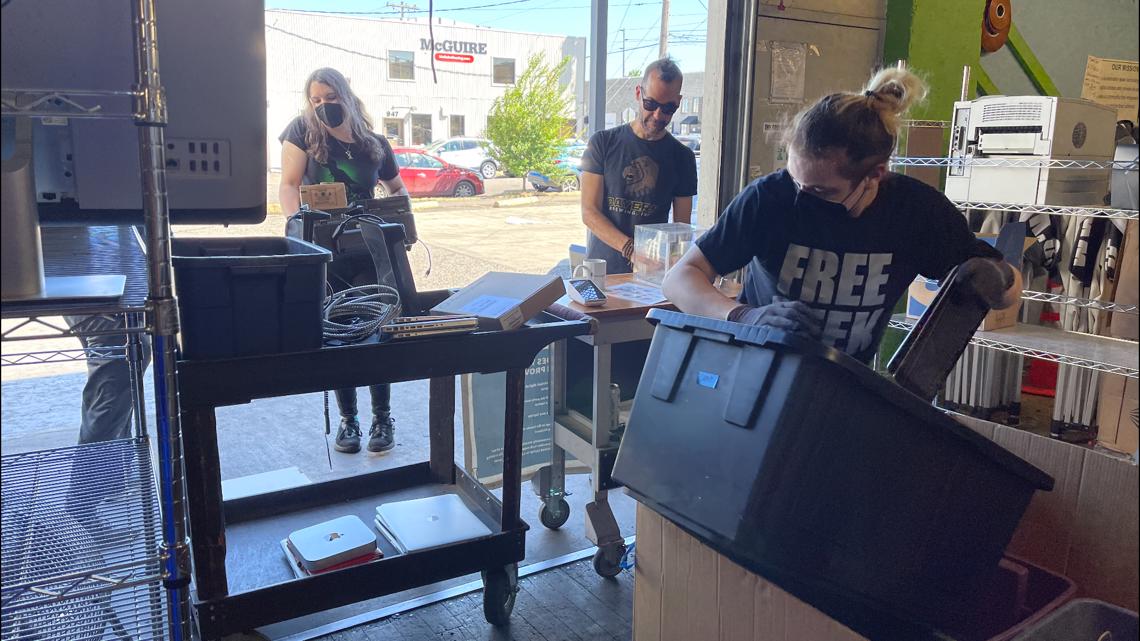 "Over the pandemic, we saw about 750% demand in requests for a device specifically from folks who are in school K through 12," said Juan Muro, executive director of Free Geek.
Muro has the life experience to know how much a donated laptop can help a student. He was one of eight kids sent into foster care when their mother, a single mom, was deported. Through a scholarship, Muro received a laptop in 11th grade that changed his life.
"It was the first time I ever owned a device like that," Muro said. "And out of all my siblings that I told you — there are eight of us — I was the only one that ever left, that ever had access to opportunities. It was because I was able to apply for school through the laptop. I was able to complete my scholarships, essays, all that sort of stuff through that device."
Sara Stiles was a teacher for 15 years in Silverton, Woodburn and Portland Public Schools. She taught at Title I schools, instructing students from low-income families who couldn't afford the basics, let alone a computer or internet. Stiles now works at Intel, a company that donates tons of used tech to Free Geek. Stiles said she knows how crucial those donations are to students' futures.
"Every single job in the future, no matter what that job is, there's going to be some element of technology," Stiles said. "And getting kids who are already very interested in technology access to the tools that they need, it's going to have nothing but positive results."

As director of sales for Intel, a KGW School Supply Drive sponsor, Stiles said when people consider giving, they should think beyond pencils and crayons and consider the minds of the future.
"Kids don't know what's not possible," Stiles said. "So it's just like, sky's the limit, let's develop something insane, or they have these great ideas. So many of the things that we thought there's no way that we'd be able to do that, it is possible now."
Free Geek takes donations Wednesday through Saturday at their warehouse in Portland at 1731 Southeast 10th Avenue from 11 a.m. to 1 p.m. and 3 to 5 p.m. They have drop-offs with Intel in Hillsboro regularly. Check their schedule here.