PORTLAND, Ore. – Hundreds of protesters clashed with police during a rally against the Ferguson ruling Tuesday night.
Seven people were arrested, police said, mostly for interfering with an officer and disorderly conduct. None of them remained in jail Wednesday morning.
The protesters were blocked from crossing the Morrison Bridge and then walked across the Burnside Bridge. They mixed with commuter traffic as they made their way south, some of them eventually jumping into the travel lanes of the I-5 ramp to I-84.
The marchers then crossed back west across the Morrison, headed to Providence Park and back to the waterfront, disbanding around midnight.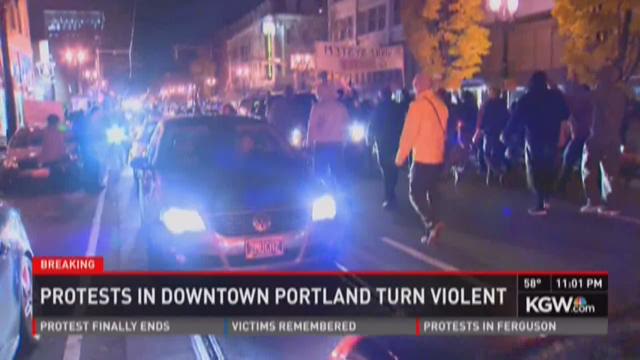 One protester punched a driver in the face on Grand Avenue. An assault investigation has been opened, said Portland police spokesman Sgt. Pete Simpson.
Police also spoke with two people with a rifle and handgun, said Chief Mike Reese. "They are exercising their second amendment right to open carry," he said in a tweet.
Demonstrators chanted and rallied in front of the Portland Justice Center late Tuesday afternoon to protest the grand jury decision not to indict the officer who shot and killed an unarmed black teen in Ferguson, Missouri.
The protest spilled into the streets along Southwest 3rd Avenue, between Main and Madison Streets, causing traffic delays in downtown Portland.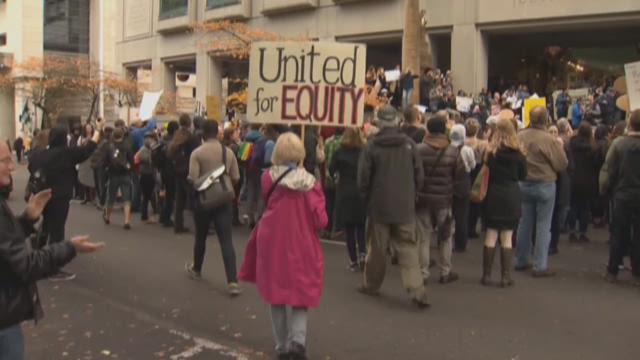 Police had prepared to close down streets during the rally.
"What do we want? Justice!" the crowd repeated. People of all ages held up signs and banners with slogans such as: "United for Equity", "POLICE ACCOUNTABILITY", "Rule of Law is a JOKE" and "BLACK LIVES MATTER."
As the crowd continued to grow, officers were calmly lining the perimeter and Police Chief Mike Reese was chatting with protesters.
But following the planned protest, a couple hundred people broke off from the approved route and clashed with police around 6:30 p.m.
Police in riot gear fought briefly with some angry protesters, holding them back with batons. A few people, including a KGW photographer, were pushed to the ground.
The protesters then faced police in a standoff on Southwest 2nd Avenue and Washington Street before heading to Burnside Bridge, tying up traffic.
Others were on the Morrison Bridge, throwing water bottles and rocks into the area where police were standing below.
One driver stopped by the crowd was punched in the face by a protester. He angrily jumped out of the car and appeared to have a bloody nose.
Others faced police in riot gear outside of Providence Park on Southwest 18th and Burnside Street.
Portland police said they arrested seven people.
"We kind of felt like we got robbed," said protester Jesse, who told KGW's Mike Benner that the splinter group wanted more than what the peaceful demonstration offered.
"Everybody was angry and just tired. That was just a bunch of people giving speeches so they could hear themselves talk," he said.
Others were angry about the clash with police.
"I think it's sad," said Reverend Beverly Jackson. "There's always somebody who doesn't like peace and wants to start trouble. We want justice not just for Michael Brown but for all people of color."
She said the group was "a bunch of people who are mad and probably don't know what they're mad about."
"What we wanted to say here we said, that justice is for everybody. And we can get it and we can form an army of people who can fight for justice peacefully," Jackson said.
Many other Ferguson protests across the country Tuesday night also shut down streets and blocked highways.
Police still told KGW the rally that happened before the clash was a successful example of a peaceful demonstration.
PPB also released a statement Tuesday, encouraging people to "help the nation heal" and also addressed the Portland protest. It said, "We ask that community members exercise their rights to speak, gather and protest peacefully."
Rioting broke out in Ferguson after the grand jury's decision was announced Monday night. But the leaders of Portland's protest said there was no reason to turn violent, they just want to have their voices heard. Their main message: Bring in a special prosecutor when deadly officer-involved shootings happen, to keep the case unbiased. And after at least four controversial minority deaths that resulted in no charges against Portland police over the years, they want a review of the deadly force policies here, too.
"The killing of Michael Brown has also brought to light many of the unfortunate blemishes – criminal justice disparities, volatile police-community relations, unemployment and economic inequities – that tarnish our nation and that prevent us from being the best of whom we can be," said Dr LeRoy Haynes, Chair of the AMA Coalition. "This tragedy has exposed the persistent state of emergency that grips not only Ferguson, but our city and our nation as a whole."