Those Who Serve: Sheriff Joe Wampler finds lost hikers and climbers
Over the past four decades, the retired Hood River sheriff has flown thousands of rescue missions to find lost hikers and climbers.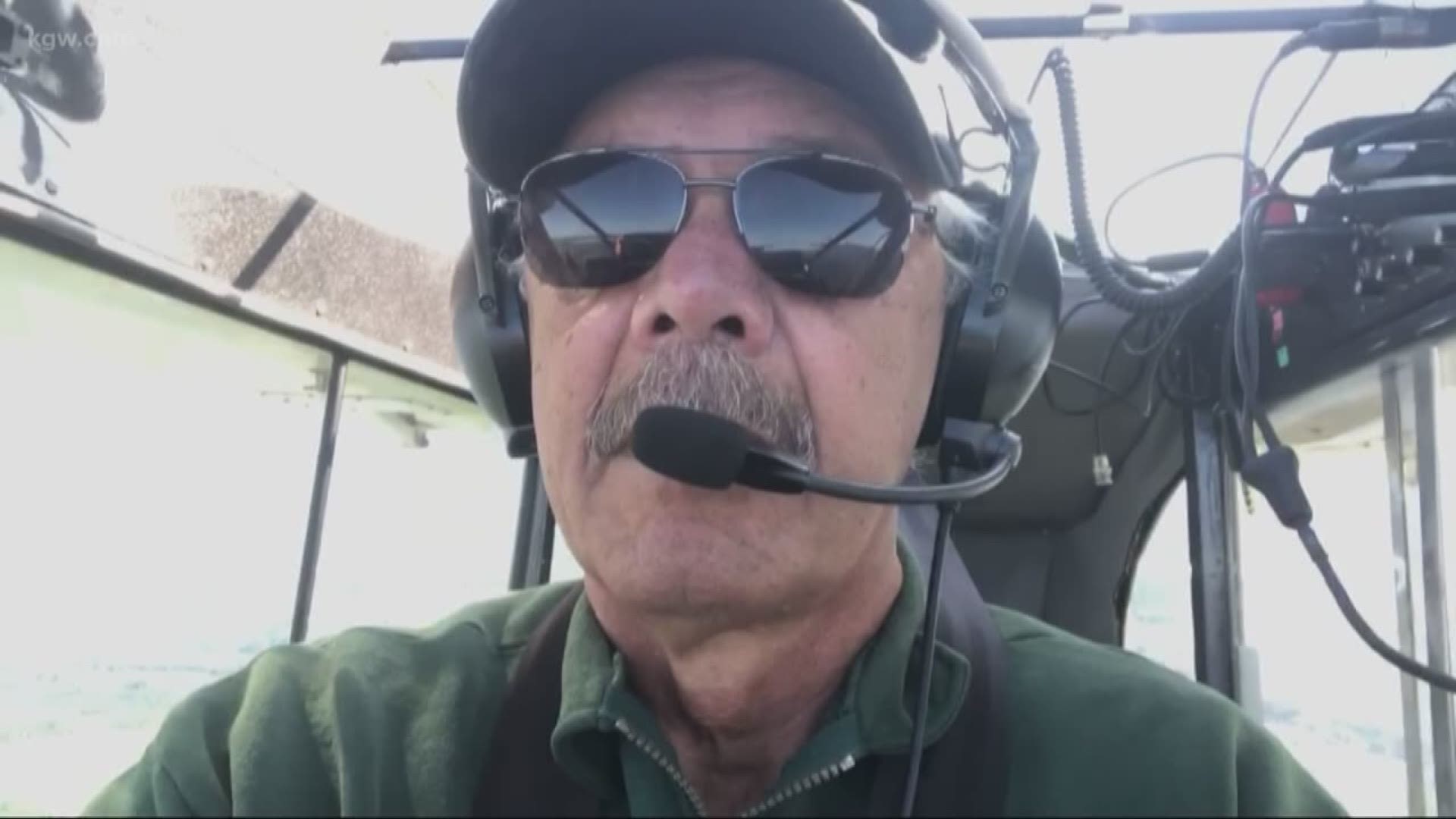 For his Those Who Serve reports, KGW's Pat Dooris spends time with people who have truly made an impact over the course of their lives. They come from all walks of life and diverse backgrounds, but they share a common sense of purpose and service. For this profile, Dooris spent time with a man who has spent his career helping those in need, often in the most dangerous and unpredictable wilderness conditions. Meet Joe Wampler, the former longtime Hood River County Sheriff, and literally a life-saver to many over the years.
HOOD RIVER, Ore. — The cell phone video catches a single engine plane flying so close to the top of Mt. Hood that it seems it might actually scrape the top peaks.
"Wow! That looks scary!" says a voice. It belongs to someone on the Portland Mountain Rescue team.
It's the summer of 2018, and as they begin a search for a missing climber, the team watches as the plane flies over and over again.
"Jesus Christ!" the voice says again.
Up there in the cockpit sits the retired sheriff from Hood River County, Joe Wampler.
He had spotted a climber who threatened suicide but was still very much alive when Wampler saw him.
Wampler let searcher Steve Rollins and the ground crews know.
"It was a dangerous time of year to be climbing the mountain, and I didn't really want to climb the mountain that time of year unless we needed to; we didn't even know if somebody was up there," Rollins said.
But the pilot showed them the climber was there and so up they went.
The result: An incredible moment hours later when an Oregon National Guard helicopter landed high on the mountain, with only its back loading ramp touching the snow, to pick up the rescue team and climber.
It was deemed safer than trying to climb down the mountain in the heat of the day when dangerous rocks and ice chunks come loose and fly down the mountainside.
The retired sheriff's flying skills are legendary.
"I don't know any pilot like Wampler," Rollins said with a laugh. "You know, when I saw him flying over the mountain like that, I would have thought he was trying to crop-dust the summit. That was crazy!"
Maybe for someone else, but Joe Wampler is no ordinary pilot.
He's taken to the sky thousands of times over four decades to help find lost individuals on the mountain and in the wilderness of the Columbia River Gorge.
It's a world-class playground that sometimes turns dangerous. And when it does, Wampler is often the guy who shows up to help.
"Lost people are fun to find," he said. "Because they're thankful."
He understands their fear and is driven to bring them out safely.
But he adds, "It's just fun to watch people's reactions. That's what, from Day 1, when I was a teenager, to just this week, the same reaction. I mean [they're thankful], [some can't] pay anything, and nobody cares about that. They thank you, that's real."
Eyes, Reflexes, Experience
:
Wampler has spotted thousands of lost people — yes, really that many — over the past 40 years as he flies among the tree tops of the Gorge or the icy sides of the mountain.
He uses no special equipment -- just his eyes, his reflexes and his experience.
And no, he can't see through the bottom of the plane.
"You have to be in a turn going around — and round and round and round and round," he said, pointing his right index finger down and rotating it in tight circles.
"And I mean, you had so many times that now you're, you're looking between each tree cause, 'cause you can't stop," Wampler said.
Sometimes he takes pictures with his phone as he flies over the forest at tree-top level, banking the plane to see better out the side.
A picture he showed KGW News looks like so many green tubes sticking up at the camera with only a tiny bit of space, the forest floor, between them.
Wampler was searching for an 82-year-old woman who went missing two days earlier. This location was several miles away. But Wampler was not surprised. His experience tells him people can travel a long distance from where they are supposed to be, no matter the age.
All it took was seeing a small white spot.
Search teams on the ground guided the woman to safety after Wampler located her from the air.
Spotting the lost from a plane is hard.
"The window to look down into there, as you're flying 60 miles per hour, is just like that!" he said, snapping his fingers.
The Early Years
:
Wampler knew from his early teens that he'd end up in law enforcement and search and rescue.
His father volunteered for searches in the forest around Hood River and was also a pilot with the Civil Air Patrol.
Young Joe would go with his dad to the search command post, then wait in a deputy's car for his dad and the others to return.
"That's how I kind of got interested in law enforcement in the first place," he said.
Wampler grew up in Hood River and is half Hawaiian.
His dad was in the Navy in World War II, and met his Hawaiian mom when he was stationed on the islands.
After the war, the couple moved back to Hood River and started their family.
With his parents' example, Wampler grew up loving to help others. It's a calling and a drive for him. And for decades it's been a career.
"So, I was 18 years with the Hood River Police Department and I loved working in Hood River. I mean Hood River is a great place to live and work!" Wampler said.
He never avoided danger, in search and rescue, or routine calls.
And in his rural county, like many in the Northwest, he was often the first and only one to show up when people needed help.
"You just do it," he said.
He'd never considered any other possibility.
And then he told a story.
"Eagle Creek, a girl fell off. She was actually having a medical problem, fell off the trail, rolled down the hill, had a heavy backpack on and, and right at the edge of the cliff, she got hung up on a tree and stayed suspended upside down on the edge of cliff for more than an hour until, by the time I got the call. I went to Cascade Locks and walked up to Eagle Creek and everybody saw me were going, 'Oh, she's up there.'
"[I had] the stuff to make an anchor and make her safe until more people could get there. That makes you feel pretty good when you can do that safely," he said modestly.
When asked if he saved the girl's life, he brushed it off.
A Lifetime Of Study
:
Joe Wampler is a living example of the tough and resourceful western sheriff.
He's spent a lifetime studying the wilderness of the Columbia Gorge and Mt. Hood.
It's a knowledge base no computer can match.
To Wampler, the "lost" are often just a few hunches away from being "found."
"Since I historically had been involved in so many, not only on Mt. Hood but in the Gorge, if somebody got lost in a certain place, I usually knew where they ended up. And that really helped cut down on the time, and the amount of man power and people involved in a lot of these things for the most part. And it still happens today," he said.
But even his knowledge and skill cannot always deliver a happy ending.
Wampler took part in some of the most-high profile, agonizing searches on the Hood River side of Mt. Hood.
That included the heartbreaking failed rescue effort to save climbers Kelly James, and his two friends, Brian Hall and Jerry Nikko Cooke, in 2006.
The men were all from out of town. They climbed Mt. Hood from the Hood River side in early December just as a massive storm crashed into the mountain with hurricane force winds.
Wampler was sheriff then and in charge of the rescue effort. Teams tried to climb the mountain to find the men but were turned back by the dangerous weather.
Near the end, Wampler personally flew family members around the mountain. He wanted them to see the place up close.
Some were so moved, they hugged the sheriff after they landed.
When the storm finally broke after a week, James' body was found in a snow cave near the summit. His two friends who went for help during the storm were never found.
It's a constant irritant to his internal drive to find and help people.
"If you're killed, I'll come get ya out, back to your family. I mean, I've looked for people in the same place hundreds of times and they are just not here. So, what about this environment can make people disappear?" he mused out loud.
He thinks it may be the massive crevasses that open and close on the side of the mountain. Their icy walls are sheer and sometimes hundreds of feet deep.
"People who fall off the mountain, they leave a trail," he said. "There's surprisingly a lot of people wandering around out there, all over the place. So even if you get stuck, get covered up with snow, when everything melts out there, we're going to find you."
Nearly 13 years have passed since Kelly James died on the mountain and his two friends disappeared.
Wampler searches for them every summer.
"I spent all that time up there looking for those guys. In places that I could get to, and just haven't found 'em!" he said in frustration.
There was some gear found at the time.
"The pickets, the rope ... eventually where they stayed, tracks that led out from there. But they were gone," he said.
There was another death on the mountain in 2013.
A Polish climber, in the Gorge to learn to fly drones at Insitu, climbed Mt. Hood alone and then fell to his death.
His body is still stuck in a dangerous place on the mountain. That it cannot be retrieved seems to torment Wampler.
"We know what happened to him. But we couldn't go get him. That's kind of a frustrating thing too, he's still there. But I'm up there [flying] and I take pictures all the time of where he was so we can send those things back, 'cause he was a soldier. So we can send [his body] back to his government and his family," he said.
He showed KGW pictures on his computer in the living room of the Eliot Glacier Headwall. It's where the soldier fell.
"What happened, the Polish soldier climbed up, got within 20 feet of the summit. He tried to cross a little patch of snow, slipped and fell," he said.
Busy Retirement
:
Joe Wampler's days of organizing big searches are over.
He retired from the Sheriff's Office in 2013. But it's hard to really leave the business.
Sit at his kitchen table and you'll hear voices and squawks nearby.
It's a police scanner, on the counter above the kitchen sink.
And he worked part-time law enforcement for the Forest Service during the summers until this year.
"So I did that for the last five years," he said.
But now he has time to relax and plan more adventures with his wife, three daughters and their families. Their happy pictures cover the refrigerator door.
While the official part of his life is over, the internal call, the urge to help others will not be silent.
The flying, the searching for those who are lost and in trouble is still part of Wampler's life.
"Like even the flyin' part for me, I've just done it so much that I know where I'm at, and I know what to expect. In most environments, I can probably get away with being there a little more often than the average guy," he said.
Mountain rescue teams, who often rely on Wampler, find his help priceless.
"Love having Joe up in the sky," wrote Timothy Ozerkov, a climber and member of Portland Mountain Rescue.
Steve Rollins, another member of PMR agrees.
"I don't know how we would replace Joe in terms of his ability to know the mountain, know search and rescue and the ability to fly and you know, fly very aggressively. There are times we've joked that he was trying to scare the subject down off the mountain the way he was flying! Scare the person down to us because it was pretty impressive flying!" he said.
Rollins remembers another time in the Gorge when Wampler made his location over a missing person very clear.
"So we're down below and trying to find out where this person is. And Wampler's flying around the Gorge and it's like, 'Oh yeah, I got her,' and everything. He's pretty good at giving us rough GPS coordinates but then he was just like, 'She's right here!'" he said, making swooping motions with his arm.
Wampler said some people expect a nice, quiet helicopter to come find them.
Instead, they get an ace pilot with a powerful yellow plane who will lead rescue teams to the scene, doing whatever it takes to show the way.
So after all these years, why hasn't he stopped working so hard for others and started to focus on himself?
"I mean, I only do what I want to do," he said. "This is an excuse to be part of it. It allows me to keep flying and be part of it. And it's the type of flying too. Not everybody gets to do what I do."
At 65 years old, Joe Wampler has a lot of years left to serve the community.
It's what he's done all his life. It's who he is.
He's rescued thousands from the wilderness and felt their love and appreciation. And he's not about to stop any time soon.
"They are all very thankful. And that's why you do it right there. That's the bottom line," Wampler said.