If you ask Janis Sandlin about her day job, prepare to be jealous if you're a dog lover.
"There's never a bad day," Sandlin said. "They're always happy to see you."
After a decade of practicing medicine and caring for humans, she started her business Surf's Pup Doggie Lounge in 2020, right before the pandemic. The "doggie lounge" is essentially a converted van with room for plenty of dogs.
"We could probably fit 15 [dogs] in there," said Sandlin.
"That first dog that jumps in the van and gives you slobbery kisses and just wants to hang out with you. This is my job! This is awesome."

Janis has a staff of six other women who are more than just dog-walkers.
Jenny, Alisa, and Madi picked up nine dogs on the way to an outing at Mount Tabor for about an hour and a half. Think of it as doggie adventure camp. The staff pick up each dog from their home, buckle in their harnesses, take them on a hike and bring them back home all worn out.
On average, Surf's Pup takes care of about 70 to 80 dogs a week.
"They are easily swayed with treats. Treats rule our world.....snacks make the dog world go round," said Sandlin smiling. "As long as they can hike and walk for at least an hour, that's really the energy level. That's our requirement."
Mount Tabor was the spot for this particular outing since all the dogs live in Southeast Portland. Sellwood, Tryon Creek, Forest Park, and Powell Butte are some of the other spots they take their other packs of dogs — depending on the neighborhood.
"We are still taking new clients in Southeast Portland, Happy Valley, and Milwaukie and we're also joining the John's Landing and northwest areas by Slabtown," Sandlin said.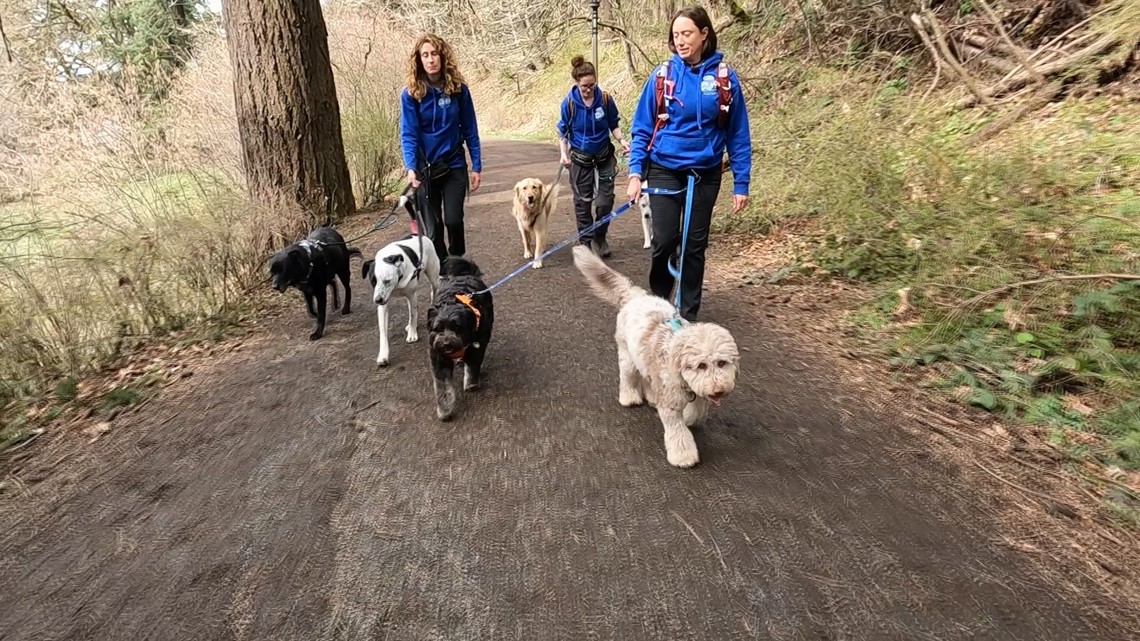 With any new client, Sandlin does a meet-and-greet to make sure they fit in with the other dogs. She also teaches pet first aid and CPR classes to the community.
"There's a lot of medical evidence that being outside, sunlight, daylight in general really enhances mood and serotonin levels in humans," Sandlin said. "There's also a lot of medical evidence that dogs enhance serotonin levels in humans. Serotonin is one of our happy molecules. So being outside with dogs — it's almost like a double dose of happiness every day and you can't beat it!"
Let's Get Out there airs once a week on KGW's 4 p.m. newscast and The Good Stuff, which airs Monday-Thursday at 7 p.m. We're including viewer photos for this series. You can text your photos to 503-226-5088 or post them on the KGW Facebook page.