PORTLAND, Ore. — Portland firefighters with IAFF Local 43 are teaming up to form a Scottish bagpipe and drum band.
Since January, they've been practicing once a week at their union hall in Southeast Portland. Ten drummers are learning to play on rubber practice pads. Fifteen bagpipers are learning to play on "practice chanters," which resemble oboes. They hope to advance to actual bagpipes in about two years.
"It's an extremely difficult instrument to master," said band member and founder Greg Rose. "It can sound like a bag of cats, but that's how we get there."
Rose is the band's only established bagpiper and started playing about 10 years ago. Back then, Portland Fire & Rescue's only bagpiper was about to retire, and hoping to pass the torch. Rose still remembers the mass email he received.
"It said, 'Who wants to play the bagpipes?' and I'm like, 'Yeah, I'm all in!'"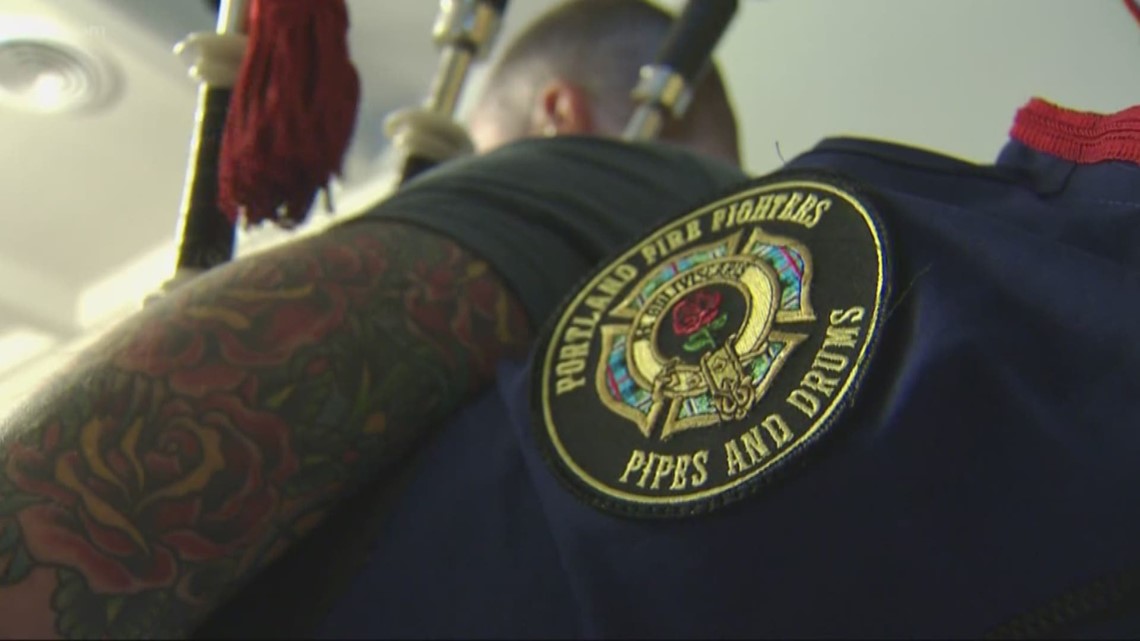 Since then, Rose has traveled the country playing the bagpipes at memorials for fallen firefighters.
"If it's done right, I feel [the bagpipes] really speak to people," said Rose.
Rose said playing the bagpipes at memorials for first responders is a tradition that dates back 150 years.
"There were a lot of Irish and Scottish immigrants in this country and one of the lowest-level jobs they could get was in the fire service and police department," said Rose. "Obviously, it was a dangerous occupation back then and there were a lot of line-of-duty deaths."
Last summer, Rose traveled to Colorado Springs for the IAFF Fallen Firefighter Memorial.
"It was just awe-inspiring," said Rose. "There were 400 pipes and drums just all together representing their organizations. I was like, I have to do this."
Back in Portland, Rose reached out to his fellow firefighters. About 25 answered the call and joined the band. Renowned Scottish bagpiper and instructor, Gordon Convoy, is teaching them how to play.
"There's no stopping them," said Convoy. "There's no place they can't go at the end of the day. They're working really hard."
The band members are dedicated, but admit learning the bagpipes has been a process.
"You have to march, you have to breath, you have to squeeze this bag and you've got to do it all at the same time," said band recruit Dusty Miller.
Once they master all of that, they hope to make a difference together.
"To represent the fire service and at certain moments bring comfort," said Miller.
"It's a big endeavor," said Rose. "It's a big sacrifice."
And if any group knows about sacrifice, it's this band of brothers.