DEPOE BAY, Ore. — A tiny fishing town sits along Highway 101 on the Oregon Coast.
On a blue-sky sunny day you can find tourists wandering the main drag, trying to spot a whale.
Depoe Bay is touted as having the smallest natural navigable harbor in the world. Life moves slow there, but on the Tacklebuster charter boat, the pace can pick up real quick.
Through the years, the owners upgraded the boats but always kept the name as they guide sportfishing and whale watching trips.
A father and son duo captain the ship: Jeurgen, or "JT", Turner and his son Tyler. Their roots run deep in Depoe Bay.
"It's beautiful. You just don't really get tired of looking at the view," Tyler Turner said on a clear October afternoon as he was steering the boat out of the harbor.
Tyler grew up on the Tacklebuster and learned the ropes from his dad, the skipper. He always felt the call of the sea. But on a sunny day in June 2008, a day much like the one we met him on, life came to a screeching halt.
In a matter of two seconds, JT says their entire world flipped upside down.
"I was riding my motorcycle to the post office to switch my mail over from college - I was back and working as a deck hand. And just had a freak accident, a car pulled out in front of me," Tyler said.
Watching him now, standing up on the bridge of the boat and calling the shots, you'd never know he's paralyzed.
"Technically a T4 vertebra paralysis injury. It was one of those things where as soon as it happened I knew that this was a life-long type injury," Tyler added.
On land he uses a manual wheelchair, on the water he stands on sea legs. He wears straight-legged braces from a local orthotics and prosthetics company that allow him to stand up straight as long as he's holding on to something.
"You go through those stages of grief so naturally, yeah... I was 20 years old," Tyler told KGW. "I was super active, I'd work on the boat then I'd go work out. And that was the biggest transition for me was that identification, figuring out who I really was."
After the accident, Tyler worried his dream of a life as captain would die. It took a lot to get to where he is today.
"One of the biggest things with this injury is finding out what motivates you. And I was fortunate enough to be able to figure that out early on."
Three months after the wreck, Tyler started working with physical trainers at Adapt Training to get himself physically ready to pursue his dream again. He says it took about two years for him to really get back in the hang of being on the water.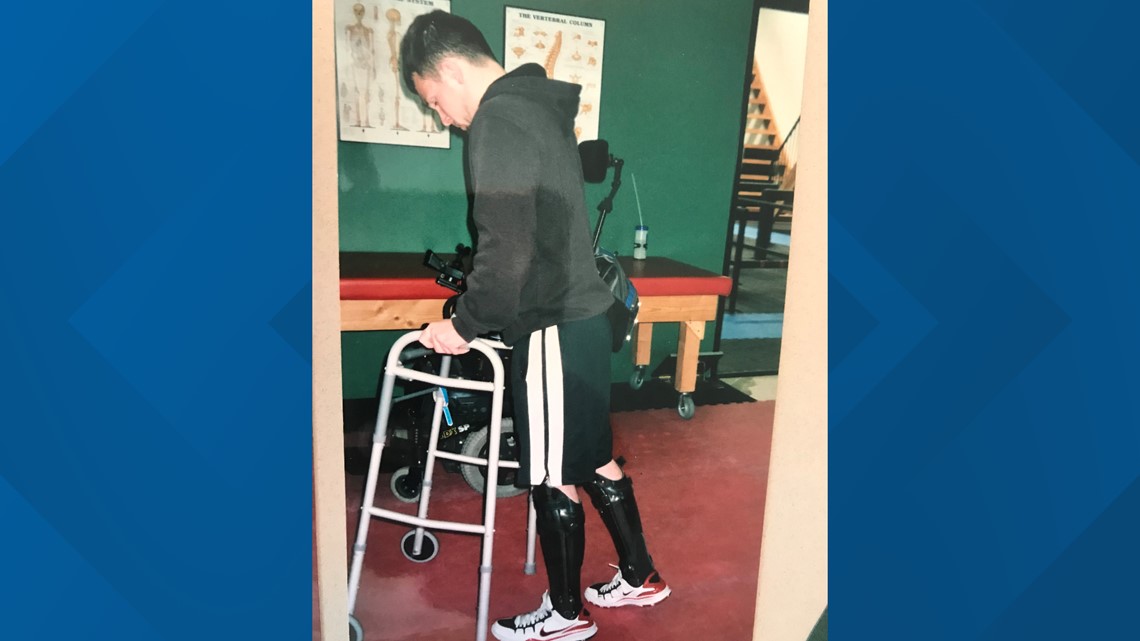 His journey included multiple detours through the U.S. Coast Guard review and testing process. Tyler says he spent a year writing letters to try to convince them he was capable but was denied. He went through an appeals and denial process multiple times, all the way up the command ladder, before finally getting a break about a year after the process began.
He knew how to run the boat and pass any test - that was the easy part. The challenging part was the U.S. Coast Guard's medical exam in which he had to physically prove to them he could do any situation thrown at him while out at sea.
The Turners say five Coast Guard inspectors came down to Depoe Bay and ran through three hours of drills and tests with Tyler, asking him to show he could execute or delegate anything that came at him.
Once the Coast Guard saw what he could do, he says they gave him the green light to get his captain's license. He put in hundreds of hours driving the boat and graduated from a special school for ship captains in Vancouver, Washington. Five years after the fateful accident, he earned his official merchant mariner license.
His role model, his dad, feels gratification watching his son take the reigns and master the job.
"It makes me feel really good, too. Now I just let him go," JT said. "As far as we know we don't think there's any other captains in the U.S. that operates the same way as he does."
"It's something I love to do and it's a job but it's also a workout for me, it's also therapy for me," Tyler added.
The ocean became the best form of therapy; besides his physical therapy Tyler's true healing and salvation was on the boat, behind the wheel.
The Turners say you can leave your problems "on the dock" and be present on the water.
"Just being able to simplify things a little bit and enjoy that time. It kind of tends to tone things down for me a little bit," Tyler said.
He wanted to share that therapy with others like him so he and his dad made the Tacklebuster accessible for others with disabilities. They widened the door onto the boat so manual and powered wheelchairs and walkers are able to get through with no trouble.
Several wheelchairs can fit on the 50-foot boat's large deck and get around the wide passages to the bow of the boat.
The crew takes groups of paralyzed veterans, athletes and others with disabilities out to fish or whale watch. The deck hands are uniquely equipped to handle people with mobility devices and disabilities because of Tyler.
"That gives them a sense of being involved just like everybody else. And to watch them and see how happy they are," JT said. "Just makes them feel alive, yeah. The outdoors – what's better than this?"
The Tacklebuster gives people with disabilities and anyone who's gone through a life-changing event an opportunity to experience the same therapy Tyler discovered out on the ocean. It gives people the opportunity to slow down in a place where life is slow, and maybe there they can discover what motivates them to keep going.
"That was a game changer for me, is finding those things and really focusing on them. It helped me get up each morning and keep moving on those days that were really difficult," Tyler added.
It's a life lesson Tyler looks forward to sharing with others out on the sea.
"I'm Tyler, I'm paralyzed, but I'm also a captain. And I'm a father – which is awesome – and a husband and a son. So, you know, it's just one part of me."
If you would like to check out the Tacklebuster charter boat for sportfishing or whale watching, you can visit their website or travel in person to Dockside Charters in Depoe Bay for a day.