Salem Police motorcycle officers blocked traffic at the intersection of 12th and Court streets NE on Tuesday, clearing the way for the U.S. Capitol Christmas Tree.
Rick Williams, behind the wheel of the 106-foot-long truck and trailer carrying the prized noble fir, made the turn with room to spare.
But he couldn't have done it without an assist from his escorts, a scene replaying over and over as the tree is paraded through Oregon before it heads to Washington, D.C.
"Once we get off the Interstate and get into towns, there's some tight corners," said Williams, founder and CEO of Central Oregon Trucking Company. "But law enforcement is really making it pleasurable and safe for us driving."
The Redmond-based trucking company was chosen to transport the tree on its 3,000-mile journey from Willamette National Forest to the West Lawn.
Salem was the eighth of 23 stops on the tour, with the truck parking in front of the Oregon State Capitol for 1 hour, 40 minutes. Hundreds of people came to see the tree and sign the 50-foot-long banners on each side of the trailer.
Three primary drivers from Central Oregon Trucking will see time behind the wheel, including Williams. Phil Taylor, vice president of fleet maintenance, and Brad Aimone, director of driver safety services, are the others.
Williams said they are honored to be hauling such precious cargo, calling it "the event of a lifetime."
The plan is to have two of them in the cab at all times because visibility of the rear of the trailer can be difficult from the driver's side. It helps to have eyes on it from the passenger side, too.
As stressful as it can be to drive such a long rig, it's also comfortable. The Kenworth W990 is a state-of-the-art truck the company touts as the "perfect fusion of power, luxury, craftsmanship and traditional styling."
"It's similar to driving motorhomes these days as far as the interior and the quietness," Williams said.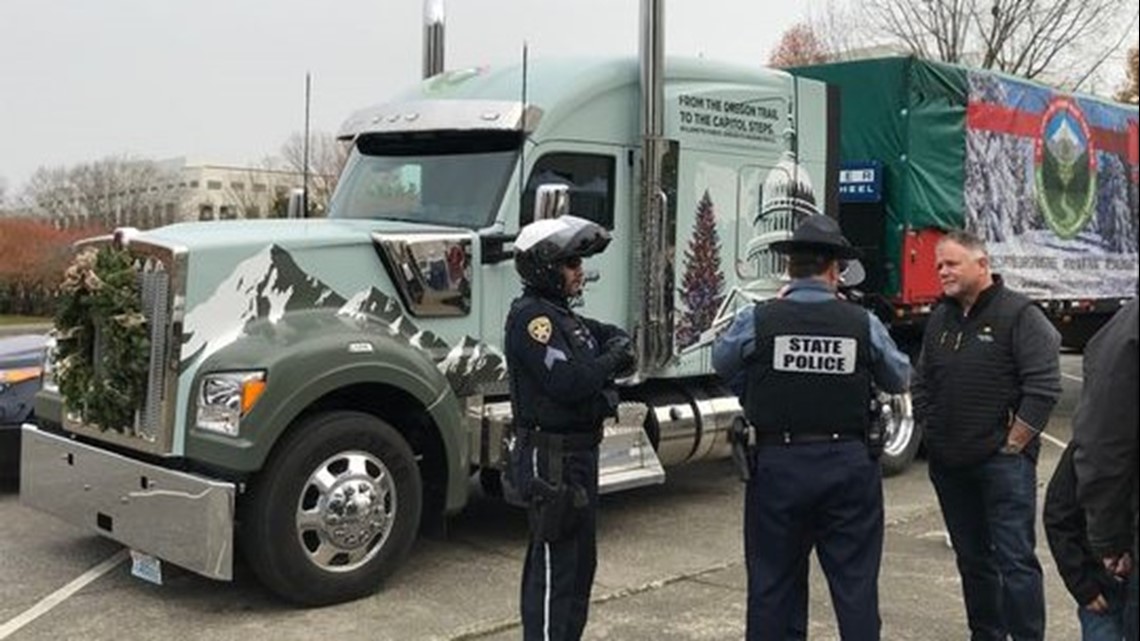 The truck and trailer tipped the scales at 53,800 pounds at a weigh station on the way to the tree's next stop in Oregon City.
Williams estimated it will take 900 to 1,000 gallons of fuel to reach their destination. Pilot Flying J is donating the diesel, one of more than 60 local and national partners providing both cash and in-kind donations.
A second truck leaves Thursday carrying 75 smaller companion trees that will decorate government buildings and other public spaces at the U.S. Capitol, and 10,000 ornaments made by Oregonians. It won't be making whistle stops along the way.
clynn@StatesmanJournal.com, 503-399-6710, or follow on Twitter @CapiLynn and Facebook @CapiLynnSJ.