While waiting in Boston Logan Airport to board her flight, Lynette Scribner noticed another passenger on the same flight.
"I observed a woman signing into a man's hand, so he could feel her words. After watching them for a few minutes, I realized the man was both deaf and blind," she said.
After boarding the plane, the man, Tim Cook, was seated in the middle of Scribner's row.
A man in the aisle of their row gave up his seat and switched with Cook to make him feel more comfortable on the cross-country flight to Portland, which would continue on to Los Angeles.
The cabin crew and passengers around Cook tried to make him feel more welcome and comfortable on the flight by helping him with his coffee and creamer, and the man in the seat next to him helped him feel his way back to the restroom.
After talking about the situation in the back galley, the flight attendants decided to make an announcement to see if any of the guests onboard knew American Sign Language (ASL) in order to better communicate with Cook.
Fifteen-year-old Clara Daly rang her call button in response. Daly was traveling to LA with her mom. Their original nonstop flight to Los Angeles from Boston had been canceled and they were placed on this flight to get home last-minute.
Daly had been learning ASL for a year. She had chosen to learn ASL since she was dyslexic and it was easier for her to learn.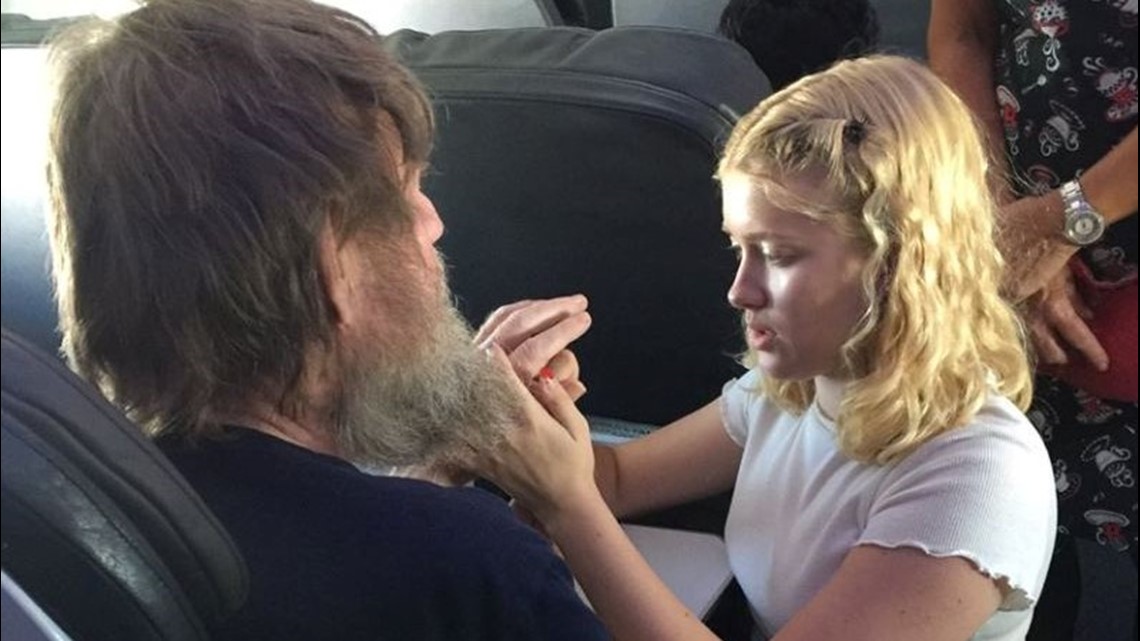 When she heard about the situation, Daly immediately jumped up to help. She signed with Cook to make sure all of his needs were met.
"He just wanted to talk," Daly said. "I sat with Tim a few times on the flight and toward the end for about 30 minutes."
Cook asked Daly questions and in response, she sign-spelled answers into his hand. Everyone nearby appeared to be very taken by Clara.
"I don't know when I've ever seen so many people rally to take care of another human being," said Scribner. "All of us in the immediate rows were laughing and smiling and enjoying his obvious delight in having someone to talk to."
After the flight, Scribner shared the story on Facebook where her post received more than 110,000 likes and 40,000 shares, everyone praising both Clara and Alaska Airlines.
"After the flight, Clara told me she thought it was meant to be that our original flight was canceled and we were placed on this flight, so she could be there to help Tim," said her mother, Jane Daly.
A service provider from Brookdale Senior Living, where Cook resides in Portland, met him at the gate after the flight. Cook said the flight was the best trip he's ever taken.