PORTLAND, Ore. — Each week, KGW provides a list of events and food options you may want to try in the Portland area over the weekend.
Here are our picks for this weekend:
Naked Bike Ride
Photos: 2018 Portland World Naked Bike Ride (Warning: Nudity)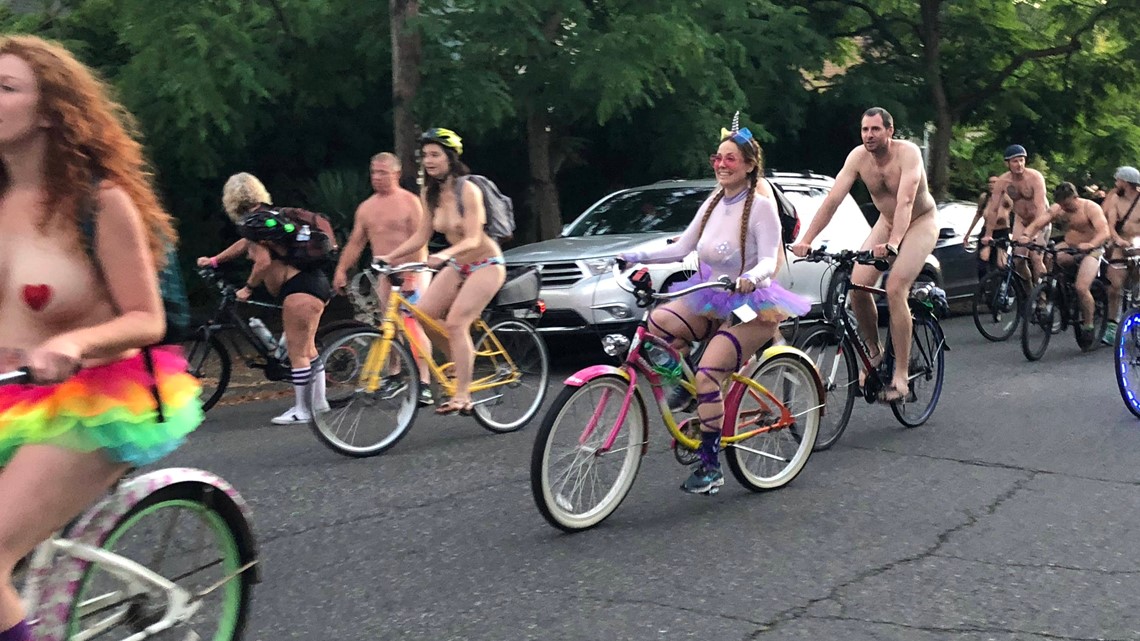 Thousands of people will bare it all during the World Naked Bike Ride in Portland on Saturday evening. This year's ride will begin at Laurelhurst Park in Southeast Portland. The route is not publicly disclosed but this year's ride is expected to be about six miles long. The gathering at Laurelhurst Park starts at 8 p.m. and the ride starts at 9 p.m.
Click here for more information
Weird Homes Tour
Saturday is the second annual Weird Homes Tour in Portland. This year's tour will feature eight to 10 unique homes. After you buy a ticket, you'll receive a guide to the homes with a map and addresses. You then simply go to the homes of your choice any time between 10 a.m. and 5 p.m. Saturday. Tickets begin at $30. Ten percent of ticket proceeds go to Central City Concern.
Click here for more information
Pup City Walk & Festival
Dog-lovers will gather at the Rose Quarter Sunday for the second annual Pup City & Walk Festival. Dogs of all ages are welcome. Tickets, as of Friday, cost $50 and include a Pup City leash, waste bag dispenser, tote bag and a ticket to a future Portland Trail Blazers game. A portion of the proceeds will go to the Pixie Project. Following the walk will be a festival with more than a dozen vendors on hand.
Click here for more information
World Beat Festival
World Beat Festival
If you want to get away from Portland for a day, one of the largest multicultural festivals in the state is in Salem this weekend. You'll be able to experience a variety of world customs, traditions, ethnic foods, crafts, demonstrations, children's activities, parades and dragon boat racing. There will also be live music and a beer and wine garden. Daily admission is $5 per person. Children 14 and under get in free.
Click here for more information
Tapalaya
Tapalaya (comes from the combination of tapas and jambalaya) serves innovative Cajun/Creole cuisine made from scratch. Tapalaya only uses antibiotic-free meats, cage-free eggs and produce sourced from local farms. The menu features Cajun/Creole classics like red beans and rice, jambalaya, Boudin sausage egg rolls and crawfish etouffée. Visit them at 28 NE 28th Avenue.
Wolf and Bear's
Wolf and Bear's serves organic Middle Eastern-inspired vegetarian fare made from scratch. Wolf and Bear's uses only the best locally-sourced ingredients and offers vegan and gluten-free options. Visit them at either 3925 N. Mississippi Ave or 113 SE 28th Ave.
Bark City BBQ
Bark City BBQ is a food cart in North Portland that serves a wide variety of smoked meats on Oregon Oak along with southern sides and milkshakes. Visit them at 1080 SE Madison St.
Ox
Ox is an Argentinian-style steakhouse from Greg Denton and Gabrielle Quiñonez Denton that showcases a creative menu featuring prime local meats, fish and seasonal produce. They are best known for their clam chowder that comes with a smoked marrow bone. Visit them at 2225 NE Martin Luther King Jr. Blvd.