PORTLAND, Ore. – It appears Portland may have a secret Santa in our midst.
We've heard from two viewers who have found $100 bills stuffed into books.
Jeffrey Winton told KGW he found the money stuffed into a book titled The Cloud Seeders at a Goodwill on Southeast 52nd Avenue.
The book and Benjamin and came with a note that reads:
"This book is free. If you need the money, please keep it. If you don't, please give it to someone who does. You are not a leftover. None of us are."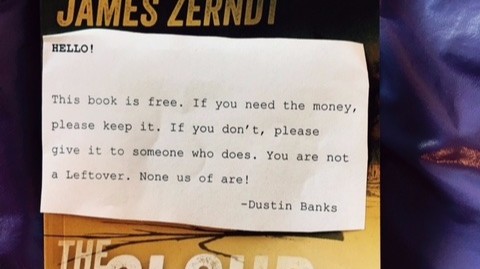 The note is signed by Dustin Banks, a character in the story. The author of the book, James Zerndt, happens to be from Portland.
We reached out to Zerndt on Friday to see if he was the one behind the random acts of kindness. He gave credit for the idea to his son.
"I'll just say my 5-year-old's favorite movie is Willy Wonka and the Chocolate Factory. He says everyone deserves a golden ticket! "
@KGWNews I'll just say my five-year-old's favorite movie is Willy Wonka & the Chocolate Factory. He says everyone deserves a golden ticket!

— James Zerndt (@ZerndtJ) March 10, 2017
It's not clear how many books may stuffed with money. But if you come across a copy of The Cloud Seeders, you may want to take a peek inside