PORTLAND, Ore. — He's known for his "whoop, whoop!" greeting, riding his bike to work and for "exposing himself to art" (kind of).
KGW News at Sunrise caught up with former Portland Mayor Bud Clark for Sunrise Extra, our live streaming aftershow.
Bud is one of Portland's most recognizable and colorful mayors.
He served from 1985-1992 after winning the role despite being a political outsider. He had never run for public office before, let alone won.
He's lived in the Rose City for most of his life. Clark's family moved here in 1938 when he was just 6 years old. In 1967, he opened the historic Goose Hollow Inn in the northwest Portland neighborhood of the same name.
"The Goose" as it's known, is currently closed amid the coronavirus pandemic. Bud's daughter Rachel Clark now runs the tavern, which is known to have one of the best reuben sandwiches in town.
She also joined us for Sunrise Extra and says they're working hard to figure out what reopening will look like once restrictions are lifted.
Watch the full conversation with Bud and Rachel Clark here:
"It's just a waiting game," Rachel said. "It's an interesting time period but we've been taking advantage of the quiet to get set up so that when we return we can serve you those awesome reubens."
Bud is now retired, but at the age of 88 you can still spot him riding his e-bike around the Portland Waterfront. He talked to us about that, the hilarious backstory to that viral photo of him called "Expose Yourself to Art" and his 1984 election win.
You can read more from our conversation with Bud and Rachel below.
Bud, tell us more about what you've been up recently?
Bud Clark: I sit back and just enjoy the world go by. I used to ride my bike down here at the waterfront across from Ross Island to look at the heron rookery, which is right across the river from my apartment. I get up and watch the birds every morning and watch the fishermen going by on the river and the river itself going by. [looks out to his window]
I have a wonderful view to the south towards the Old Spaghetti Factory and I watch the clouds go by. I enjoy it very much.
Take us back to the election in 1984. How surprised were you when you won?
Bud Clark: I really wasn't that surprised. The previous week there was a parade in St. Johns and the former mayor was at the front of the parade and I was at the back of the parade. They weren't giving very good greetings to the mayor at the front of the parade, and they were cheering me on in the back.. and that's when he first realized he was in trouble.
And then he came out with some negative advertising which just worked against him, so I was pretty confident I was going to win. I was just surprised how early it came.
A viewer submitted this question: why didn't you ever run for state office?
Bud Clark: I'm not a professional politician. I saw a need under the previous mayor before me and I saw he could be beaten when all the other politicians said he couldn't be. I won and got the city of Portland back on track I feel and that was enough for me.
I love this city. I love this state. I've traveled all over the state and I'll continue to do that. I have my kids here and my family staying in Oregon and helping to build this state.
I wasn't trying to find a job when I ran for mayor or afterwards [laughs].
I own a good tavern and have good people and lots of good friends.. and that's good for me.
One of your big achievements when you were mayor was your 12-point homeless plan. Would you weigh in on our current homeless crisis and give us a piece of advice on what you think we should be doing from here on out?
Bud Clark: Oh boy. I wish I had the answer to that. It's difficult being a mayor at this time. Ted, he's got a tough job. I don't have an answer. What we need is affordable housing.
This isn't just a Portland problem, this is all over the world. I wish I had the answer.
Transition projects is working very hard, along with many other agencies to find housing, but that's the major problem. It's finding places for people to stay and live within their means and the means of the government.
Rachel, have you thought about what things will look like for the Goose Hollow Inn once the restrictions are lifted? Any permanent changes you may make?
Rachel Clark: That's kept me up at night. I've done so much research into what it's going to look like, and so we're using that downtime to think about what that will be like. I've thought so many thoughts and plans, I'm sketching and drawing. In phase one, you have to have 6 feet between each party and that will really reduce the capacity for all of the restaurants, which is the biggest thing that all of us are struggling with.
The Goose Hollow Inn—people feel so comfortable there. We don't try to turn tables really fast. Part of our business model is allowing people to hang out, relax, enjoy their time with each other and with the reduction of capacity that's going to put a real strain on normally a time where we make a lot of our income that carries us through the winter, through the tough months.
Supply is another problem. When we all open back up again, are there going to be enough eggs with the meat crisis? Things like that.
But what I do know is that there's going to be enough beer, coffee and liquor [laughs] I talked to all those providers, they are not running out.
Bud, you have an iconic image out there we have to ask you about. It's called "Expose Yourself to Art" and this was everywhere! What is the backstory to this?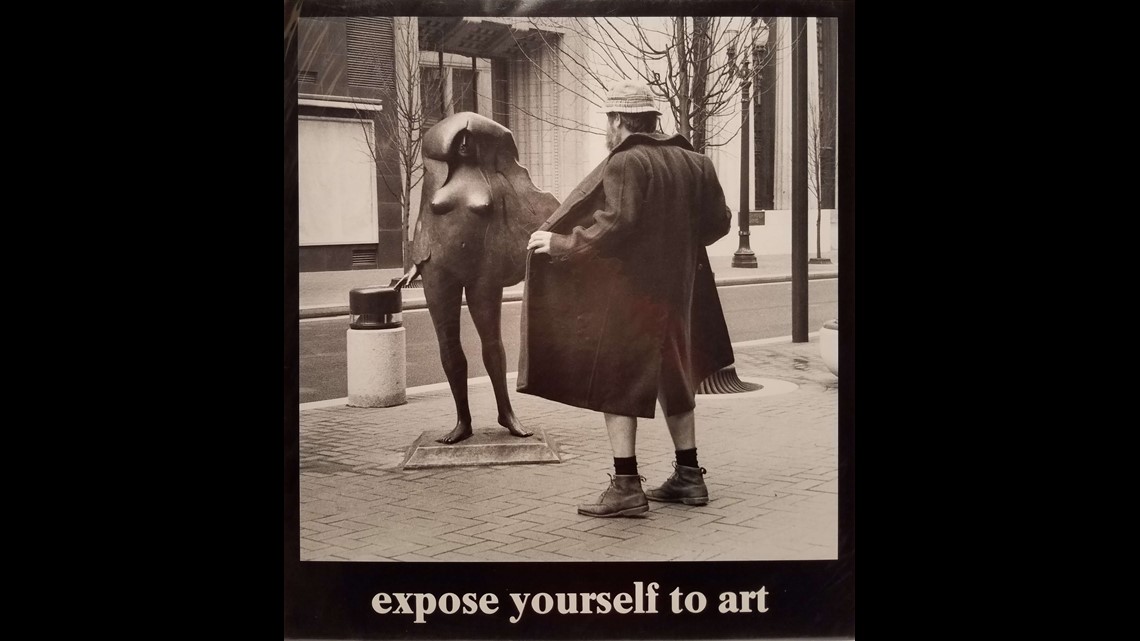 Bud Clark: It's an interesting story. It did not start off to be a poster at all. Believe it or not, I have a t-shirt on underneath the coat and it said "Zap the Clap." The neighborhood association that I belong to put me on the venereal disease action board and we met downtown early in the morning. Gonorrhea was going through the high schools at that time and we wanted to raise the issue about that, so they created these t-shirts that they wanted to sell to the high school students. They were looking for some way to market this t-shirt, so a friend of mine had the idea of flashing the statue, and I didn't even know what flashing was at that time. [laughs]
So we went down there one morning and took several pictures, and this one picture was so funny, we put it in the northwest neighborhood newspaper for people to put a caption on it. We got like 300 entries on this little neighborhood newspaper and "Expose Yourself to Art" was one of them, three people came up with that one. They got to split the $25 prize. A friend had the idea to make it a poster and before I ran for mayor it had sold a quarter of a million copies.
SunriseExtra airs every weekday at 7 a.m. on all on KGW's Facebook, YouTube and Twitter Pages.