The following is an abridged transcript, lightly edited for clarity:
Laural Porter: A lot has happened since you became chief. From your perspective, where would you say the City of Portland is today?
Chuck Lovell: I think we, as a city, are improving. It's been a really challenging three years. When I took over, we were in the throes of the pandemic. We still had some nightly protests and violent things happening night after night, and it was really tough, I think, for the city as a whole to come through that.
And I think now as we come out of the pandemic, we're looking at how the city's going to reopen, people are going to return to work, and things of that nature, I think we're on a path to a better place. There's still challenges, but I think we're working our way towards something better.
A recent survey found a majority of people who live in Portland, and even more who live outside of Portland, said they don't feel safe downtown. And a lot of business owners are upset about break-ins and shoplifting. What do you want to say to them?
I want to tell them that we're working hard at the police bureau to hire more folks, to get more investigators, more officers on the street and try to address these issues that Portlanders really need addressed.
From my perspective, we should be out there doing the work that the people really tell us that they need and want to see. There are many units that we had in the city at one time that, for staffing reasons and other reasons, we don't have today. And we're looking at ways to kind of rebuild those and give people more service.
You just launched a sting operation this week targeting areas with shoplifting. How is that going, and do you hope to expand that?
We do. We've been really successful in some of our very targeted missions. We've been doing some on the east side of Portland with Multnomah County and our east precinct. We've done three missions in particular since December that have netted over 100 arrests and recovered thousands of dollars worth of stolen goods.
And we try to do that as often as we can with the staffing that we have, but I think as we're able to hire more people on overtime and get more staffing, we'll be able to do more of that on a sustained basis.
Let's take a look at staffing. How many officers do you have now, and how many would you like to have?
Right now, today, we have 801 sworn members, so that's police officers all the way up to the chief. Police officers in the rank of officer, we have about 544. Ideally — if you said I could have any number — I would say around 1,100 would be a really good number.
That would allow us to have things like a burglary task force, an auto theft task force, rebuild our traffic division, our narcotics unit, and things that I think really address some of the needs that Portlanders are facing today.
You look at some of the cities around the country — Memphis is also having a staffing crisis, and they're a smaller city than we are, but they have over a thousand more officers than we do.
How much more budget would you need to hire the officers you want?
A lot. And that's kind of an ongoing story with the mayor — who also serves as the police commissioner — and city council. We do have a budget ask coming up around staffing, and we're really hoping we get the support we need to rebuild. We're doing well on hiring right now, and we want to keep that momentum going.
The city council cut the budget around the time you became chief in June of 2020, they cut the Gun Violence Reduction Team. And then crime has gone up, the budget's been added to — the pendulum's kind of swung, hasn't it?
Yeah, almost three years ago we were looking at cuts, and the conversation was about defunding and 'we need less police, more other things,' and I was always supportive of those more other things, but I always believe we need police officers.
We need good police officers, we need them well-trained and we need to be investing, not divesting. And I think now, three years later, the conversation's much different.
A lot of people are concerned about the record numbers of shooting and homicides we've seen in the last couple years. You've been with the bureau since 2002. How do you explain the increase?
We had a big spike over the last two, two and a half years. We tried to address it previously — we had a gang enforcement team, we had a gun violence reduction team.
When those went away, we rebuilt a new team called the Focused Intervention Team. They do the same kind of work, but they do it with a community group attached. So there's a group we call FITCOG — Community Oversight Group, and that gives some community voice and oversight to the work, and I think that was something missing in our previous efforts.
But why so many more? It's been a record number of homicides, despite what you just said. Is it gang shootings? What is it that's leading to this record number?
I think some are [gang shootings]. I think there's a lot of guns on the streets as well. If you look across the country, shootings have gone up in a lot of cities. It's not just Portland. And I think there's a lot of factors that contribute to it. Some of the biggest rise we've seen, as far as the demographics involved in shootings, is our houseless community as well. Typically that was a very small percentage, but now we're seeing more and more occurring associated to encampments.
We're also seeing more shootings near high schools. Franklin High School had to close Friday because of a shooting this week. How do you explain those increases?
Those are especially troubling, when they involve our youth. We've never really had a large number of shootings at schools during the school year. I was a school resource officer for several years, and I've been with the police bureau over 20 years, and I can't remember a time where we've had this many in and around schools.
We're really trying to do what we can to address it. We used to have a school resource office program. We have some discussions going on with the school district about ways the police can engage and help be a part of the solution with Portland Public Schools. Whether it includes school resource officers or not will probably be part of the discussion.
But that part is troubling. I was on the phone last night with some folks from PPS just talking through it, and we're going to try to provide them some additional presence in the next week or so to help them feel safe there.
The city has been looking into gunshot detection technology to try to curb gun violence, but there's been some negative feedback from the community. Is this something you think is a good idea?
The gun detection software, that initiative was brought to us by community. There's several different companies — ShotSpotter is one, but there are other companies that provide that service and that technology.
I thought it's probably something we should try or pilot in Portland. We're in a position now where we really should be looking at all available tools to address gun violence. And if this is a tool that will help us do it, it's worthwhile for us to invest some money to look at it and give it a try.
One of the big concerns from people who are against it is civil rights violations, because a lot of these gun detection devices would be in places with high levels of gun violence, which may overlap with places where people of color live. They're afraid it may be used to justify stop-and-frisk action. Is that something that concerns you?
Absolutely, that's always part of the discussion. We don't want to over-police or have a negative impact on communities. We want to really target areas where crimes are occurring. So we want to be really mindful about how things like that are deployed, what the unforeseen impacts might be.
But I also think of it in terms of police getting to a shooting scene quicker. It might not just be maybe you get there to apprehend someone who was involved, maybe you get there quicker to save someone who needs medical attention. So for me it's about weighing all the pros and cons and seeing if it'll work in our city.
Going back to 2020, you took over at a difficult time. What was that like for you?
It was overwhelming, and unexpected. It was a time where, I don't think a lot of people were looking to be a police chief, especially in Portland, Oregon. But you never know what the future holds.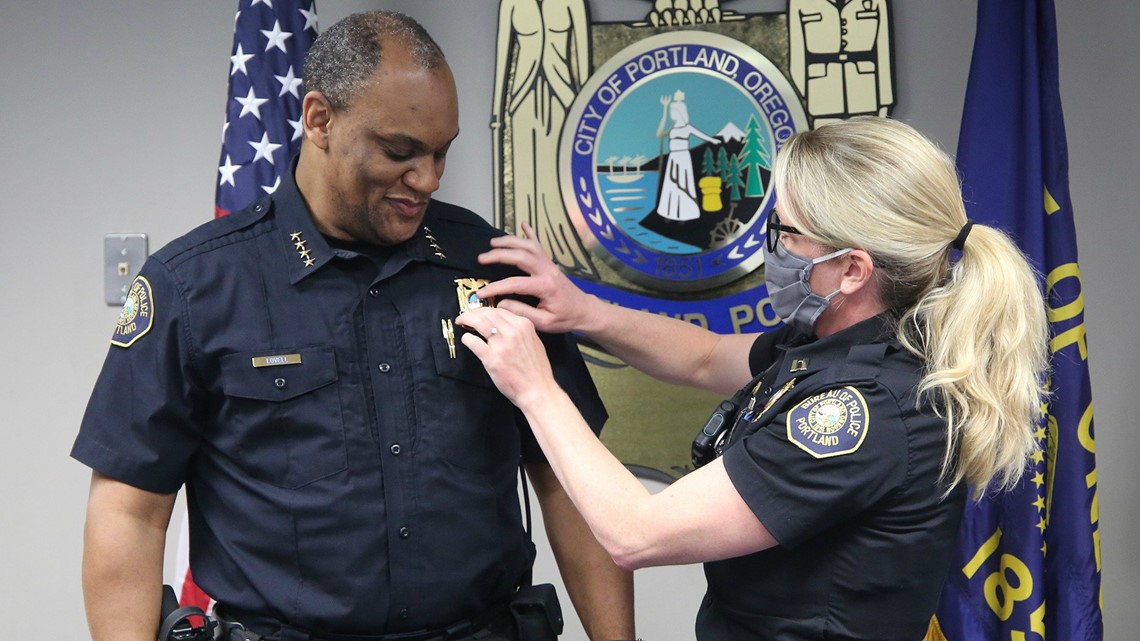 I felt personally, for me, if there was something I could do that would help the community I care about, the organization I care about, then I had to try to do it. I don't think there was a law enforcement executive in the county that said 'I have the answer for this, or the blueprint for this.' I just took it one day at a time, said I would step in and do my best and hopefully help us get to a better place.
The U.S. Department of Justice says Portland police used force 6,000 times during the protests, with tear gas, flash-bang grenades and impact munitions. Looking back, how do you think your officers handled the protests?
It was a difficult time for everybody. I think by and large, our officers deserve a lot of credit for being out there every night, trying to protect businesses and people in the city.
It wasn't perfect, I'm the first one to say that. We had a lot of uses of force that are still being looked at today, but there was a lot of heroic, good work done by police officers that was overshadowed as well.
We weren't able to rely on some of the law enforcement partners who had previously come to help us. They were unwilling to do that at the time. So we had to roll out a lot of the same officers night after night, after night. And our system for doing crowd management was not built for that.
What did you learn from that? If we had more protests, would you do things differently?
I think so. Right now, we're putting all of our officers through mobile field force training, which is basically how to do crowd management without a team like the rapid response team.
Some of the things we did learn are around just our systems, our policies. We updated our force data collection reports, we changed some of our directives, we did some training on updates. We had different things changing— temporary restraining orders from judges, the legislature had weighed in, different court cases had come through and changed some of the tactics.
I think we learned a lot in that time period. Wellness became a bigger focus for us. We saw the effects it had on the officers and their families through that timeframe.
What is your vision for the Portland Police Bureau? What are your goals?
In the short-term, I think we really need to return services to the city. I'm really focused on getting our traffic team back in some fashion. We've had a lot of fatalities in crashes on our roads that they were really instrumental in addressing.
Fentanyl overdoses — huge impact on our community. Our narcotics and organized crime team is smaller than it once was because a lot of them went to patrol to help with calls for service.
In the longer term, I really feel like we need to be more embedded in community. When I started in 2002 we had five police precincts. Today we have three. And I think that contraction siloed us a little bit.
How do we incentivize officers to stay in the role of officer and stay working in neighborhoods for long periods of time? For me, that's the real vision for community trust and community policing.
Portland is the largest municipal police agency in the country without body cameras. Do you want your officers to wear cameras?
I do. There's a lot of things to be worked out, policy-wise, but I think by and large people in the Portland Police Bureau want to have body cameras, and I think it's an important tool.
There's a dispute between the city and the union about how officers review camera footage when writing reports about use-of-force incidents. The city says they shouldn't be able to view the footage before writing reports, but the union disagrees. Where do you fall on that dispute?
There's an argument that you only get one opportunity to capture and document what you perceived at a certain time before you took a police action, and once you watch a video, then that opportunity is gone. And I understand that argument. I understand both sides of that.
I hope the parties involved can both come to some resolution, and my job will ultimately be the implementation — rolling them out, the training, introducing the policy. And I think for me, I want to get cameras on officers as soon as I can.