PORTLAND, Ore. — Ebony Clarke, the new director of Multnomah County's Mental Health and Addiction Services Division, is taking over at a difficult time, but Clarke says she's up to the challenge.
After all, she's overcome some significant obstacles in the past.
On November 19, the Multnomah County District Attorney's office released findings stating that county staff was aware of deaths and abuse at the Unity Center for Behavioral Health, but failed to investigate, and in more than 100 instances, did not even contact law enforcement.
While it is a private psychiatric facility, the Unity Center is the city's primary emergency center for mental health cases, and Multnomah County case workers are stationed there.
No criminal charges were filed, but the previous division director was fired, along with another staff member.
Clarke, promoted from her deputy director post, knows she has a serious challenge to rebuild trust, morale, and accountability.
She says it's a journey her department has already begun.
"We started a quality improvement process and completely changed our training, screening protocols, and documentation. I'm confident we're serving the public as we should be. But I'm not going to relax. Lives depend on us getting it right," she said.
And Clarke knows how to overcome challenges. She spent her childhood rising above difficulty.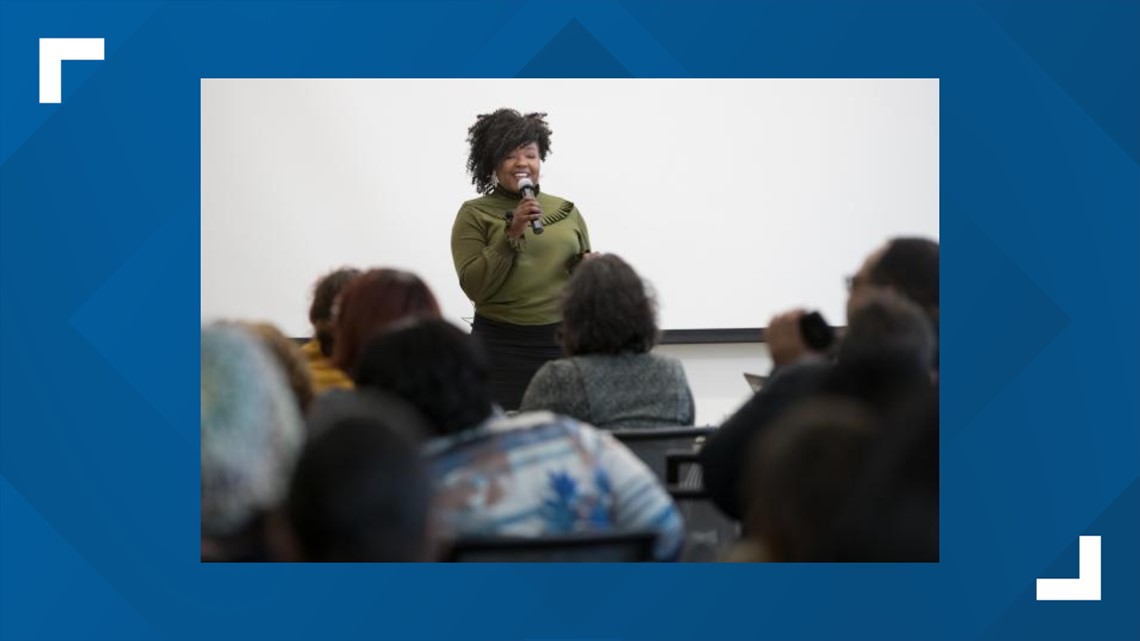 Clarke was born to a heroin-addicted mother, spent weeks in the hospital after birth being weaned off the drugs. She lived in foster care before eventually being reunited with her mother, and then lived in a rehab center while her Mom became clean and sober.
She says the experience shaped who she is today.
"I learned the individual holds the true key to their journey and recovery. It gave me focus on what my goals were in life. It's what instilled in me the desire and passion I have to help others," she said.
Clarke says her goal, as she takes over leadership of the department of 300 employees, is to rebuild trust, morale, and transparency.
"I have a responsibility and accountability not only in talking, but showing in an active response, how we are meeting the needs of individuals who are suffering," she said.
She's adding more peer counselors of color to more accurately reflect the individuals the department serves.
Clarke also believes some of the best guidance to help the county's vulnerable citizens is to get feedback from them.
She's working on that, too.
When asked about her resiliency Clarke is candid and says overcoming racism played a role.
"I am an African American woman in one of the whitest metropolitan cities in the United States. I have to be strong. I have to be resilient. I have to have something to hold onto if I don't want to crumble under the issues of racism."
Clarke says she's gained strength from her mother, Helen Sloan, who has been clean and sober for decades.

"I hold my Mom accountable and she holds me accountable. It dawned on me the other day, one of the biggest things I learned from my Mom is forgiveness and grace."
She says her dream for her department is to be robust enough and nimble enough to meet the vast and complex needs of the people they serve.
"I'm committed to increased accountability, transparency, and integrity," she said.
For those seeking more information or help, they can reach the Multnomah County Mental Health Call Center at 503-988-4888.
To hear more of Ebony Clarke's story tune into KGW Straight Talk Saturday at 4:30pm. Or listen to the KGW Straight Talk podcast.