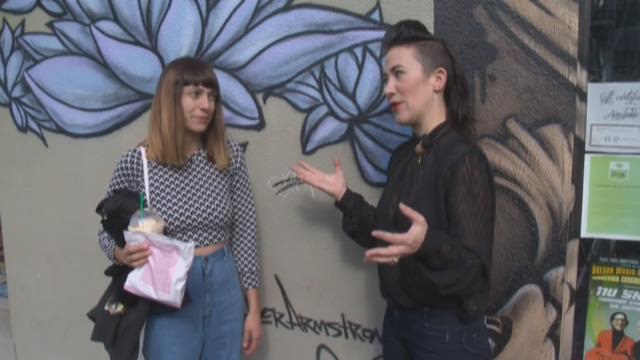 Portland-based designer Michelle Lesniak is running along Southeast Hawthorne Street. In heels. The woman two blocks in front of her is dressed from top to (bell) bottom in 70's fashion and Lesniak is determined not to let her get away.
"Excuse me, do you mind if I interview you?" Lesniak yells as she runs. "I love your outfit!"
Fortunately, everyone enjoys a compliment and Alex Vicari, the one wearing the '70s fashion, is game to talk to the Season 11 winner of Lifetime TV's Project Runway.
Just behind Lesniak is KGW photographer Devon Haskins, and behind him there's me, Live at 7 host Reggie Aqui. Lesniak doesn't skip a beat to explain exactly why Vicari's black and white patterned long-sleeve fitted midriff and light-colored bell-bottom jeans are working.
"Well, '70s are really in and showing a little midriff is great. We don't want to show the whole stomach, that's really inappropriate for going to work and walking in the streets. Unless of course you're actually a streetwalker." Lesniak takes the smallest beat to let us take that in and continues. "So just showing a tiny bit and make sure the trousers go up to your natural waist. It's the tiniest part of your body and when you show a little peek-a-boo it makes you look really tiny."
A high-five later and the exchange is over. Alex Vicari sashays down the sidewalk with her bell bottoms swinging and Michelle Lesniak, Devon Haskins, his camera and I go hunting for our next fashion find. It's our first outing together as part of a new segment we're doing called "PDX Runway" on Live at 7. And so far, so good.
Actually, things started off a bit nude. The very first person we spotted while driving down the street near Lesniak's SE Portland studio wasn't wearing a belt. He also wasn't wearing underwear.
"Oh my gosh full-on butt crack! Ahhh!" Lesniak screams. I ask her if that's on trend for the season. "No, it is not," she says defiantly. "Crack is whack." I jokingly ask her if there's any nudity in her latest collection. "I mean, I love a good nipple, but we're not in Paris. You can do that in Paris or New York but you can't do that here."
So what is in this season?
"There's lot of lace moments right now, which I really love," Lesniak says. "Especially coming into winter. It's super feminine. You can put jackets over it, and we are a layering town."
Something that annoys her about Portland fashion right now?
"Not hemming pants, that's the kind of thing that needs to go. Getting a hem done on a pant is only about ten dollars. It just looks lazy and you look unkempt."
Another bit of Lesniak wisdom, "You never know who you are going to run into. And yoga pants are not the greatest thing to wear when you see a possible boss or client. Unless you're a Yoga teacher. I've had people ask me to make entire suits out of yoga material. I had to tell them I don't work in that fiber. It's against my design being."
Michelle Lesniak is currently showing her Fall 2015 collection. For a look at her designs, michellelesniak.com