PORTLAND, Ore. — You are invited to an unforgettable day of summer fun, local food, live music and fundraising. Portland's own Portugal. The Man is hosting a block party to raise money for research into a rare genetic disorder.
The band has sprung into action to raise money to find treatments for what's known as a DHDDS mutation. It's an extremely rare genetic condition that can cause seizures, tremors, and developmental delays.

"It's something I didn't know about until two years ago," Portugal. The Man vocalist Zoe Manville said. "Never heard of anything remotely like that and it's completely changed our lives."

Frances Gourley is the 12-year-old daughter of Manville and lead singer John Gourley. She was diagnosed with a DHDDS mutation a couple of years ago. She is one of just six known cases in the world.

"She's dealt with it amazingly. I feel pretty in awe of her strength, you know, she's dealt with so much," Manville said.

If you've seen Portugal. The Man live around town recently, there's a good chance you've seen Frances take the stage, joining her parents in song and rallying the crowd.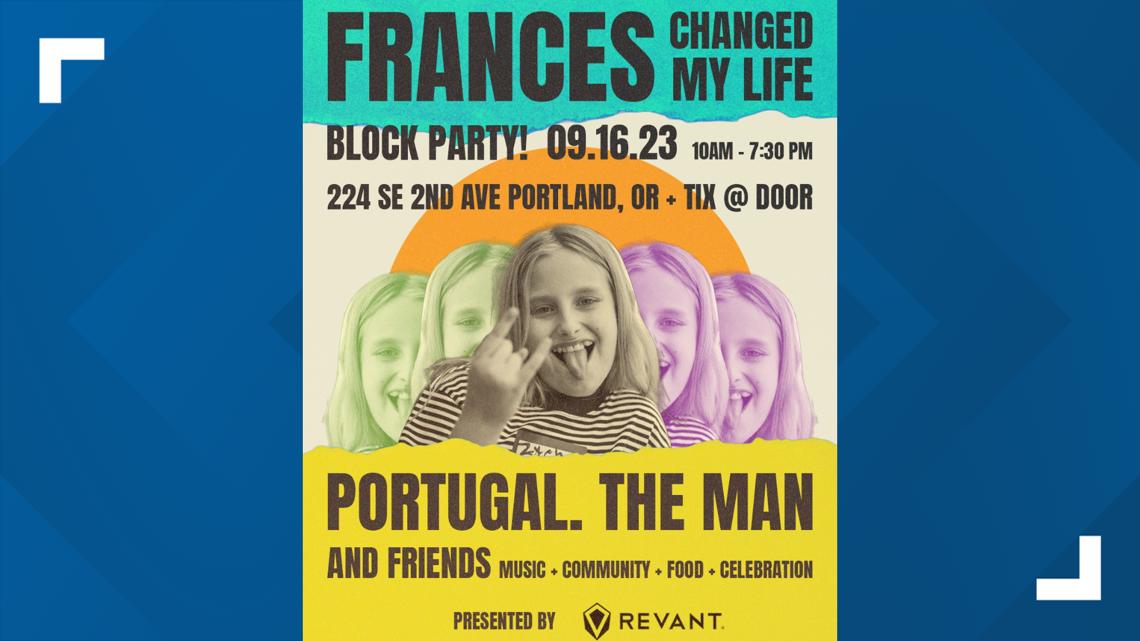 "(She's an) extrovert and high energy and very funny, she has a great sense of humor," Manville said. "And she kind of gets along with everybody and makes friends with everybody."

While her parents see her strength every day, they worry about the future. Because the DHDDS mutation is so rare, there's little research and no treatment. Portugal. The Man is fighting to change that.
"Because having nothing and no, no sort of instruction, no treatment, nowhere to go ... it's pretty isolating, and it's a lot for families to go through," Manville said.
They're raising money with a GoFundMe page where you can donate anytime. You can also support them at a community event on Saturday, September 16 in Southeast Portland.
The Summer of Frances Block Party is an all-ages event. It kicks off at 10 a.m. with a stellar lineup of vendors and family fun. The music starts at 3:30 p.m., including a performance by Portugal. The Man. The block party is happening outside of Revant Optics at 224 SE 2nd Avenue in Portland.
There are no advanced ticket sales. Buy your wristband at the door with a donation to Frances' fund.