PORTLAND, Ore. — The final No. 1 seed in our bracket fell in Round 4 of the 2022 Oregon Beer Showdown.
Deschutes garnered the most votes in Rounds 2 and 3 but had the same fate as 3-seeded Ecliptic Brewing of Portland, which received the most votes in Round 1, then lost to 6-seeded Ex Novo Brewing, also of Portland, in Round 2.
Among this year's semifinal competitors, only Breakside Brewery has gone all the way in past showdowns. Last year's winner, Boneyard was knocked out in Round 2, along with fellow past champ Ecliptic. Another past winner, Buoy Beer lost to Deschutes in Round 3, and inaugural winner Hop Valley did not make it out of Round 1, falling to Portland's Assembly Brewing.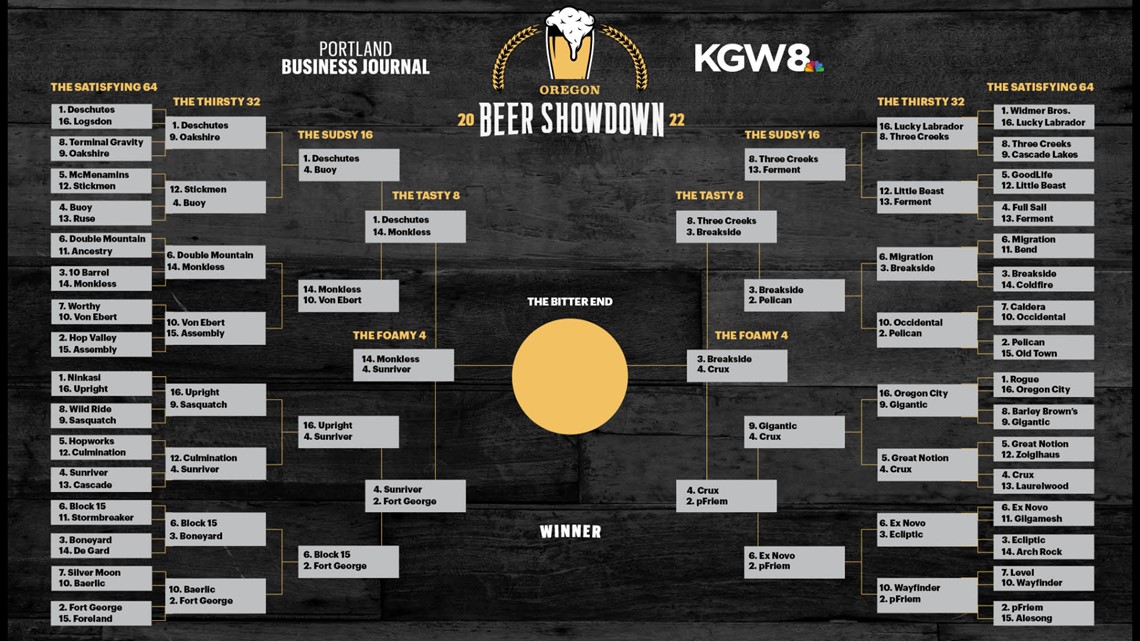 As in the last Round, Central Oregon's strong representation continued into the Semifinals, with Monkless facing nearby Sunriver Brewing (4-seed) and Bend's Crux Fermentation Project, a 4-seed, up against 3-seeded Breakside, the only Portland challenger in "The Foamy 4."
Other highly regarded brewers, including 2-seed Fort George Brewery of Astoria, Three Creeks Brewing in Sisters, an 8-seed, and 2-seeded pFriem Family Brewers of Hood River, were also eliminated in Round 4.