PORTLAND, Oregon — A noticeable brown-and-yellow-toned billboard with an image of bananas in a crate and a forceful message, "A Kid From Portland Has His Own Sneaker," has many in the Pacific Northwest taking notice.
Portland-born rapper, singer, songwriter and now fashion designer Adam Aminé Daniel — professionally known as Aminé — teased his new sneaker partnership with New Balance using the billboard campaign.
In 2016, he gained worldwide attention for his breakout single "Caroline" which peaked at number 11 on the US Billboard Hot 100 chart, launching him into a successful career with a cult Instagram following of 1.7 million people.
The Ethiopian American rapper recently made his orchestral debut with the Oregon Symphony in November 2022. In May, he released his collaborative project "KAYTRAMINÉ" with Grammy-award winning Canadian DJ/producer Kaytranada.
The Northeast Portland native took to Instagram this week to make the New Balance announcement in an Instagram reel. The reel stages Aminé and two of his locally-known longtime friends observing the billboard near Northeast Martin Luther King Jr Blvd.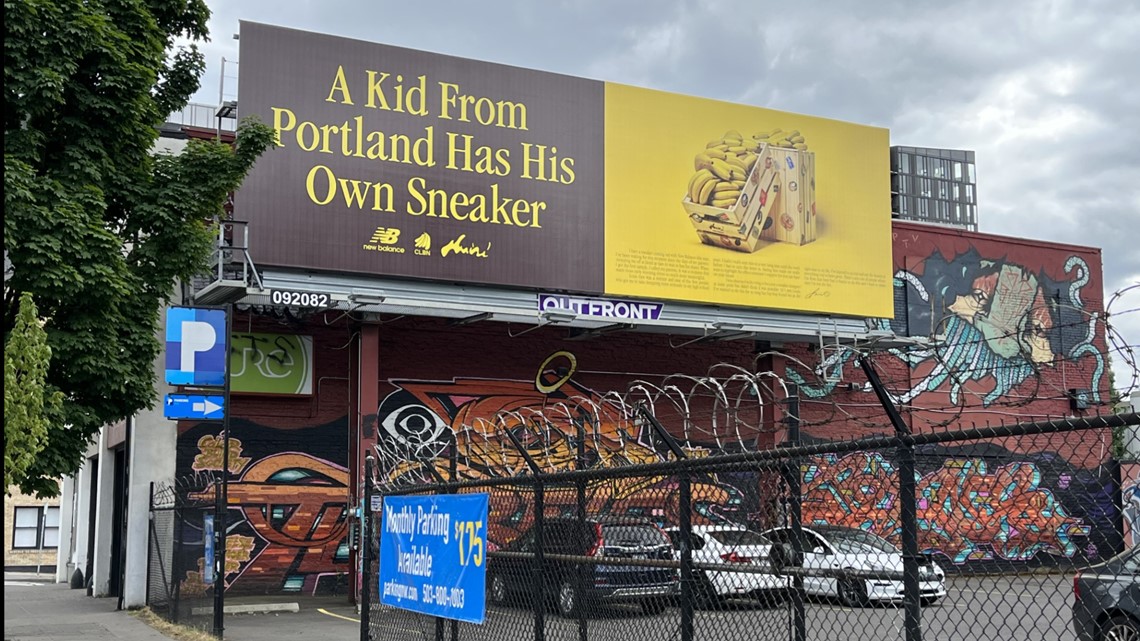 They jokingly questioned if any bystanders would recognized that the "Shimmy" artist is behind the "A Kid From Portland Has His Own Sneaker" billboard.
Many online users noted that his friends were both originally in his "Caroline" music video. One of them is Jonathan Ressom, who according to his LinkedIn page has worked as a tour manager for Aminé since 2017. The musician's other friend goes by @gage.hunnidgrand, and has his own creative visual brand HUNNID GRAND.
Online users also speculated that the campaign showcases some of the collaborative pieces from the shoes that the three friends sported. The "REDMERCEDES" rapper's sneaker in the video is yellow with brown detailing. Bananas are a signature symbol associated with him. CLBN (clubbanana) is a sub brand he created for fans selling vibrant merch.
In April 2022, the sneaker brand posted an image of Aminé sporting a pair of unreleased yellow sneakers with an emoji of two hands shaking, a subtle hint of the collaboration to come.
Aminé has modeled in various New Balance campaigns as a brand ambassador. In December 2022, he modeled in a campaign for a collaboration with popular streetwear company Bodega for the "Age of Discovery" 9060 sneaker and apparel collection.
Portland-based companies Fisk Projects, a creative physical and digital design studio, and Swanson Studio, a commercial photography and motion studio, both played a role in bringing the billboard to life — providing a Portlander vibe from the lens of a kid from Portland.