Check delayed and canceled flights at PDX
Air travelers faced major headaches Monday as a hard-hitting late-season winter storm began to snarl flights from the Midwest into the Northeast.
Cancellations were already stretching into Wednesday as airlines preemptively canceled flights in anticipation of crippling weather conditions in the East.
Portland International Airport at last check showed a total of five canceled flights as of Monday afternoon, which included two Southwest flights that were initially scheduled for morning departures.
Nationwide, more than 6,500 flights had been axed since Sunday, according to a 4:20 p.m. ET check of flight-tracking service FlightAware. That number soared throughout the day Monday, rising as an increasing number of airlines decided to preemptively pare their Tuesday flight schedules in the Northeast.
More than 4,500 flights are now canceled for Tuesday.
FLIGHT TRACKER: Is your flight on time? | ASK THE CAPTAIN: How airlines recover after snow storms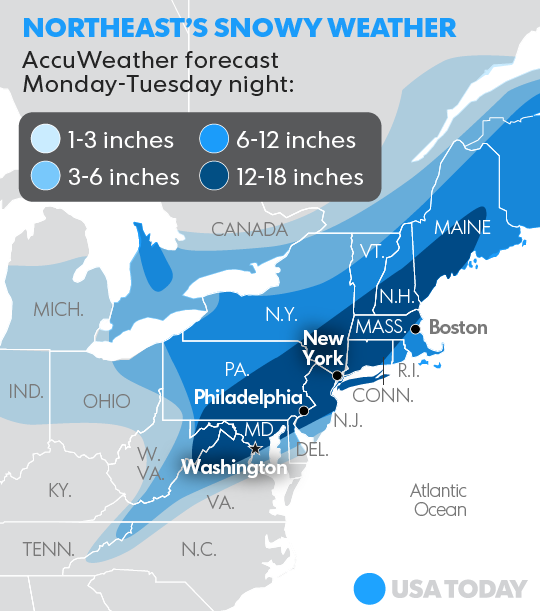 But about 1,500 of that three-day cancellation tally came from Monday as snow fell in Chicago and the Midwest and the storm began to turn toward the Northeast.
The worst of Monday's problems were in Chicago, where more than 450 flights were grounded at Chicago O'Hare and another 160 at Chicago Midway as of 3:50 p.m. ET, according to FlightAware. A sizable number of Monday cancellations were also beginning to affect Northeast airports such as Baltimore/Washington, Washington Reagan National, Boston and Philadelphia. Even in Florida, about three dozen flights had been canceled in Orlando -- mostly on flights to the north.
But the storm's biggest hit to air travel was expected to come Tuesday, when blizzard conditions were forecast to hit major airports in the New York City area and in New England. If forecasts are accurate, it's possible that airports like New York JFK, New York LaGuardia, Newark Liberty and Boston Logan could halt all flight operations for much of the day Tuesday. Poor weather could extend into early Wednesday at some New England airports.
At each of the Newark Liberty and Baltimore/Washington International airports more than 70% of Tuesday's schedule had been canceled by early Monday afternoon, according to FlightAware. At other busy airports -- including Boston, New York LaGuardia, Philadelphia, Washington Dulles and Washington Reagan National -- anywhere from 40% to 60% of Tuesday's schedules had been cut.
Dozens of smaller airports in the region could be affected too, with some possibly struggling to remain open if snowfall totals of 12 to 18 inches pile up across the region.
Latest airline winter weather waivers:
More than 4,525 flights had been preemptively grounded for Tuesday as carriers looked to keep their planes away from airports that could become snowbound. Airlines have increasingly favored such a move since it allows a quick and orderly restart to operations once the weather improves.
One airline – Southwest – expected to ground nearly all of its flights in the Northeast on Tuesday. American Airlines canceled its entire daily schedule Tuesday at both JFK and LaGurdia airports and said it would not fly from Boston after 8 a.m. ET. "We plan on resuming normal operations Wednesday morning," American said in a statement.
Cancellations were spilling into Wednesday, too. More than 275 Wednesday flights are already off the books, mostly at Washington National, Baltimore/Washington, Boston Logan and Chicago Midway airports.
"We expect this number to rise considerably for Wednesday morning as airlines get their operations back online," FlightAware CEO Daniel Baker said in a statement.
Underscoring how weather problems in the Northeast can ripple out to other parts of the country, even some Florida flights had already been canceled Wednesday. Those flights were largely supposed to operate to cities like Washington and Boston, but that could still affect fliers in Florida. For example, an Orlando-to-Houston flight could be delayed or canceled if the aircraft or crew scheduled to fly it get knocked off schedule because of the problems in the Northeast.
All big U.S. airlines have waived change fees for customers ticketed to fly to airports in the storm's path. The details and covered destinations varied by carrier, though they generally allowed customers to make one change to their tickets without paying change fees that typically cost $200 or more.