PORTLAND, Ore. -- With the NBA draft one day away, there has already been one big trade and rumors are circulating around the NBA including big stars like Paul George, Jimmy Butler, Kristaps Porzingis and others.
On Tuesday, the Lakers traded DeAngelo Russell, the No. 2 pick in the 2015 draft, to the Brooklyn Nets, along with center Timofey Mosgov, for center Brook Lopez and the 27th pick in Thursday's draft.
That deal was a move to clear cap space for a run at George and potentially LeBron James next summer, according to The Vertical's Adrian Wojnarowski. Lopez's contract expires after the 2017-18 season.
For the Lakers, this is longer-term play to clear space for Paul George and LeBron James pursuit. Lonzo Ball on way at No.2 https://t.co/KxfdEuAUO0

— Adrian Wojnarowski (@WojVerticalNBA) June 20, 2017
Dwight Howard was also on the move Tuesday, as the Atlanta Hawks agreed to trade the veteran center and the 31st pick in the draft to the Charlotte Hornets for center Miles Plumlee, guard Marco Belinelli and the 41st pick.
Meanwhile, not much has been leaking out of Blazers camp, but we'll keep an eye on what people are saying about Portland leading up to the draft.
NBA DRAFT
Thursday
TV: 4 p.m., ESPN
MORE NBA DRAFT COVERAGE
Here are the latest rumblings around the league about news that could affect the Blazers:
Pacers insider: Paul George trade may not happen before draft
The Indiana Pacers' efforts to trade star forward Paul George before Thursday's draft have slowed, according to a report Wednesday by IndyStar reporter Nate Taylor.
According to Taylor, multiple teams, including the Rockets, Cavaliers, Lakers, Wizards and Clippers, have talked with Pacers general manager Kevin Pritchard about trading for George, who told Indiana's front office Sunday he would not re-sign with the team after his contract expires at the end of the season.
None of the offers Pritchard has heard have prompted him to make a move, though.
Teams have been reluctant to offer too much in trade for George because he is viewed as a one-year rental. George has made clear his desire to play for the Lakers after this season.
The only report of a trade offer was the Lakers offering the 27th and 28th picks in Thursday's draft, as well as guard Jordan Clarkson or forward Julius Randle. Taylor said a source told him the Pacers believed that offer was insufficient.
Can the Lakers now land Paul George by offering Thursday's No. 27 and 28 picks and either Julius Randle or Jordan Clarkson? They're trying.

— Marc Stein (@ESPNSteinLine) June 20, 2017
The Pacers believe trade offers will improve in the hours before Thursday's draft and haven't ruled out dealing George before the draft, according to Taylor's source. But Pritchard, who wants as much value as possible in a trade for George, won't make a deal if he's not happy with the return.
Taylor reports that a source told him George's trade value will drop if he's not dealt before the draft.
If George isn't traded before the draft, Pritchard will continue to field offers for George through the summer, Taylor reported. George has said he's happy to play his final season in Indiana.
Givony: Top-10 prospect sliding to Blazers?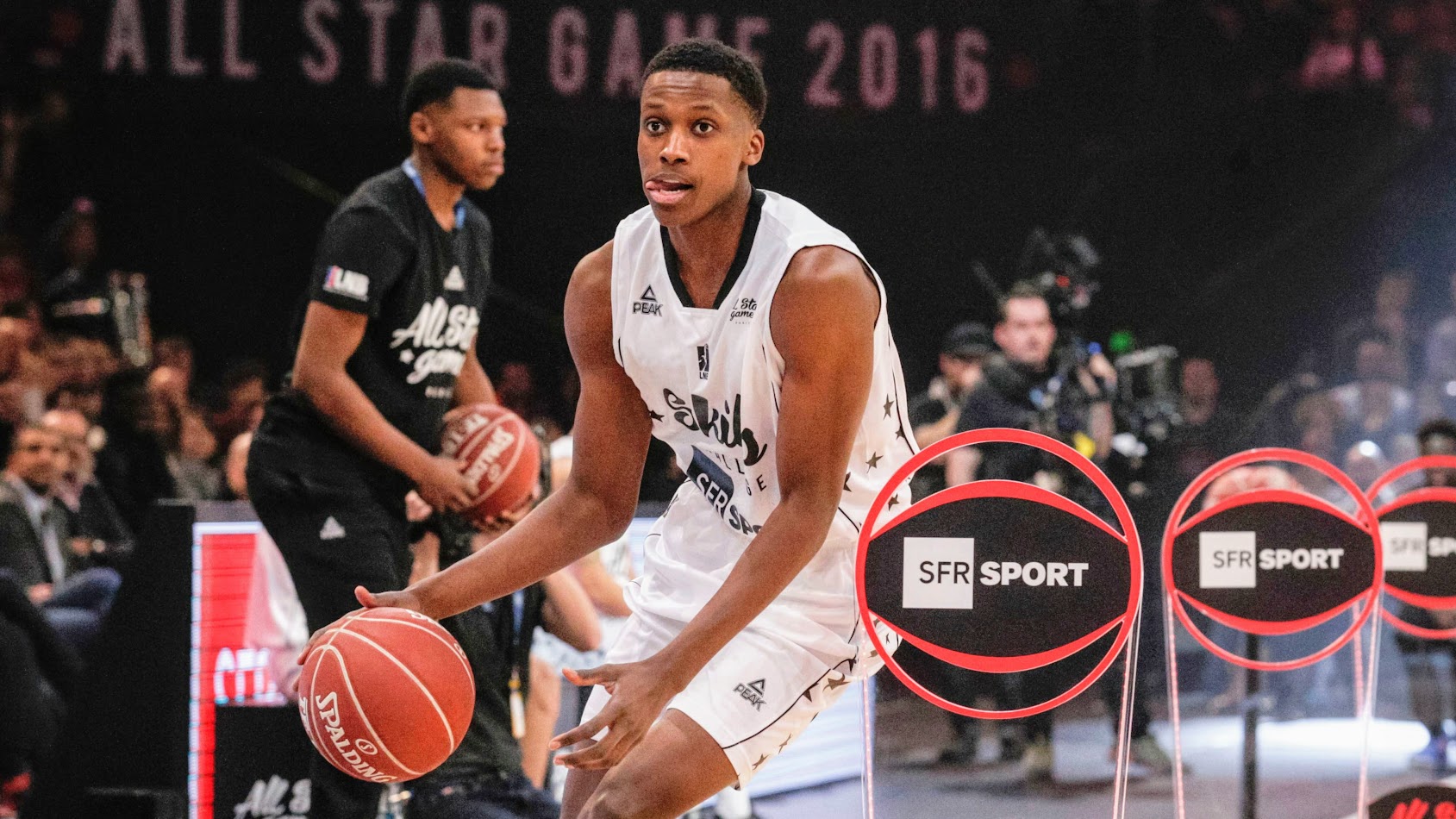 Jonathan Givony of DraftExpress, who Wojnarowski calls "the preeminent draft expert in the world," was on Wojnarowski's podcast on Wednesday morning.
According to Givony, French point guard Frank Ntilikina, a draft prospect who has been regarded as a top-10 prospect in the draft all season, ranking as high as the fifth-best prospect by both DraftExpress and ESPN, may be falling out of the lottery.
Givony said Ntilikina hasn't worked out for teams yet because his Strasbourg club in France is still competing in the playoffs. He just arrived in New York on Tuesday. Givony said he may need to do a quick workout or two to try to solidify his stock before the draft.
""There was a lot of talk of him as high as eight [to the Knicks], because he seems like a triangle-type point guard. There was a lot of talk that Dallas [at nine] really liked him," Givony said. "But now it's like, how far could he drop? Does Denver take a plunge on him [at 13], even though they're absolutely loaded in the backcourt? Does Miami look at him [at 14]? If Miami doesn't take him, how far does Ntilikina go? Does Portland take him? Does Chicago take him? It's one interesting storyline to keep an eye out for."
The latest mock draft by DraftExpress, updated Wednesday morning, has the Blazers drafting Ntilikina with the 15th pick.
Here's how ESPN's Chad Ford described Ntilikina's strengths and weaknesses as a prospect:
"Ntilikina has great size, length and poise for his position. He has a nice feel for the game and leadership qualities. He's unselfish, works hard and cares about winning. He can defend multiple positions. He improved throughout the season. Has great experience playing significant minutes in France. A better-passing version of George Hill. He's still emerging as a shooter. He lacks elite quickness or explosiveness. He's the youngest player in the draft. He's bit of a project."
ESPN currently ranks Ntilikina as the 11th-best player in the draft and projects he will be drafted by the Knicks at No. 8 or the Mavericks at No. 9.
ESPN: Blazers could make best offer for George
ESPN's Zach Lowe and Kevin Arnovitz talked about Paul George trade possibilities on Monday's Lowe Post podcast. They both said that Portland is likely best equipped to make an offer for the Pacers star.
There have been no reports that Portland has attempted to trade for George, but Lowe and Arnovtiz said if they did, the Blazers could put together an impressive package.
Listen to the full podcast here.
Arnovitz: Portland would be an interesting team, but I just don't know if they have the confidence that he'd ever stay in Portland. Even though it's a great core of young guys. He'd be playing with Damian [Lillard] and CJ [McCollum]. They've got a bunch of firsts, but I don't know if they'd have the confidence. They'd have to send out some serious money. But it'd be a fun one if you were playing purely destination-doesn't-matter kind of thing. But not everybody likes food trucks and running trails like I do.
Lowe: I like that you brought up Portland because they're on my list, and I do think they'll try.
Arnovitz: Allen Crabbe. Allen Crabbe basically gets you there. In terms of money.
Lowe: That's a big one. He shot very well from 3.
Arnovitz: Or you package [Al-Farour] Aminu [and Maurice] Harkless. It's a nice wing combination, and by the way, some good-ass contracts right there. That gets you to 17.5, 18 [million]. Then you've got one of the firsts, throw in a second.
Lowe: Maybe two of the firsts.
Arnovitz: Two of the firsts and two really good contracts? Look, we know that the Portland Trail Blazers could probably construct the best deal. The question is, do they have any confidence that Paul George would stay? Or is it just, hey, Damian Lillard, CJ McCollum, [Jusuf] Nurkic, hey, you could win there. You could be really good there.
Lowe: To me, Portland can't get free agents. Portland can't sign free agents. Neil [Olshey] has said that publicly, 'We'll never get a big free agent to come here.' If you ever could, now is the time, because if you get his Bird Rights, with Damian Lillard, culture setter, popular among his peers. There's something there. I think Portland will try. They're certainly on my list and depending on who's sent out, I think you might have to put in three of those firsts, or two of those firsts. Or maybe one of them and a future first, unprotected, set for the year that Paul George will no longer be in Portland? That way if he leaves, there's a chance they're bad.
Arnovitz: OK, play Neil Olshey for a moment, I'm going to give you the naysayer in the room. 'Neil, Neil, Neil, OK ... the guy's gonna walk. He's gonna walk. And then we don't really have space.' Let me think. If he walks, what do they have next summer to work with? Are they still screwed? They're already on the books for $122 [million], they're still over the cap next summer. I mean, they could get under. So now you've lost ... Aminu and Harkless. Good contributors, but you still have your core. You still have what you probably believe are your three best players intact, long-term. But you're minus your picks. Let's see. You give one of your extra picks this summer and then one of your future firsts, so you're not completely cleaned out. I mean, it might be worth the risk. What do you think?
Lowe: Look, last year they were the eight seed at 41-41. It was a step back from the year before and it felt like they were treading water just to survive all season, to rally to .500. I think they're a little better than that as presently constructed. But this is why you get extra picks, to get extra bites at the apple and get rookie contracts and Neil has drafted well and has confidence he'll draft well. But I'd look at it.
Quick: Portland wants to keep 15th pick, shed salary
Comcast Sports Northwest Blazers beat writer Jason Quick went on the radio Tuesday morning to talk about the Blazers and the upcoming draft.
Quick told 1080 The Fan's Dusty Harrah and Cam Cleeland that Portland wants to keep the 15th pick, but are looking to trade the 20th and 26th picks in an attempt to shed some of their large contracts.
Earlier this month, Sean Deveney of The Sporting News reported the Blazers were offering their first-round picks in an attempt to shed salary. The Oregonian's Mike Richman challenged that report, saying a league source said the Blazers weren't interested in a salary dump.
Here are some excerpts from Quick's radio appearance on Tuesday morning. Listen to the full interview here.
On Monday's workout
This was their final workout and it's something that the Blazers brass was really looking forward to. They thought this would be their marquee workout, enough so that Paul Allen came down and watched it in person. Usually, that's a tell-tale sign that there's a guy in here that [they're] really looking at drafting. So, Paul Allen's in attendance. There's all this build-up for it. And the person inside the workout told me that it was "underwhelming." So that is not a good sign, I think, for Justin Jackson. He was kind of the marquee name in that group. He's a small forward from North Carolina. But part of that, too, was due to some injuries. Jarrett Allen, the center from Texas, depending on which rankings you look at, he's 1, 2 or 3 of the centers available in the draft. He was unable to go because of a groin injury. He came in later and just interviewed with them. And then, also, Ivan Rabb from Cal was unable to go because of a sprained ankle. There was a lot of anticipation, a lot of buildup for this workout, and the Blazers were underwhelmed by it.
On Portland's draft plans
To get to your question, I've talked to some agents and the word is, coming out of Portland, that Portland wants to keep No. 15, but they're looking to trade 20 and 26. The Blazers right now are trying to shed salary. I think that's going to be goal No. 1 going through the draft. They're trying to execute some trades where they can unload some salary and get a little more flexibility. It wouldn't surprise me to see them package 20 and 26 maybe for some future draft picks, something along those lines. But I think they're pretty intent on keeping No. 15.
On the players Portland might be looking to unload
You can throw a dart at the Blazers' roster and land on someone who they'd probably want to unload their salary. I think Meyers Leonard is probably at the top of that list. Allen Crabbe, Evan Turner. All those guys. I've said this before, I think outside of Lillard, McCollum and Nurkic, everyone on this roster is free game. I don't think this management is married to any of these guys and they realize that if there's a chance to get better, [they] should unload one of these guys, or more. I think this is going to be a very fluid offseason. The problem is, will anyone else take these guys and their contracts? I don't think it's the talent level, it's the price tag attached to them. And I think that's why maybe an Ed Davis or an Al-Farouq Aminu who have a short amount of years left on their contract, are going to be more attractive to other teams via trade. But I think Portland would love to get out of one of those long-term deals they signed last summer, the Meyers, Crabbe, Turner, or even Moe Harkless. I think Harkless will be the most attractive of those long-term contracts just because of the year he had and the upside he still possesses.
On Paul George
I do think they will try to enter the Paul George sweepstakes, but I think that they'd have to give up one of those core three guys, CJ, Dame or Nurk, to get into serious consideration for Paul George. And I don't think the Blazers want to do that right now. I think they're dead-set on keeping those three. Neil is very creative, he's very aggressive when it comes to the draft and free agency. I expect him to be very, very active here in the next 48 hours.
On what they'll do with the 15th pick
The top guy they've brought in is John Collins, the power forward from Wake Forest. ... I think if Collins is available at 15, they pounce on him. But there's kind of a curveball thrown yesterday, where the Kings, who are drafting at 10, brought him in for a second workout. ... He might be off the board at 10. You're really getting into risky territory because two guys who are injury risks are going to be there. They're really tantalizing. Harry Giles from Duke and OG Anunoby from Indiana. [Anunoby is] coming off an ACL and might not play this season, and Giles has had three [knee] surgeries. I don't know if Portland can take a guy with injury history, just with what this organization has gone through, as recent as last year with Festus Ezeli. I don't know that they can take that flyer on a player like other teams can with Giles or Anunoby. It's going to be real interesting. I think if John Collins goes off the board, it's really going to put Portland in an interesting situation. I think if he goes off the board, they'll turn to Justin Patton or Jarrett Allen at center.
CJ McCollum won't stop talking about George
The Blazers' star shooting guard has made no secret about his desire to play with George this offseason. He's brought up George several times when asked about what he'd like the Blazers to do to improve their roster this summer.
RELATED: Should the Blazers go after Paul George? CJ McCollum says yes
McCollum was at it again, mentioning Paul multiple times during a podcast interview with HoopsHype's Alex Kennedy. Listen to the full podcast here.
Here's what McCollum had to say about George:
I enjoyed this back-and-forth with @CJMcCollum, who brought up Paul George to Portland twice during the podcast. 😂 https://t.co/s2XwrkoHJe pic.twitter.com/PYdU2cADlA

— Alex Kennedy (@AlexKennedyNBA) June 20, 2017
Jared Cowley is a digital producer at KGW. Follow him on Twitter here.