DAMASCUS, Ore. -- A massive sinkhole shut down Highway 212 in Damascus Sunday evening, according to the Clackamas County Sheriff's Office.
Reported in the 20200 block of Highway 212, near South Wiese Road, the sinkhole is 20 feet wide by 4 feet deep, transportation officials said Sunday.
According to the Sunrise Water Authority, a water main broke, emptying a 1-million-gallon reservoir.
HWY 212 closed in Damascus due to heavily damaged roadway pic.twitter.com/Y0UJEz7UVA

— Kyle Iboshi (@KyleIboshi) July 3, 2017
Water service was restored to the reservoir.
Sunrise Water Authority urged customers who lost water pressure or service to boil any water that was used for drinking purposes only. All other uses, such as showers, baths, and watering, are safe, the bureau said. The boil water advisory was lifted Monday evening.
The road was closed in both directions for several hours while crews worked.
A complete list of streets affected by the water main break is published at the water bureau's website.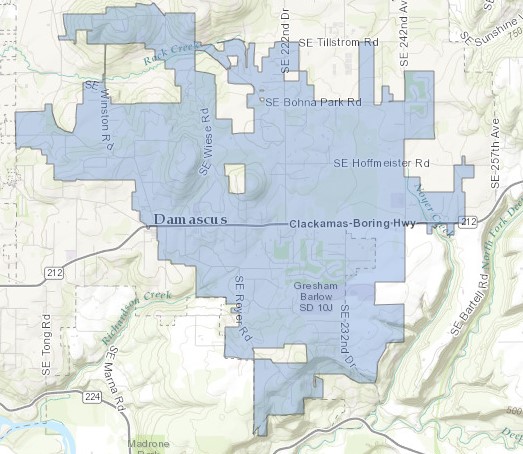 Sunrise said customers in these areas should boil drinking water: Customers along Foster Rd. or east of Foster Rd., including north and south of Highway 212; Wiese Rd.and Wiese Ct., Bohna Park Rd., Tillstrom Rd., Deborah Dr., Rudiger Pl., White Crest Ct., 190th Ct., Diana Ave., Delia St., Helzer Way, Lansing Lane, Alder Springs Ct., Vogel Rd.. east of Rachella Ct., El Camino Terr., Caramel Dr., Winston Rd., Fairway Dr., Adams Dr., 197th Ave., 199th Ave., Damascus Ln.