STEVENSON, Wash. -- Potholes are so bad on State Route 14 near Stevenson, Washington, that drivers are calling out the Washington State Department of Transportation.
Winter has been particularly brutal in the Gorge. All that freezing and thawing has left miles of SR-14 rutted and crumbling. But WSDOT says even putting a "band-aid" fix on it before it can be repaved is difficult.
Drivers say navigating the road is like playing dodgeball. You're trying to miss craters, six inches deep in some spots. Locals say over the weekend there were at least three crashes because cars are hugging the sides to avoid the potholes, and they slide off the road.
Gillco auto repair in Stevenson pointed out shredded tires they've been busy changing for customers, thrashed from hitting one too many ruts.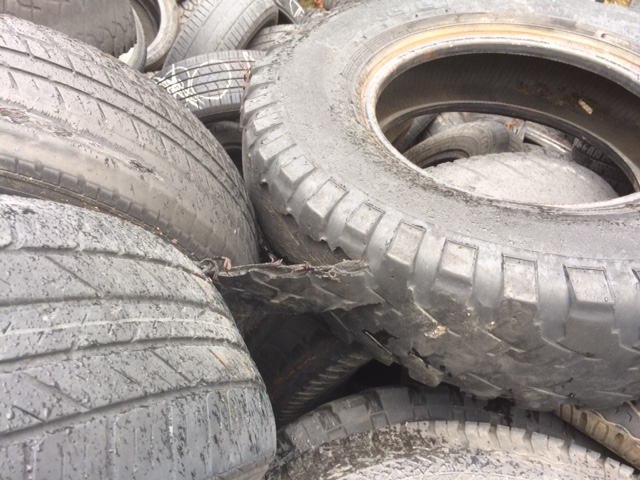 "We pay enough tax money that something needs to be done, it's getting bad," said Amy Rhodes who drives SR-14 every day.
That kind of frustration inspired Columbia Hardware in Stevenson. Owner Greg Wiebe put up a message on his marquee sign Saturday. It reads, "WSDOT does someone have to die? Fix the damn road."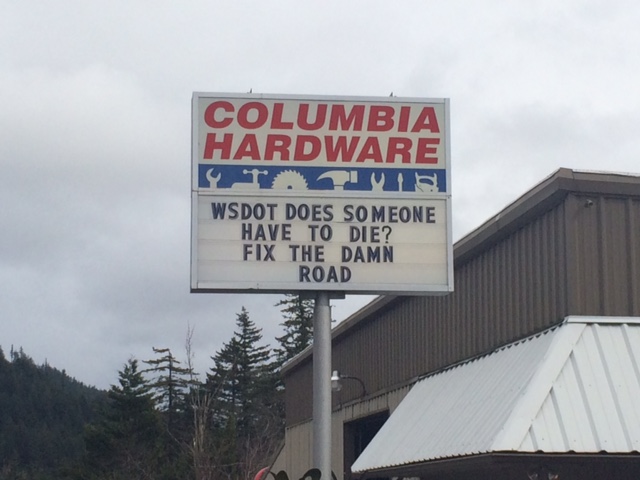 "People have been in and out of the parking lot, taking pictures and leaving," said Wiebe.
It's getting praise from local drivers.
"I like it. It speaks a lot," said Dave Polzel.
"I love the sign, I put it on Facebook," said customer Dennis Trabue.
They realize it's been one of the harshest winters in years. But these ruts have been building for months. They stretch for a mile between Stevenson and Carson, then pop back up farther east near Highway 97.
WSDOT says they need a stretch of dry, warmer days to do more patching for a temporary fix. But really, it's time for this section of highway to be ground down and repaved totally, spokesman Bart Treece said.
That's expensive and they need a contract approved to do it. Treece said SR-14 in the gorge is now a priority. In the meantime, the speed limit has been lowered from 55 to 35 mph and "rough road" signs were installed.
Wiebe says enough with the excuses of needing better weather. He is looking for a quicker safety fix, maybe put gravel in the holes until they can be patched.
"It's a state highway, they need to take care of it.You have certain expectations that when you drive it, you can go highway speed," he said.
WSDOT says they'll get out and start putting those temporary patches on these potholes this spring. They ask drivers to slow down through the area.