PORTLAND, Ore. -- A Washington County Sheriff's Deputy was released from the hospital Saturday morning, after he lost control of his patrol car and crashed into a brick wall at Northwest Bethany Boulevard and Laidlaw Road.
A viewer sent KGW photos of the damage.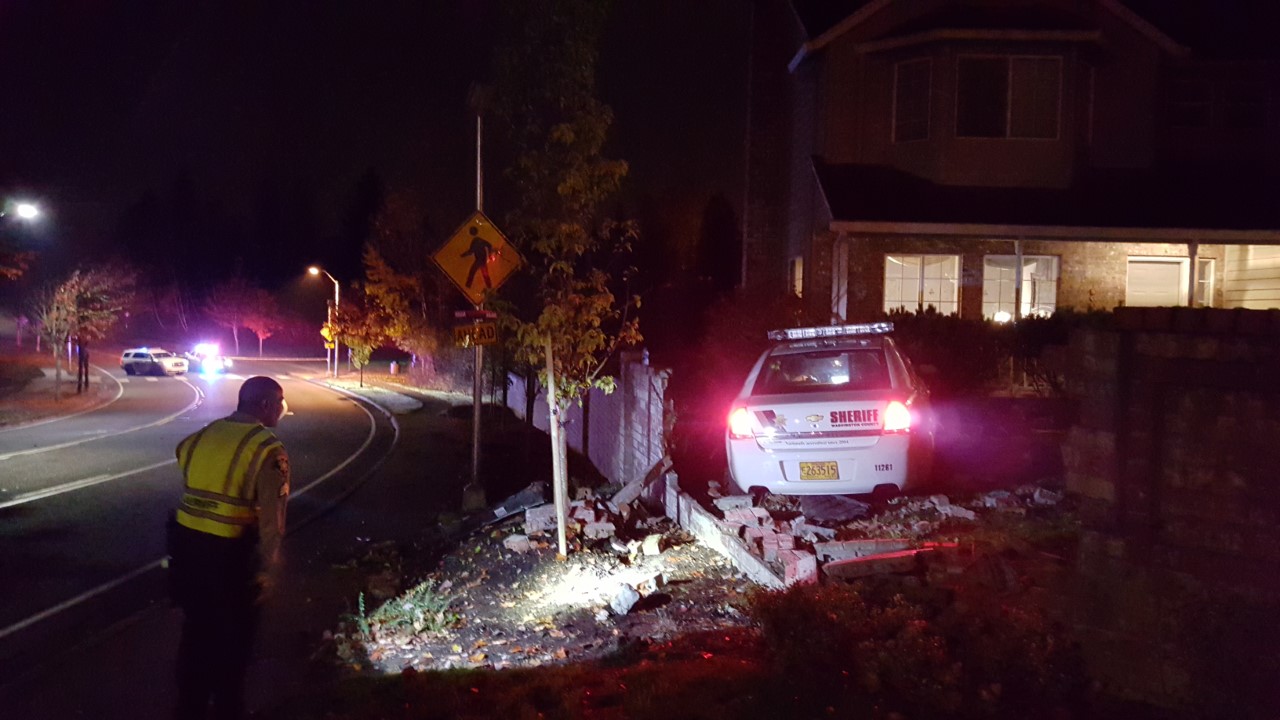 A spokesman for the sheriff's office confirms the deputy was headed to a nearby traffic stop,after another deputy had called for emergency assistance.
The crash happened at around midnight, and Sgt. Bob Ray confirms the deputy, whose name is not being released, suffered minor injuries. He was treated and released within a matter of hours.
The Beaverton Police Department is looking into what exactly caused the driver to lose control.
Sgt. Ray said Saturday the deputy was alone on patrol when a colleague called for emergency backup for a nearby traffic stop.
"That's lights and siren, going as fast as you can safely," he said.
So the deputy drove down Northwest Laidlaw Road faster than the 30 mph speed limit, which Sgt. Ray said is allowed under those circumstances.
Somehow, the deputy managed to lose control.
"Someone could have died," said neighbor Paula Cubillas.
She lives across the street from the wreck site and was home when it happened.
"I just heard sirens for a couples seconds and then a crash," she said.
Cubillas was relieved to find the deputy was conscious and alert when she, her daughter and her daughter's boyfriend came running.
Still, she thinks about how bad the situation could have been.
"Someone in the house could have been injured," she said. "And what if there was someone walking?"
Luckily neither one of those things happened, but neighbors say it's not the first time they've seen a wreck like this.
In the last three years, Cubillas says at least three cars have crashed into that same brick wall. Recently, another took out a light post.
Cubillas wants something done.
"Maybe a flashing light with your speed limit up by the park would be good and a stop sign. I just feel like something needs to be done to make it safer," she said.
But authorities maintain anyone who drives that road sober and under the 30 mph speed limit is safe.
Sgt. Ray says it's when people take risks that crashes occur.
"Because if you fail to negotiate that curve, based on the way the roadway is designed, it will take you straight into that brick wall," he said.
Neighbors say the roads were not wet at the time and Ray adds weather did not appear to be a factor.