VANCOUVER, Wash. -- The man suspected in a voyeurism case involving a young woman in a community center locker room has been arrested.
Johnathan R. Hollis, 19, of Vancouver is charged with second-degree burglary. Accusations of voyeurism and third-degree theft have been forwarded to the Clark County prosecuting attorney's office.
Hollis made his first appearance on the burglary charge Thursday. A judge set his bail at $20,000 dollars.
Victim says he had cell phone in hand when he ripped towel from her body. @KGWNews pic.twitter.com/e2LlGKPND7

— Tim Gordon (@TimGordonKGW) May 4, 2017
In an interview with police, Hollis said he was only in the locker room because he was trying to steal items from individual lockers. He also denied taking any photos or video inside the locker room.
After the hearing, Hollis' mother said her son is guilty of burglarizing the locker room, but nothing else.
"That's not who my son is. The video shows him going in and out because he was stealing and he didn't want to get caught so he kept getting scared and coming back out. He did not do the voyeurism and he does want to apologize to her," said Michelle Hollis.
The incident happened April 22 at the Firstenburg Community Center, located at 700 NE 136th Ave., according to police.
"He yanked the towel off me."
Teen says guy assaulted her in locker room of Firstenberg Com. Center in #VanWa. Police released suspect pics. pic.twitter.com/YEaw90Xr5n

— Katherine Cook (@KCookKGW) May 2, 2017
The victim, named Kylie, told investigators she had seen the suspect standing in a hallway holding a cellphone. She believes he had a phone in his hand when he pulled the towel away.
"As soon as I whipped around and looked up I saw a guy run off around the corner and I remembered seeing him earlier when I first walked into the girl's locker room," Kylie said. "I might have been really lucky. He could have done worse."
The suspect was captured on video by surveillance cameras entering the women's locker room repeatedly over a time frame of about 30 minutes. He was described as an Asian man between 18-20 years old. He had short, orange-colored hair with long bangs. He was last seen wearing a black sweatshirt.
Hollis, during an interview with police, told them he had entered the community center to try and steal from the locker rooms. He told police he did see the alleged victim and that she ran away. He denied taking photos or videos inside the locker room and his phone is being forensically examined.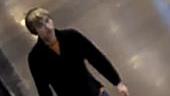 "We're mad… we take a lot of pride in this being a great place for the community to be so when something like that happens, staff takes it personally," said Dave Perlick with Vancouver Parks and Recreation. "It isn't funny, it's violating someone and it shouldn't happen."
Anyone with information about the suspect is asked to call Vancouver police at (360) 487-7399. Anyone who may have experienced a similar incident and did not report it is asked to call 911 and make a police report.